When Theresa Mallett walked into Dundee's Caird Hall more than two weeks ago, she had no intention of stopping Humza Yousaf's keynote address.
Mallett, a committed nationalist, is attending the independence convention as an SNP member, but hopes she can tell her story to a party worker or journalist at the event.
She admits she has been in "soul-destroying" pain for more than a decade since a botched sciatica operation carried out by Sam Eljamel, a disgraced surgeon from Tayside. Mallett is one of 118 patients who have previously called for a public inquiry into what they believe were years of neglect, cover-ups and mismanagement.
When the first minister rose to speak, he decided to do so.
"I was listening to Humza and he came out saying 'every person in Scotland matters'," said Mallett, 61, who still couldn't believe what he did next. "I felt angry and I just started shouting at him. Eleven years of trauma and pain, no answers, doctors' frustrations – it all came out.
"Where my voice came from, I don't know. I'm usually quick. But I'm glad I got it. "
For those listening in the hall, the effect was electrifying. The rest of the audience began to boo at the interruption, but stopped when they realized the source of Mallett's anger. Yousaf called for calm, then left the stage to the crowd.
What happened next was a bit of a blur, Mallett said. "The only thing I can remember clearly is him standing in front of me with his back to the cameras and saying, 'a public question is off the table'."
December 2012 when Mallett "walked through the door of Ninewells hospital and left my life".
Although Eljamel, the former head of neurosurgery at NHS Tayside, assured him that the operation to remove a nerve was a "complete success", Mallett, who leads an active lifestyle including walking in hills across Scotland, soon discovered that his pain was worse. , not better. He spent the next 10 years increasingly isolated and disabled, searching for answers that never came.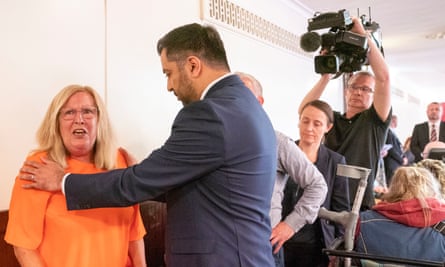 Just last year he was reading a local news story and found that over a hundred others had reported similar stories. The list is terrifying: descriptions of paralysis, blindness, nerve damage, chronic pain and severe incontinence. Jules Rose, a long-time campaigner, claimed she had her tear gland removed instead of a brain tumour, while another woman said she felt like "a guinea pig" after she admitted Eljamel used an experimental glue to seal his skull, which exploded. , leaving him with spinal fluid spilling onto the floor.
Alan Ogilvie, who helped coordinate the former patient group, said: "Sometimes, people comment that we don't have enough demos. But that's because many of Eljamel's victims can't leave the house.
NHS Tayside insisted concerns were first raised about Eljamel's conduct in June 2013, when he was placed under supervision, although he had worked for the health board since 1995. But former colleagues told the BBC last month that bosses were warned about his malpractice in 2009. They suggested that he was allowed to continue because of the research funding he brought to his department and admitted that he often left junior doctors to operate without' y management while he does private work elsewhere.
The board said it was not aware of "any whistleblowing concerns or complaints by staff", pointing out that it escalated the matter once alerted, commissioning an external review of Royal College of Surgeons, as a direct result of which he was suspended in December 2013. Eljamel gave up his right to practice in the UK in 2015 and is believed to be working in Libya.
The evidence of whistleblowers reinforces the view that the problem is systemic, said Ogilvie. "A public question is no longer about Eljamel: it's about who hired him. Why didn't they check his credentials before hiring him, now we've found some fake ones? It's about whether who made him, it is about the lack of clinical management and failure of management organizations.
The board said that Eljamel was appointed by an expert panel through a competitive recruitment process in accordance with national guidelines at the time, and that its clinical and professional management policies "continue to be strengthened ".
But Ogilvie said the matter went beyond NHS Tayside: "This is not just a regional story – it has reached the upper echelons of the medical establishment across the UK."
Last week, Yousaf made good on his promise to speak to Mallett in detail by visiting him at his home in Glenrothes. He did not have enough seats for the first minister's entourage, who had to ask for some garden deckchairs.
A Scottish government spokesman said the first minister welcomed the opportunity to hear his experience. "We are considering what the best next steps are, including an independent commission, to ensure that patients and their families have the confidence that they have the answers they need in their own cases and ask about Professor Eljamel's practice," they said.
Mallett said he will reserve judgment until he sees the actual hearing evidence. "But there are 117 more. Will he trouble them too?"