Novak Djokovic should return on Monday to finish his fourth-round match with Hubert Hurkacz at Wimbledon.
The seven-time champion was leading by two sets 7-6 (8-6) 7-6 (8-6) when the match was suspended due to the 11pm curfew.
Djokovic saved two set points in the first set and fought back to win another tie-break in the second on Center Court.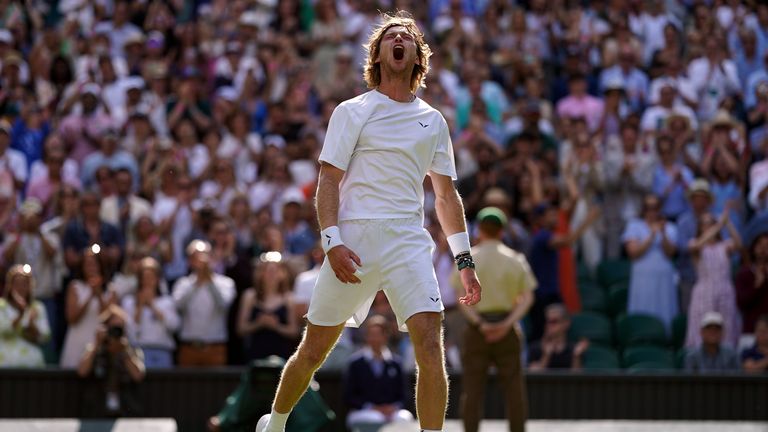 Seventh seed Andrey Rublev dived into the quarter-finals with a spectacular shot to take match point against Alexander Bublik.
Rublev was halfway down the baseline when Bublik hit what he, and everyone on Center Court, thought was a clean winner down the line.
But the Russian dived forward, got a racket on the ball and somehow floated it over the net as Bublik scratched his head in disbelief.
Rublev, who led by two sets but lost back to his Kazakh opponent, went on to seal the match 7-5 6-3 6-7 (6-8) 6-7 (5-7) 6 -4 win after one of the most entertaining matches of the Championships.
"It was the most lucky shot ever," said the 25-year-old. "It was luck, nothing else. I don't think I could do it again."
Rublev, in the last eight at Wimbledon for the first time, was joined by fellow Russian Roman Safiullinwho became the lowest-ranked male quarter-finalist here since Nick Kyrgios in 2014.
The world No 92 defeated Canada's 26th seed Denis Shapovalov 3-6 6-3 6-1 6-3.
He will face the Italian sixth seed Jannik Sinnerwho defeated Daniel Elahi Galan of Colombia 7-6 (7-4) 6-4 6-3.