"Our industry has itself in a box", warns Andersen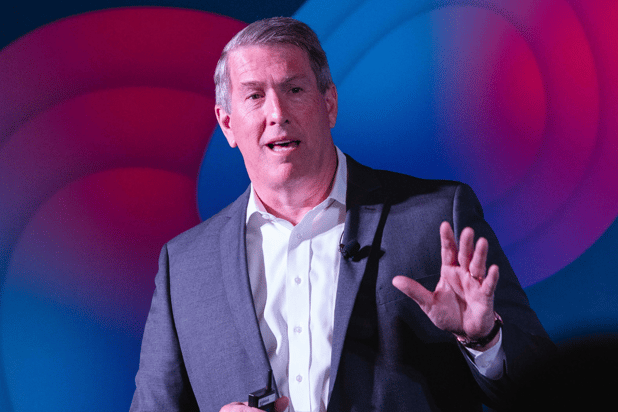 Insurance News
By Jen Frost
Aon president Eric Andersen is the latest broker leader to warn that the insurance industry is failing to keep up with the changing needs of clients amid an intangible boom in assets. and insureds facing transitional challenges on a global scale.
"Over time, we've lost traction with our clients and what they really need from us," Anderson told hundreds of brokers attending the 2023 CFC Summit in Chicago on May 18, 2023.
Andersen flagged several areas where the industry is coming up short and could find itself in the cold:
Finding solutions to meet the growing intangible needs of clients

Helping clients through the challenge of climate change

Inaction will see governments step in

Past geopolitical risk complacency

Lack of capital and trust
An intangible asset challenge
An obstacle for the insurance industry, as per Andersen, is imposed by a failure to face the intangible asset challenge and deliver products and solutions related to what clients care about.
"Our industry has put itself in a box, making money in key areas, understanding what to do with property and casualty," Andersen said. "When you sit down with the CEOs of our clients and [understand] their strategy and how they think about it, we don't matter.
"People always ask what keeps you up at night, that keeps me up."
Andersen also points to a "fundamental shift" in how business views wellness and talent.
"It's an area that's been talked about incessantly in our industry," Andersen said. "And I'd argue, right now, primary assessment of the dumpster fire situation."
Aon president Eric Andersen on the challenge of climate change
The market may react, but a lack of current understanding may hold back much-needed capital in the climate challenge, Andersen warned.
"The honest answer is that we are not ready [to help clients] because we don't have insight, that's why you see more investment in capability, because at our core we try to match risk and capital," Andersen said. "But if you look at the capital of our entire industry – whatever it is, $3.5 trillion to $4 trillion dedicated to P&C – that's not enough to solve the climate.
"We need materially additional capital, we need sovereign wealth funds, maybe PE, we need high net worth, we need a bigger pool of capital, but that capital is not coming in. unless it has a chance to make money, unless it understands the risks involved."
The president of Aon also shared concerns that if governments are called to help cover the gaps in climate protection and adaptations then he is "significantly concerned that we will forget this".
"We don't need government support, we need investment in capability so we can prove to capital providers that they have a chance to return and prove to clients our ability to help them manage innovation to transfer," Andersen said.
For Aon's president: "Our ability to help them manage that is one of the biggest things facing our industry in the next five to 10 years."
Clients need to see the insurance industry playing its part to help them through the changes, rather than retreating, Aon's president warned.
"We judge them on what they do now but we never help them with their new products and innovation," Andersen said. "We don't want to build offshore wind farms, you don't want to build unproven technology; well, that's the transition.
"You can't really say we want them to move if we don't help them – right now, we have to prove there's a fair return for capital, in general, but we have to start that."
Understanding geopolitical risks
Geopolitical risks are increasing in importance for businesses, boosted by Russia's war in Ukraine. Geoeconomic confrontation was ranked as the third greatest risk in terms of short-term impact in the World Economic Forum's 2023 Global Risks Perception Survey of 12,000 global business leaders.
"I actually look back at the supporting presentation material that we put together about five years ago, we have ambitions to triple our business in China – and as we look to grow our industry, the growth of our business, we largely ignore geopolitical risk," Andersen said. "You sit here now from a year ago, [it's a] different material structure.
"Business models … talent, the geopolitical issues that are at the forefront of our clients' minds."
Despite today's poor review, Andersen is optimistic that there are many opportunities for the insurance industry if it rises to the challenge.
"When you look at all the risks on the table, there are people who say: we can't do that," Andersen said. "I think that's completely wrong, there's such an opportunity for us as an industry if we can really use all the different capabilities … I'm not going anywhere."
Keep up with the latest news and events
Join our mailing list, it's free!