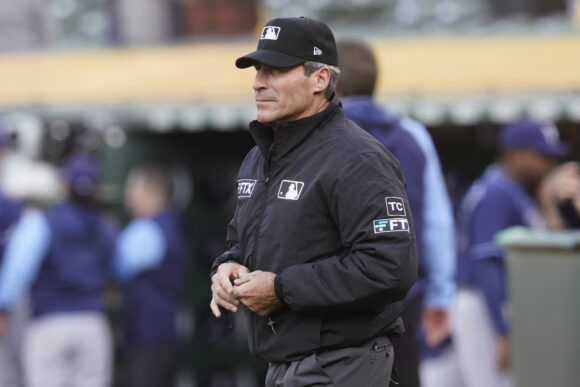 New

You can now listen to Insurance Journal articles!
Umpire Ángel Hernández lost yet again in his racial discrimination case against Major League Baseball when a federal appeals court refused to hear his case on Tuesday.
The 2nd Circuit US Court of Appeals upheld a District Court decision in 2021 that granted MLB a summary judgment.
Cuban native Hernández, hired as a major league umpire in 1993, sued in 2017. He alleged he was discriminated against because he had not been assigned to a World Series since 2005 and was passed over by the crew chief.
"Hernández failed to establish a statistically significant difference between the promotion rates of white and minority umpires," the 2nd Circuit said in an 11-page decision. "MLB provided compelling expert evidence showing that, in the years at issue, the difference in crew chief promotion rates between white and minority umpires was not statistically significant. Hernández on why MLB's statistical evidence is unreliable.
The decision was made by Circuit Judges Susan L. Carney and Steven J. Menash, who heard oral arguments on June 8. The court said the third member of the panel, Circuit Judge Rosemary S. Pooler, died on Thursday.
Hernández admitted former MLB executive Joe Torre, who made key umpiring decisions, harbored a grudge against Hernández dating back to Torre's time as New York Yankees manager.
"Hernández failed to show that the criteria used by Torre in making crew chief promotion decisions caused the existing disparity between white and minority crew chiefs," the panel wrote. "Hernández has not shown that Torre is prejudiced against racial minorities."
Nicholas R. Gregg, Hernández's attorney, did not immediately respond to an email seeking comment. Hernández could ask the entire New York-based 2nd Circuit to retry the case or for the US Supreme Court to review it.
Hernández, who turns 62 next week, served as interim crew chief from 2011-16.
Kerwin Danley became the first Black crew chief in 2020 and Alfonso Marquez became the first Hispanic crew chief born outside the United States that year. Richie Garcia, who was born in Florida, was the first Hispanic crew chief from 1985-89.
Hernández has been controversial on the field at times. He had three calls at first base overturned by video review during Game 3 of the 2018 AL Division Series between the New York Yankees and Boston.
Photo: Umpire Angel Hernandez before a baseball game between the Oakland Athletics and the Tampa Bay Rays in 2022. (AP Photo/Jeff Chiu)
Copyright 2023 Associated Press. All rights reserved. This material may not be published, broadcast, rewritten or distributed.
Topics
New York cases
Interested in Lawsuits?
Get automatic alerts for this topic.