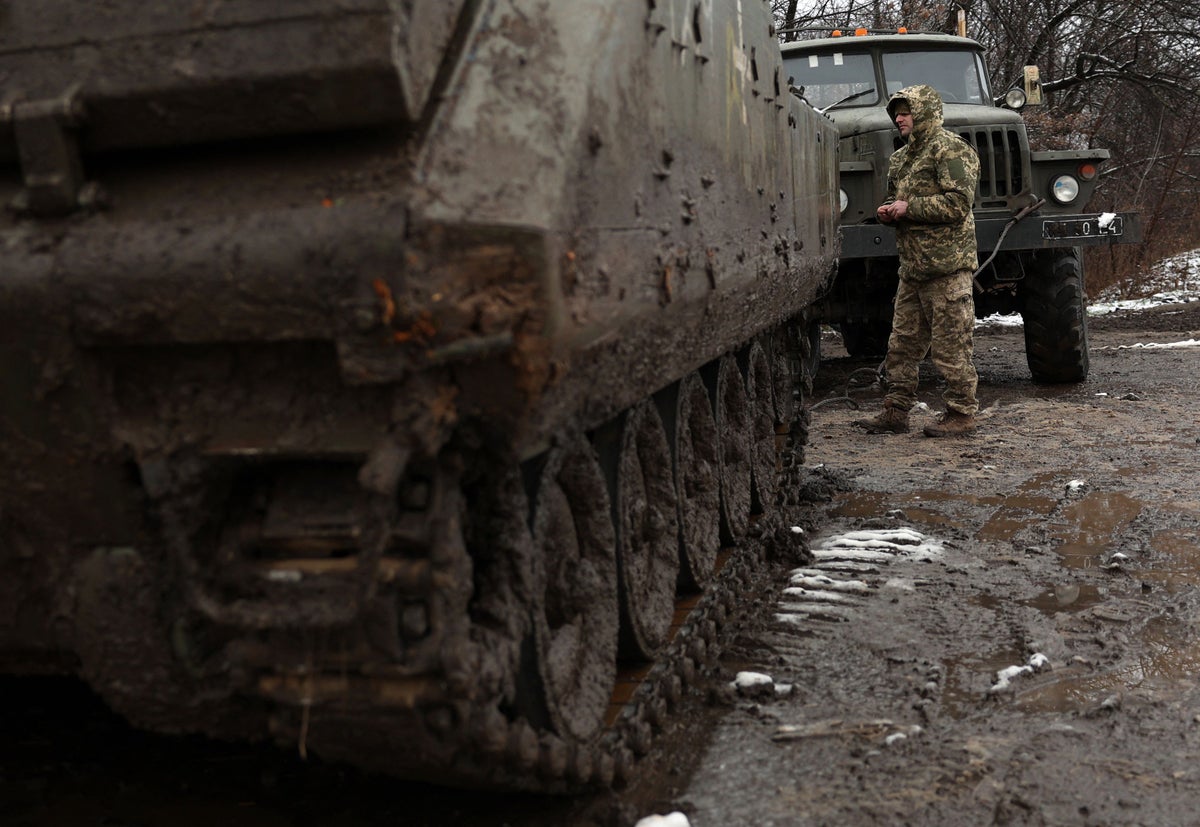 Russian forces in Ukraine's eastern theater of war are stepping up their attack around Bakhmut and moving from defensive to offensive attack lines, military officials in Kyiv said.
The attacks were focused on Klishchiivka, a village at a higher elevation about 9km away from Bakhmut, said Volodymyr Fityo, a spokesman for the Ukrainian ground forces.
Klishchiivka was recaptured from Russian forces in Ukraine in September in counter-offensive operations. Bakhmut was taken by Russian troops in May and has faced some of the fiercest fighting between the two countries.
"The Russian occupation forces have brought the necessary reserves and continue to attack," the spokesman said, referring to the recent attacks on Moscow.
Ukrainian troops have repelled 11 attacks in the past 24 hours, Mr Fity said. "The enemy is trying to dislodge our men from defensive positions around Klishchiivka," he said.
It comes amid reports of increasing numbers of Russian soldiers leaving the frontline in Donetsk.
Top Ukrainian military officials say there are increasing numbers of Russian personnel refusing to carry out offensive operations. This led Russian commanders to use physical force and barrier troops to push their fighting forces forward.
Military commanders also increased their reliance on mobilized reservists and penal recruits.
According to Russian accounts of the offensive, their forces have repulsed more than 30 Ukrainian attacks in and around Bakhmut over the past week.
Ukrainian officials have confirmed some success for its troops on the eastern bank of the Dnipro river which now sees territorial control by Kyiv forces.
Ukrainian forces "carried out several successful and effective actions" on the east bank of the Dnipro nearly a week after military officials acknowledged their presence there, said a military spokesman, Andriy Kovaliov.
He said Russian forces were making up to 10 daily attempts to dislodge Ukrainian forces from positions on the east bank.
Russia intends to launch a new offensive in Avdiivka, where it has already launched two waves of unsuccessful attacks.
"Actually, the enemy's attempts to surround Avdiivka resulted in a huge loss for them," said military analyst Serhiy Zgurets, writing on the Espreso TV media outlet website.
Avdiivka has witnessed fierce fighting as the sprawling coking plant city remains under Ukrainian control, despite more than a month of Russian attacks.
Recent rains have made the battlefield soft and unsuitable for enemy equipment near the city, said Maksym Morozov, an official from Ukraine's interior ministry.