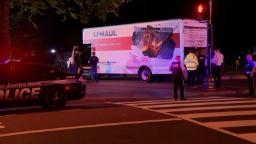 CNN
—

The driver of a U-Haul that crashed into a security barrier in Lafayette Square near the White House Monday night was arrested on multiple charges, including threatening to kill or harm a president, vice president or family member. , according to the US Park Police.
The truck crashed into security barriers on the north side of Lafayette Square at 16th Street just before 10 p.m., and officers detained the driver, the US Secret Service said.
No injuries were reported to any Secret Service or White House staff, spokesman Anthony Guglielmi said in a statement.
A preliminary investigation revealed that the driver – who has not been publicly identified – may have hit the barrier on purpose, the Secret Service later said.
While authorities did not provide specific details of the alleged threat, US Park Police said the man faces charges of threatening to kill, kidnap or torture a President, vice president or family member.
The driver was also arrested on charges of assault with a dangerous weapon, reckless operation of a motor vehicle, destruction of federal property and trespassing, according to Park Police.
After the crash, the truck was searched by bomb technicians and no explosives or incendiary devices were found, a law enforcement source familiar with the investigation told CNN.
Video from CNN affiliate WUSA shows a Park Police officer inventorying the U-Haul truck, packing away a lot of evidence. Among the items seen coming from the truck were a swastika-like flag, a black backpack and a roll of duct tape.
The incident prompted road closures while authorities investigated the crash, and the nearby Hay-Adams hotel was evacuated at the request of the Secret Service, a hotel employee told CNN. Hotel guests and employees were allowed to return when police deemed it safe a short time later.
The FBI's National Capital Response Squad is assisting the Park Police and the Secret Service in the investigation.