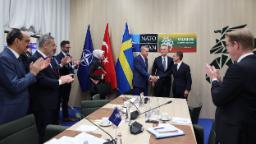 CNN
—

NATO chief Jens Stoltenberg said on Monday that Turkey has agreed to support Sweden's offer to join the military alliance – a major development on the eve of the NATO summit.
The announcement featured a surprising about-face from Turkish President Recep Tayyip Erdoğan, who earlier on Monday suggested that Sweden could only join the alliance after his country was admitted to the European Union. Erdoğan has stood in the way of Sweden joining NATO for more than a year due to several concerns.
Speaking at a news conference in Vilnius, Lithuania, after a meeting with Erdoğan and Swedish Prime Minister Ulf Kristersson, Stoltenberg said the Turkish president "agreed to pass the protocol of action for Sweden in the Grand National Assembly as soon as possible, and will work closely with the Assembly to ensure ratification."
Erdoğan's dropping of his opposition marks a big step forward, but does not mean that Sweden will immediately become the next member of the alliance. Stoltenberg did not offer a specific timeline for when Erdoğan will move the document to the Turkish Parliament, which must vote to approve it. Hungary also did not vote to approve Sweden's membership, although Stoltenberg said on Monday that Hungary had made it clear that this would not be the final approval of Sweden's bid.
Asked by a journalist when Sweden could officially become a member of NATO, Stoltenberg did not want to commit to an answer, saying that it was up to Turkey to make an announcement and preferred to focus on the merits of a "historic day".
"I think we have to respect that each parliament has its own integrity, their own timelines, so I welcome that the president has made it clear that he will work with the parliament to ensure ratification, but when should be announced to Parliament of Turkey," Stoltenberg said, adding that the move was the result of a year of negotiations.
NATO's move to take action comes after months of opposition and demands from Ankara. Turkey claims that Sweden allows members of recognized Kurdish terrorist groups to operate, particularly the militant Kurdistan Workers' Party (PKK). Turkey has also accused Swedish officials of complicity in Islamophobic demonstrations, such as the burning of the Quran.
In his news conference Monday, Stoltenberg noted that Sweden and Turkey are "working closely together to address Turkey's legitimate security concerns."
"As part of the process, Sweden changed its constitution, revised its laws, expanded counter-terrorism cooperation against the PKK, and continued arms exports to Turkey," he said.
NATO said in a statement that there were further commitments made at the meeting between Stoltenberg, Erdogan and Kristersson.
The two countries agreed to continue cooperation in counter-terrorism efforts, and NATO will establish a new Special Coordinator for Counter-Terrorism role, the statement said. Sweden and Turkey "also agreed to improve economic cooperation."
In addition, Sweden will "actively support efforts to reinvigorate Turkey's EU accession process," the statement said.
US President Joe Biden, who is scheduled to meet Erdoğan on Tuesday night, welcomed the Turkish president's commitment to "send the Accession Protocol for Sweden to the Grand National Assembly of Turkey for quick ratification. "
"I am ready to work with President Erdoğan and Turkey to improve defense and deterrence in the Euro-Atlantic area," Biden said in a statement on Monday.
Top US officials have stepped up pressure on their counterparts in Ankara in the days ahead of the NATO summit. Biden spoke with Erdoğan as he flew aboard Air Force One Sunday. US national security adviser Jake Sullivan spoke with Turkish and Swedish officials, respectively, on Monday in preparation for the summit. US Secretary of State Antony Blinken spoke with Turkish Foreign Minister Hakan Fidan three times in a matter of five days, including Monday morning.
The news represents a major victory for Biden, who has always expressed confidence that Sweden will join the alliance at the Vilnius summit, despite Turkey's opposition. The president told CNN's Fareed Zakaria in an exclusive interview ahead of the summit that he is hopeful that Sweden will eventually be accepted into NATO, as Turkey seeks to modernize its F-16 fleet, along with Greece, which voted to accept Sweden.
"Turkey is looking for the modernization of the F-16 aircraft. And (Greek Prime Minister Kyriakos) Mitsotakis in Greece is also looking for help," Biden said. "And so, what I'm trying to do is, frankly, put together a small consortium here, where we strengthened NATO in terms of military capacity in Greece as well as in Turkey, and allowed Sweden to enter. But it is in the game. It's not over yet."
This story has been updated with additional reporting.