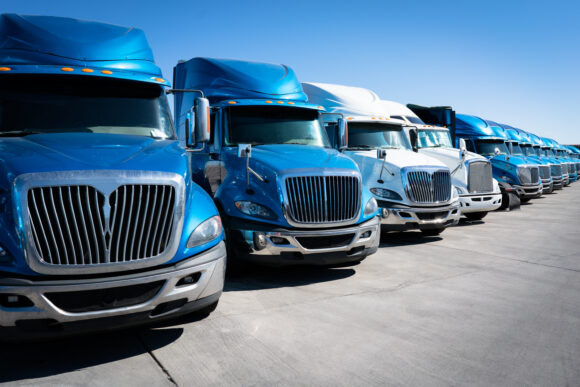 Some of the nation's largest truck makers have pledged to stop selling new gas-powered vehicles in California by the middle of the next decade, part of a deal with state regulators aimed at preventing cases that threaten to delay or block the release of the state. standards.
California is trying to wean itself off fossil fuels, passing new rules in recent years to phase out gas-powered cars, trucks, trains and lawn equipment in the most populous state. which is the state of the country.
It will take years before all the rules are fully implemented. But some industries are pushing back. Last month, the railroad industry sued the California Air Resources Board to block new rules that would ban old locomotives and require companies to buy zero-emission equipment.
Thursday's announcement means the lawsuits won't significantly delay similar rules for the trucking industry. The companies have agreed to comply with California's rules, which include banning the sale of new gas-powered trucks by 2036. Meanwhile, California regulators have agreed to loosen some of their emission standards for diesel trucks. The state agreed to use the federal emission standard starting in 2027, which is lower than what California's rules are.
California regulators also agreed to allow these companies to continue selling older diesel engines for the next three years, but only if they also sell zero-emission vehicles to offset the emissions. from old trucks.
The agreement also clears the way for other states to adopt the same standards as California without worrying about whether the rules will be upheld in court, said Steven Cliff, executive officer of the California Air Resources Board. That means more trucks in the country will follow these rules. Cliff says about 60% of the truck miles traveled in California are from trucks coming from other states.
"I think this sets the stage for a national framework for zero emission trucks," Cliff said. "It's a really strict rule in California, or a little less strict national rule. We're still winning in the national scenario."
The agreement includes some of the world's largest truck makers, including Cummins Inc., Daimler Truck North America, Ford Motor Company, General Motors Company, Hino Motors Limited Inc, Isuzu Technical Center of American Inc., Navistar Inc, Paccar Inc. , Stellantis NV, and Volvo Group North America. The agreement also includes the Truck and Engine Manufacturing Association.
"This agreement enables the regulatory certainty we all need to prepare for a future that will include an ever-increasing number of low- and zero-emissions technologies," said Michael Noonan, director of product certification and compliance with Navistar.
Heavy-duty trucks such as big rigs and buses use diesel engines, which are more powerful than gasoline engines but also produce more pollution. California has many of these trucks carrying cargo to and from the ports of Los Angeles and Long Beach, two of the busiest ports in the world.
While these trucks make up 3% of the vehicles on the road, they account for more than half of the nitrogen oxides and fine particle pollution of diesel, according to the California Air Resources board. This has a big impact on California cities. Of the top 10 most ozone-polluted cities in the US, six are in California, according to the American Lung Association.
Mariela Ruacho, director of clean air advocacy for the American Lung Association, said the agreement is "great news" that "shows that California is a leader when it comes to clean air." But Ruacho said he wants to know how the deal will change estimates of health benefits for Californians. The rules adopted by regulators in April include an estimated $26.6 billion in health care savings from fewer asthma attacks, emergency room visits and other respiratory illnesses.
"We would really like to see an analysis of what if any emissions losses are and what the health benefits mean," he said.
Cliff said regulators are working to update health estimates. But he noted that those estimates are based on the ban on the sale of new gas-powered trucks in 2036, a rule that is still in place.
"We got all the benefits we could have," he said. "We've actually locked that down."
California has reached similar agreements in the past. In 2019, four major automakers agreed to tighten standards for gas mileage and greenhouse gas emissions.
Copyright 2023 Associated Press. All rights reserved. This material may not be published, broadcast, rewritten or distributed.
Topics
California Auto
Interested in AUTO?
Get automatic alerts for this topic.