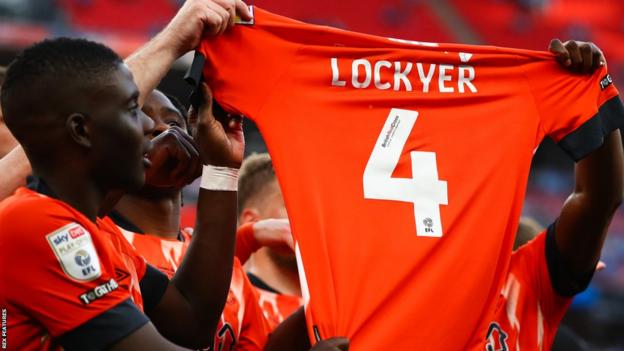 Luton Town say captain Tom Lockyer will return home on Thursday, having been in hospital since collapsing in the Championship play-off final at Wembley on Saturday.
The 28-year-old defender collapsed on the pitch after eight minutes of play against Coventry City.
But he was allowed to leave the Cavendish Clinic in London after undergoing a series of tests.
A Luton statement said Lockyer will be rested before taking part in pre-season.
Despite Lockyer's absence, the Hatters went on to beat the Sky Blues in a penalty shootout and secure a place in the Premier League for next season.
The statement said: "The Wales international is a disappointed patient, but has completed all the necessary medical tests and observations to be allowed at home for a period of rest before the start of pre-season training, where he is eligible to participate.
"We want to thank everyone for their messages of love and support for 'Locks', who had a season to remember and was proud to lead the team on Saturday, with his teammates completing the job for to him."