Growing up in the north west of England, you've heard the stories of the famous Ashes Tests at Emirates Old Trafford. This summer, I experienced one.
This ground saw Shane Warne's 'Ball of the Century', Jim Laker's 19-wicket haul, and now Manchester is primed and ready for Ashes cricket to return, hosting a potentially decisive Test in this series as England push to level things at 2-2.
Although at the time that moment was taken, Australia remaining in the Ashes after the Test ended in a draw, there was still plenty for the home side to take away from the week as English Test cricket enjoyed the country.
'I never liked Test cricket' | The revolution in England reaped rewards
Taking the tram to and from the ground every day means you'll hear plenty of conversation between Australian and English cricket fans.
Joe Root unleashes a reverse ramp shot and makes it six as England go on the offensive against Australia

While the jokes and chants of 'the same Aussies' are part of every journey, the most common theme, especially among young fans, is that Ben Stokes' revolution in England's Test side is the reason they bought a ticket to the top of the Party Stand.
Since taking over as captain, Stokes has stood firm in his mantra that, win or lose, his side is there to entertain, and for the younger generation heading to Emirates Old Trafford his message has hit home.
They talked about the anticipation of a day with their mates watching Joe Root reverse scoop for six and Jonny Bairstow bash one over the boundary for four. They look forward to Mark Wood buzzing in one and Stuart Broad inspiring crowds in his theatres.
Watch the best shots from Zak Crawley's brilliant 189 off 182 balls against Australia on day two of the fourth Ashes Test

They're not just coming to watch England win, they're coming to see the characters created during the 'Bazball' era and thrust into the spotlight.
The most stressful part? View weather forecasts
Rain and Manchester went together but on the fourth and fifth day, while the press box turned from a room full of reporters to one of amateur meteorologists, the nerves on the ground were as bad as ever.
When England came out to play 30 overs on the fourth day, although it was not entirely in the hosts' favour, the tension dissipated as there was a sense that any game, good or bad, was better than sitting idle while the Ashes were lost.
Michael Atherton believes it will be cruel if rain spoils England's hopes of a stunning Ashes recovery, as the game at Old Trafford was delayed due to bad weather

Indeed, it felt that Australia powered through by a Marnus Labuschagne double-ton was preferable to England's dominating three days before the north of England's regular season decided the outcome of the series.
After rain prevented any play on the fifth day, the harsh reality of English cricket hit home, as what could have been an Ashes classic ended in such disappointing fashion.
If, but, and maybe – the power of hindsight
When Stokes aggressively declared for 393 at Edgbaston, there was a clear sense of the shock he would bring to a Joe Root who had scored 118 runs from 152 deliveries and didn't seem to be slowing down.
Jonny Bairstow hit four massive sixes in a massive innings against Australia to end one shy of a Test century

Indeed, it was a moment that defined this Ashes as Pat Cummins went on to secure an epic win over Australia with Nathan Lyon, with many left wondering if England had sold themselves too short in their first innings.
So, when fans at Emirates Old Trafford saw Jimmy Anderson walk off to join Jonny Bairstow instead of being declared, there were many who felt that the England skipper had learned from the previous Tests.
However, there is something different this season, and that is the threat of rain. Bairstow powered on from 41 to 99 in what turned out to be a magnificent innings but the big question many are now asking is the runs worth it?
Ben Stokes says the first Ashes Test will never be forgotten and stands by his decision to declare early in the first innings.

England were leading by 209 when England's No 11 joined the Yorkshireman at the crease and although it was a remarkable performance as 66 runs were added, it took away some important bowling time from England's pace bowlers.
There is no guarantee that England would have taken any more wickets in quick succession if they had opted to bowl straight after lunch, but it could have been a crucial moment in a victory.
Who knows. The power of hindsight, it's a funny thing.
Traditions continue as cricket modernises
If you grew up in the north west of England, when someone asked 'what's your tea?', they meant what you had for dinner.
Nasser Hussain says Ben Stokes' decision to declare at Edgbaston shows that the England captain is thinking of every opportunity to win and it can only be passed.

However, in cricket, tea remains a symbol of the traditional past where this game originated with scones, cheesecakes, and a sandwich or two served every day at rest.
With cricket always focused on how to keep the game going, this is an interesting moment of the day – the Party Stand brews a snake beer while you choose whether to have an egg and cress or a cheese sandwich.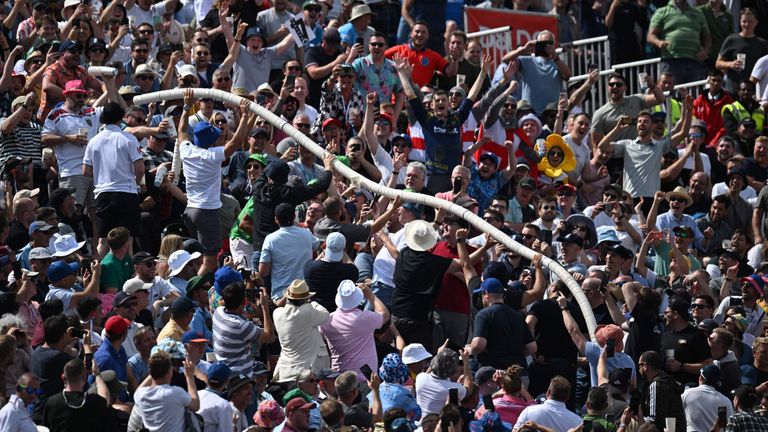 In fact some of these customs even prevent playing in the strictest conditions where lunch is called on the fifth day, even if there is no game in the morning, instead of the players going straight out in the short summer.
They are part of what makes cricket what it is but, when the weather is playing, it can seem like a hindrance.
However, if a tradition were to continue, the afternoon cake break would be my choice!
Watch the fifth Ashes Test at The Kia Oval live on Sky Sports Cricket and Main Event on Thursday July 27. Build-up starts at 10 am with the first ball at 11 am. Stream The Ashes and more NOW for £21 a month.