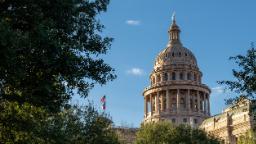 CNN
—

Texas Republicans approved a pair of bills targeting the election process in Harris County, the state's largest and home to Houston, with voting rights activists accusing the GOP of planning in a "power grab" in a heavily Democratic county.
The measures, which passed the state's Republican-controlled House and Senate, now head to the desk of GOP Gov. Greg Abbott.
On Sunday, lawmakers passed legislation known as SB 1933 that would allow the Texas secretary of state's office — an Abbott appointee — to "mandate the administration" of a county election office if, for example, a complaints have been filed or have reason to believe there is a recurring pattern of problems involving election administration or voter registration. The measure would affect any county with a population of more than 4 million people – Harris County is the only county in the state to meet that standard.
Last week, the state House passed a party-line measure that would eliminate the post of election administrator in a county with a population of more than 3.5 million people — which, again, would only apply to Harris County. . Under that bill, known as SB 1750, the duties of election administrator would be transferred to the county tax assessor-collector and county clerk. Harris County's director of elections, a position created in 2020, is appointed by the county's election commission, which is controlled by Democrats. The tax assessor-collector and county clerk are both Democrats. The measure passed the state Senate earlier this month. If signed, the law will take effect on September 1.
Harris County Attorney Christian Menefee, a Democrat, said last week that the county would sue the state over both bills, which he called "clearly unconstitutional."
"(Our) state constitution prohibits legislators from passing laws that target a specific city or county, putting their personal vendettas over what's best for Texans," he said. Menefee in a statement.
While Republicans have long been a stronghold in Texas, Harris County has leaned more Democratic in recent years. President Joe Biden won the county by double digits in 2020. And Democrat Beto O'Rourke won the county in the governor's race in November, while losing statewide by double digits to Abbott.
Harris County experienced election problems last year that led to the county's former elections administrator, Isabel Longoria, resigning amid a discrepancy in the counting of mail ballots during the March primary. Problems include damaged ballots that delayed the reporting of results and a vote discrepancy that left thousands of ballots out of unofficial primary results. The province also experienced issues during the general election, lack of paper ballots, machine breakdowns and delays in opening polling places.
"Voters should have confidence in their elections, and when they see Harris County Elections Administrators botch election after election in 2022 that confidence is shaken," Houston-area state Sen. Paul Bettencourt, who authored both bills, said last month.
Bettencourt defended his legislation, saying in a statement that SB 1933 "will ensure that the failures, or the failure of the general election will not happen again in the Texas Secretary of State's oversight of the process in elections, if necessary."
But James Slattery, a lawyer at the Texas Civil Rights Project, a legal advocacy group, said the bills would "open the door for the Governor and his allies to manipulate elections in the third largest county in the country for their own partisan gain."
"This is the latest power grab by state officials in a Session dominated by efforts to centralize power and gut the right of local communities to govern themselves," he said in a statement.