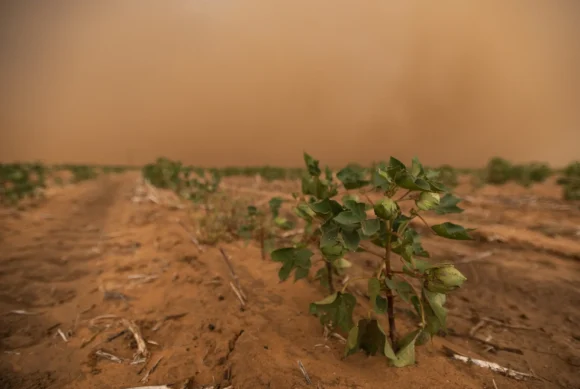 LUBBOCK – On the eve of another drought-ridden growing season, farmers from the High Plains are asking state and national lawmakers to provide a stronger financial safety net.
In Austin and Washington, DC, farmers from the 41-county High Plains region, which includes Lubbock, told representatives that severe weather and unpredictable markets are making it difficult for their businesses. . Producers hope that the Texas Legislature will take the funds from the American Rescue Plan Act for a one-time grant when lawmakers end their legislative session later this month and that Congress will increase aid to disaster in the must-pass legislation known as the Farm Bill.
Farmers across the country are facing increasing challenges to their livelihoods, especially in the face of climate-related disasters. In the Texas High Plains, last year's drought cost cotton producers more than $2 billion. While farmers see less money in their wallets, inflation pushes up the cost of supplies like fertilizer, equipment and seeds.
Cotton is a world-renowned giant in Texas agriculture – 56% of the nation's cotton acres are planted in the Lone Star State, and the High Plains region alone produces 30% of the nation's cotton and cottonseed. However, the endless financial challenges are starting to make producers wonder how they can sustain it.
Shawn Holladay, a fourth-generation cotton farmer in Lamesa, told Washington's House Committee on Agriculture that the 2018 Farm Bill serves the agriculture industry well but needs updates.
"More funding is needed to meet the challenges, both on the farm and throughout the supply chain," said Holladay, who is chairman of the National Cotton Council.
The Farm Bill is a large legislative package that sets policies for agriculture and food programs, such as federal crop insurance and the Supplemental Nutrition Assistance Program, commonly known as food stamps or SNAP. The Farm Bill is usually renewed every five years, and the 2018 bill cost $428 billion since then. This year's bill could be the first trillion-dollar farm bill in history. Total spending is estimated at $1.51 trillion, with SNAP getting more than 81%, the largest piece of the pie.
Agricultural advocates hope to see improvements in ad hoc disaster aid, a program started as a way to lessen the blow when farms have bad years. Ad hoc assistance is not a permanent program. Congress must approve the use of the funds and more than $15 billion has been approved since 2018. Farmers must apply each time a disaster occurs and there is no guarantee that they will be approved if they need help or the amount that they need.
David Gibson, chair of the Texas Agriculture Council, grows corn in Lubbock. The crop was another one that suffered last year across the state – corn production was at its lowest since 2011.
Gibson said another issue is that ad hoc aid is available only after farms have been dealt critical blows. After three years of rising supply costs, unstable markets and farm weather disasters, it is now more realistic to assume that aid is needed and make it available on a permanent basis, rather than a wait-and-see approach.
"There's no real provision in the Farm Bill, right now, to keep growers in business," said Gibson, who is also the executive director of Texas Corn Producers. "Not making money, but just keeping them in business."
During Holladay's testimony to Congress, he said his wife and daughter worked in the fields while he was away. Holladay said ad hoc help is helpful but not reliable enough for how important it is.
"We need it and we're grateful to have it, but it's not a risk management tool," Holladay affirmed. "We need something that we can reliably predict and be able to rely on when problems arise, not after the fact."
Holladay wasn't the only farmer who experienced a downturn last year. With the dry, cracked soil surrounding the High Plains, cotton producers have had to abandon more than 72% of their planted acres, according to the nonprofit organization Plains Cotton Growers.
Kody Bessent, the CEO of the group, said that last year was one of the worst growing seasons in recent times for the cotton industry. He wants to see improvements in crop insurance — a cornerstone of the Farm Bill that has helped many farmers stay in business.
"That way, we don't have to continue to rely on the amount of ad hoc aid that we've seen in the last three years," Bessent said.
The nonprofit organization, which represents cotton producers in the region, has also brought these concerns to state lawmakers. Bessent and other agricultural leaders advocated for a one-time disaster relief grant from the Texas Legislature, proposed by state Sen. Charles Perry, a Lubbock Republican.
The grant will use money from the COVID-19 pandemic funds and will support agricultural organizations from 56 counties in Texas. House and Senate negotiators continue to consider the grant as they work toward a compromise budget bill that will be put before the full Legislature for a vote, expected next week.
According to an analysis by the American Farm Bureau Federation, Texas suffered more than $6.4 billion in crop losses from weather disasters last year – more than any other state. Cotton accounted for most of that, losing about $2.9 billion in damage.
In a letter to the Legislature signed by various cotton organizations and non-profits, the groups determined that the grant would not make the businesses profitable, but would instead provide the cash flow needed to keep the workforce. to work and businesses to operate.
According to the National Oceanic and Atmospheric Administration's seasonal drought outlook, drought will continue to plague the state, and especially the High Plains, this year.
Disclosure: The Texas Agriculture Council is a financial supporter of The Texas Tribune, a nonprofit, nonpartisan news organization funded in part by donations from members, foundations and corporate sponsors. Financial supporters play no role in Tribune journalism. Find a complete list of them here.
This article originally appeared in The Texas Tribune at https://www.texastribune.org/2023/05/19/farm-bill-texas-cotton-climate-insurance/.
The Texas Tribune is a member-supported, nonpartisan newsroom that informs and engages Texans on state politics and policy. Learn more at texastribune.org.
Image: Cotton Drought
Topics
Texas Agribusiness