CNN
—

Stewart Rhodes, the founder and leader of the Oath Keepers, was sentenced to 18 years in prison on Thursday for leading a far-reaching scheme to keep President Donald Trump in power after he lost the 2020 election.
The sentence was the first handed down in more than a decade for seditious conspiracy.
"What we cannot have is a group of citizens who – because they don't like the results of an election, who don't believe that the law is being followed as it should – initiate revolution," said District Judge Amit Mehta before the sentence was handed down. "That's what you do."
"I dare say, Mr. Rhodes — and I've never said this to anyone I've sentenced — you pose a continuing threat and danger to our democracy and the fabric of this country," Mehta said.
The judge added: "I dare say we are all now holding our collective breath when an election is approaching. Will we have another January 6? That remains to be seen."
Mehta said Rhodes, 58, has no remorse and continues to be a threat.
"A seditious conspiracy, when you take those two concepts and combine them, is one of the most serious crimes an American can commit," the judge said. "It is an offense against the government to use force. This is an offense against the people of our country. "
On Thursday, Mehta ruled that Rhodes' actions amounted to domestic terrorism.
"He gave the orders," Mehta said. "He organized the teams that day. He was the reason they were in Washington DC. The Oath Keepers wouldn't have been there but for Stewart Rhodes, I don't think anyone would argue otherwise. He was the one who ordered to go, and they went."
Rhodes was convicted of seditious conspiracy by a Washington, DC, jury last November in a historic criminal trial that was a test of the Justice Department's ability to hold the January 6 rioters accountable and vindicated prosecutors' arguments. that the violation of the Capitol is a grave threat to American democracy.
The seditious conspiracy charge has rarely been brought in the century and a half that the law and its predecessors have been on the books.
US Capitol Police officer Harry Dunn, who testified earlier this week about his experience on January 6, told CNN that Donald Trump should be "next."
"This is a step toward full accountability," Dunn said. "His lawyers argue that Donald Trump is the root of the problem, and I completely agree. Let's get him next."
"I have a hard time finding joy or celebration in an 18-year sentence," Dunn said. "I believe that justice should not be celebrated – it should be expected."
CNN National Security Analyst Juliette Kayyem said the sentencing should have a "chilling effect on these groups," especially as the presidential election season begins.
"This tough sentence will make the Oath Keepers, the Proud Boys, all these organizations, it will make it more difficult for them to recruit and, just as importantly, for them to raise money," said Kayyem.
Prosecutors asked Mehta to sentence Rhodes to 25 years in prison, and apply enhanced penalties to terrorism convictions.
"This is terrorism," prosecutor Kathryn Rakoczy said Thursday.
"Not directly blowing up a building or telling someone to blow up a building, but because of the threat of harm and the historic nature of trying to stop the certification of an election for the first time in American history, " Rhodes and others. The leaders of the Oath Keepers should be punished more harshly, he said.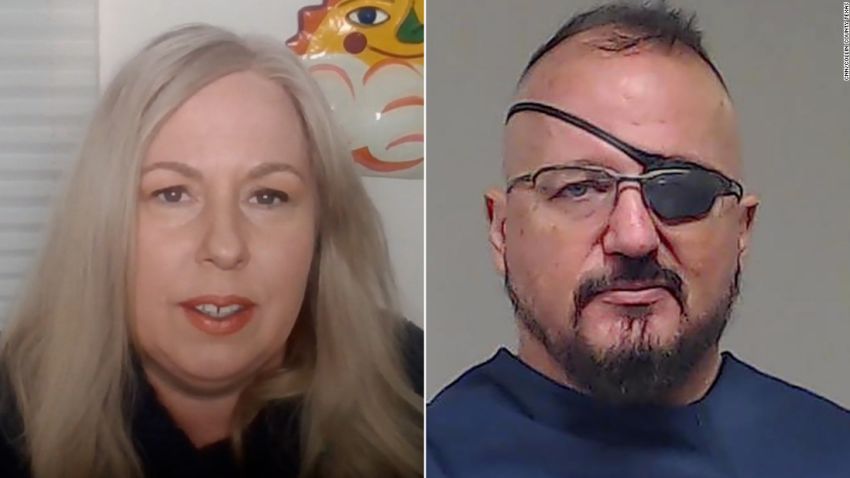 'Very relieved': Ex-wife of Oath Keepers founder responds to verdict
Rhodes, who is accused of leading several people in a coordinated plot that culminated in the January 6 attack, was also found guilty of obstructing an official proceeding and tampering with documents. .
Of those led by Rhodes, 22 have been convicted of various federal crimes by a jury or guilty plea. Eight, including Rhodes' codefendant Kelly Meggs who will also be sentenced later Thursday, were convicted of seditious conspiracy.
Rhodes, before his sentencing, said he was a "political prisoner" and vowed to continue "exposing the criminality of the regime" in prison.
"I want to start by just saying that I am a political prisoner, and like President Trump, my crime is to oppose those who are destroying our country," Rhodes told Mehta in court.
For 20 minutes, Rhodes repeated allegations that the 2020 presidential election was unconstitutional and shouted that he "can't throw that under my oath" during his military service and "cannot ignore the Constitution ."
The leader repeatedly defended his and his followers' actions on January 6, saying that "no Oath Keeper participated in any fighting" and that the violence in the Capitol "was all done by other people." man."
"I think this country is very divided, and this prosecution — not just of me but of all J6ers — makes it worse," Rhodes said.
He continued, "I believe that every J6er is a political prisoner and they are all greatly exaggerated. This will make people feel that this government is even more illegitimate than before."
Trump said during a recent CNN town hall that if elected to a second term he would pardon several rioters convicted for their roles in the Jan. 6 attack on the Capitol.
Although he said he would not pardon all of the January 6 rioters, Trump promised to pardon "a large portion of them."
Michael Fanone, a former Washington, DC, police officer who was attacked on January 6, called the prospect of Rhodes possibly being pardoned by Trump "terrifying."
"All Americans should be outraged," Fanone said on CNN's "News Central" Thursday. "Stewart Rhodes was convicted by a jury of his peers for his actions, which resulted in injuries to myself and hundreds of other police officers on January 6th. Not to mention the fact that America has become a national and international embarrassment on the world stage."
Fanone said it's "offensive" that Trump has "aligned himself" with people like Rhodes through statements he made during a CNN town hall and what he continues to say "on a daily basis which is basic."
This story has been updated with additional developments.