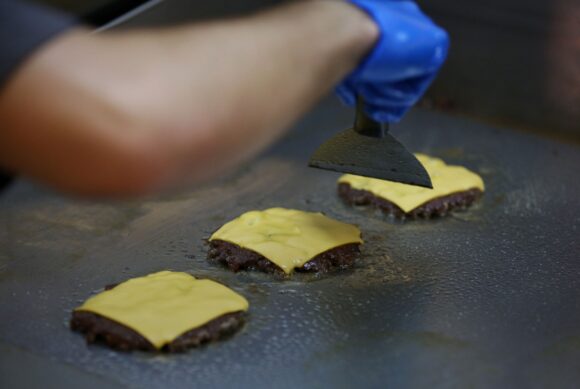 New

You can now listen to Insurance Journal articles!
Sick restaurant and food store workers have been linked to four out of 10 foodborne illness outbreaks in the US in recent years, yet few establishments have comprehensive policies to avoid contamination, a government review found.
Illnesses in food workers may have played a role in about 200 outbreaks from 2017 to 2019, according to a report by the Centers for Disease Control and Prevention. Sick workers who touched ready-to-eat food with bare hands alone were involved in 14% of cases. Other, unspecified types of contact with food workers suspected of harboring infections have been linked to more than 100 cases.
Approximately one in six Americans contract a foodborne illness each year, according to CDC estimates, and restaurants have long been a major source of outbreaks. Foodborne illnesses are estimated to cause more than 100,000 hospitalizations in the US and 3,000 deaths each year. Norovirus, an easily spread infection that causes diarrhea, vomiting and other gastric symptoms, causes the most outbreaks, followed by salmonella bacteria, according to CDC estimates.
In the study, published Tuesday in the CDC's Morbidity and Mortality Weekly Report, most restaurants and food stores with outbreaks require employees to notify managers when they are sick and stop sick employees from working. But less than a quarter have comprehensive policies for dealing with workers' illnesses, researchers found in interviews with managers.
The policies should specify that employees who experience vomiting, diarrhea, jaundice, sore throat with fever or skin disease with pus should report to their managers and be prohibited from work, according to the Food Code. of the US Food and Drug Administration. Many policies state vomiting or diarrhea as reportable symptoms, but jaundice — a sign of liver diseases such as food-borne hepatitis A — fevers and sores are less likely to be addressed.
Written policies that address a wider range of suspicious symptoms could reduce outbreaks, the researchers said. Regulatory requirements can also increase efficiency, as officials will be more likely to review policies during inspections.
Improving employee benefits may also help prevent the spread of diseases, the researchers said. Food workers have previously reported working when sick because of financial and perceived social pressures. Only 44% of managers told researchers that their restaurants provide paid sick leave to workers.
Restaurant managers should prepare staffing plans when workers are absent and adopt "a food safety culture where absence due to illness is not penalized," the researchers concluded.
Photo: A worker cooks beef patties in a fryer in the kitchen of a burger restaurant in Russia. Photographer: Bloomberg Creative Photos/Bloomberg
Copyright 2023 Bloomberg.
Topics
Restaurant
Interested in Restaurant?
Get automatic alerts for this topic.