Scotland's chief constable, Sir Iain Livingstone, said the decision to raid Nicola Sturgeon's home and erect a large tent across the entrance was "proportionate and necessary."
In an interview with the Sunday Times to mark his retirement, Livingstone denied the decision to search the former first minister's home in April was politically motivated; he said the search warrant was independently approved by a judge.
Operation Branchform, a two-year inquiry into the finances of the Scottish National party and its use of more than £600,000 in donations from independence supporters, was long-running and exhaustive, he said.
"If we conduct the search we will put processes in place that are proportionate and necessary to the action taken, and to inquire into its terms, and I am satisfied that the steps we have taken are proportionate and necessary," he said.
"The expression of opinion or speculation without knowledge and information is harmful … because it violates the rights of individuals.
"The form of the Operation Branch has integrity, it is expected that there will be rigor. If the operation had not been pursued, I would have been accused of dereliction of duty."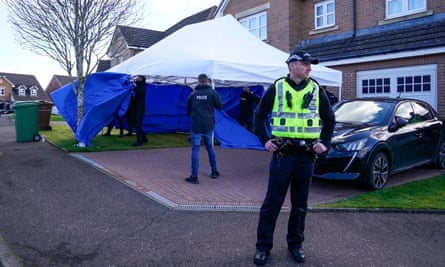 Sturgeon's husband, Peter Murrell, was arrested at the couple's home before the search took place. After nearly 12 hours of questioning by detectives, he was released without charge pending further questions.
Almost two weeks later, the then SNP treasurer, MSP Colin Beattie, was also arrested at his home and questioned by police. He was also released without charge, pending inquiries.
The decision to erect the large tent outside Sturgeon's home sparked an angry response from her allies, who accused the police of unreasonable theatrics.
Murray Foote, the SNP's former head of communications at Holyrood, told the Daily Record in early May that the use of tents was a "grotesque circus". He admits that if no charges or prosecutions happen "that's the reputational cost [for the police and Crown Office] more than the money spent on manpower."
There is widespread speculation that Sturgeon is also facing arrest: she has repeatedly denied any wrongdoing but the party has been embroiled in tense internal debates over the SNP's finances after questions emerged about the its account. He has not been interviewed by the police, and has instead started a weekly column in the Glasgow Times newspaper and continues to engage in public relations.
Livingstone confirmed that he knew the forensic tent would be used. "I know it and support it because I know the circumstances and the reason for its use, and part of it is to protect the rights of individuals."
Asked if more arrests would follow, he said: "I don't really comment on operational matters."