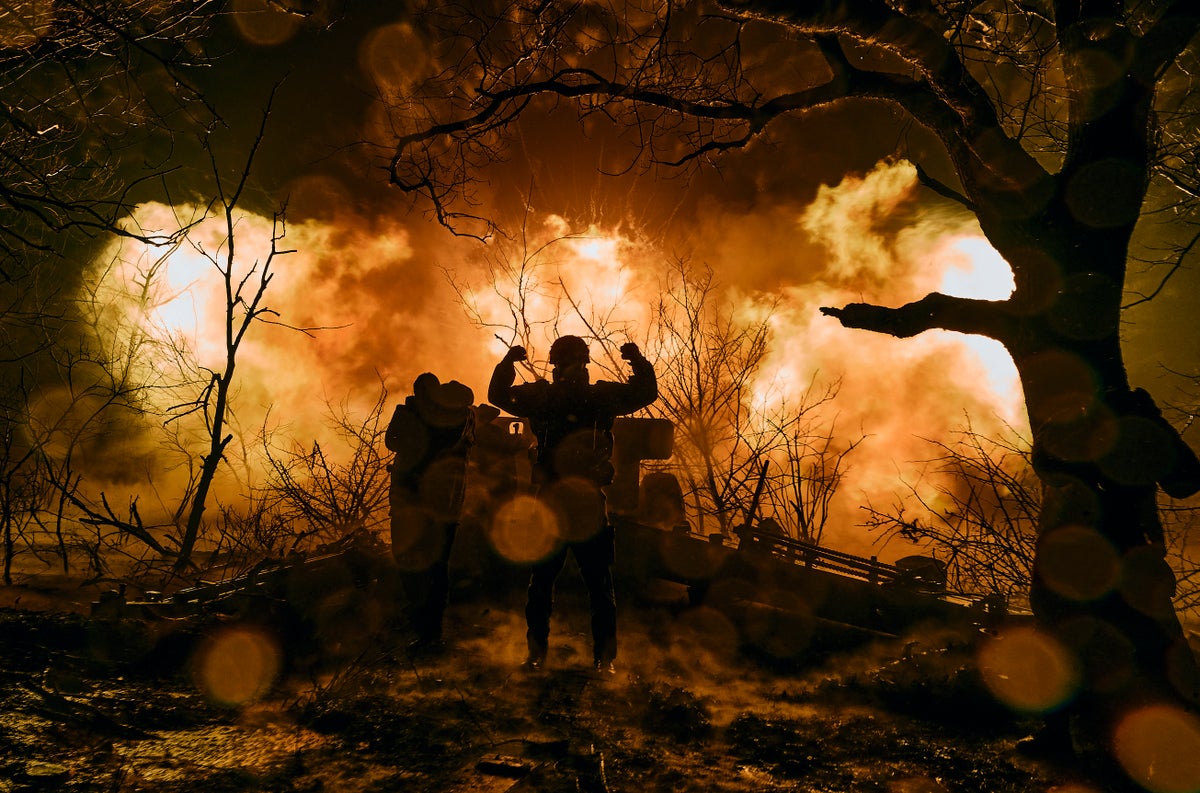 Devastating aftermath of deadly attack in Lviv captured on drone footage
The Joe Biden administration will send controversial cluster munitions to Ukraine for the first time in its ongoing war against Russia, as the conflict enters its 500th day this weekend.
The Pentagon will send the bombs as part of a new military aid package worth $800m.
US National Security Advisor Jake Sullivan told reporters on Friday that Kyiv "has given written assurances" that it will use the controversial weapons "in a prudent manner aimed at minimizing any risk to civilians".
A senior Ukrainian official has previously said that Ukraine will accept the munitions from the United States because they have a "tremendous psycho-emotional effect" on Russian forces.
On the same day, it was also reported that Ukrainian troops advanced more than one kilometer in the last day against Russian forces near the eastern city of Bakhmut.
The statement from a military spokesman suggested that the counter-offensive in Ukraine, which was launched in early June, is gradually progressing although Russian accounts of the fighting in the Bakhmut sector differ from those in Ukraine.
1688699540
The death toll in the Lviv attack rose to 7
The death toll from a Russian missile attack on a residential building in Lviv in western Ukraine has risen to seven after two bodies were recovered from the rubble.
The roof and upper floors of the building were destroyed in what Lviv's mayor called the war's biggest attack on civilian infrastructure in Lviv, a city 70km (43 miles) from the border with Nato and EU member state Poland .
"The enemy has an answer. It will be noticeable," said president Volodymyr Zelensky in an online post accompanying a video of the damage in Lviv.
Governor Maksym Kozytskyi said 70 percent of the rubble left by the attack had been cleared by midnight. Emergency services said at least 36 were injured and that they pulled seven people alive from the rubble.
Alisha Rahman Sarkar7 July 2023 04:12
1688785200
Now to the photos
Martha Mchardy8 July 2023 04:00
1688781600
How many casualties did Russia suffer in Ukraine?
Establishing accurate data on the number of military casualties sustained since the Russian invasion of Ukraine began on 24 February 2022 is difficult for two reasons. The intensity of the fighting on the ground and the fact that both sides tend to keep their cards close to their chests to avoid damaging morale – especially at a time when the war is entering a significant new stage.
The Kremlin, in particular, is unlikely to admit the high death rate of its troops because doing so would amount to a confession that Vladimir Putin's phony war to "de-Nazify" neighboring Russian states is not according to the plan and, in fact, represents a big miscalculation on the part of its leader, who is already under pressure at home because of the attempted uprising of the Wagner Group mercenaries.
Moscow is more likely to downplay its own (rarely offered) numbers and accuse its adversaries of dishonestly reporting against it when external estimates are offered that imply significant Russian losses.
Martha Mchardy8 July 2023 03:00
1688778000
What are cluster bombs and why is it controversial for the US to send them to Ukraine?
The United States has announced that it is sending cluster munitions to Ukraine to help its military push entrenched Russian forces to the front lines.
Joe Biden's administration said it would send thousands of them as part of a new military aid package worth $800m (£630m).
The move is likely to provoke anger from some allies and humanitarian groups that have long opposed the use of cluster bombs.
Martha Mchardy8 July 2023 02:00
1688774400
Joe Biden and Rishi Sunak to 'compare notes' on Ukrainian fight
Joe Biden is expected to discuss the Ukrainian counteroffensive against Russia with Rishi Sunak when they meet next week.
The US president will meet with the prime minister in London and with the King at Windsor Castle on Monday before heading to the NATO summit in Lithuania.
Mr Biden will land in the UK amid criticism of his plan to supply Ukraine with cluster munitions, banned by many allies including Britain.
In their fifth meeting in as many months, the White House said Mr Biden "compared notes" with Mr Sunak on their support for Ukraine and the situation on the battlefield.
The two men will join their Nato allies in Vilnius on Tuesday, when there will be discussions about Ukraine's membership bid.
The National Security Council's senior director for Europe Amanda Sloat said: "Since they met the other day – the two leaders will fly to Vilnius – I imagine this will be an opportunity for them to touch base on developments in discussions leading up to the summit in Vilnius.
"This is an opportunity for them to compare notes on our support for Ukraine and their ongoing efforts on the battlefield."
The UK is one of 123 signatories to the Convention on Cluster Munitions, which bans their use or stockpiling because of their devastating effects on civilian populations.
The weapons spread many bombs over a wide area.
Unexploded bombs can continue to pose a threat to civilians long after conflicts end.
The chairman of the Commons Defense Committee Tobias Ellwood urged the US to "reconsider".
The Tory MP tweeted: "This is the wrong call – and will alienate international goodwill.
"Their use leaves deadly unexploded ordnance on the battlefield – killing and injuring civilians long after the war ends."
Martha Mchardy8 July 2023 01:00
1688770800
Inside Vladimir Putin's luxury armored train – with its own beauty salon
The hammam has a "fancy shower" including an "aroma foam" mode with a price tag of £3.75 million, with the train also equipped with anti-aging machines, a lung ventilator, a defibrillator and a patient monitor designed to check pulse, temperature. and other parameters.
Martha Mchardy8 July 2023 00:00
1688767225
Half of adults who fled Ukraine want to stay in the UK even if it is safe to return – ONS
More than half of adults who fled war in Ukraine want to stay in the UK even if it is safe to return to their home country, a new survey has suggested.
Some 52% said they would want to live in the UK most of the time if they felt safe returning to Ukraine, according to research by the Office for National Statistics (ONS).
The majority of these people say this decision is because there are more opportunities for work in the UK, the ONS said.
Martha Mchardy7 July 2023 23:00
1688763625
Watch: Russian TV shows police raid Wagner boss' 'palace' in bid to embarrass him
Russian TV shows police raid Wagner boss' 'palace' in bid to embarrass him
Martha Mchardy7 July 2023 22:00
1688761919
Submit Biden says the decision to provide cluster munitions to Ukraine was difficult – CNN interview
US president Joe Biden said on Friday that his decision to provide Ukraine with cluster munitions was a difficult one, but he believed that Kyiv needed the weapons so that Russia could not stop the Ukrainian counteroffensive.
"They're trying to get through the trenches, and stop the tanks from rolling," Biden said in an interview with CNN. "It was not an easy decision."
Martha Mchardy7 July 2023 21:31
1688760025
NATO leaders set to offer major support package to Ukraine but membership is off the table for now
NATO leaders will agree next week to help modernize Ukraine's armed forces, create a new high-level forum for consultations and reaffirm that it will one day join their alliance. , the organization's top civilian official said Friday. But the war-torn country won't be starting membership talks anytime soon.
At a two-day summit starting Tuesday in the Lithuanian capital, Vilnius, US president Joe Biden and his counterparts will also agree to boost defense spending as allies pour in weapons, ammunition and other supplies. support such as uniforms and medical equipment in Ukraine, 17 months of war.
They also hope to welcome Sweden as the next member of the world's largest security organization, if they can overcome the objections of Turkish president Recep Tayyip Erdogan, although its accession will be made official in the coming years. month.
Martha Mchardy7 July 2023 21:00