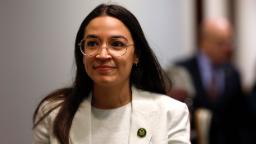 CNN
—

Democratic Rep. Alexandria Ocasio-Cortez said Thursday that she will support President Joe Biden's reelection bid because of the challengers he is currently facing in the primary.
Author Marianne Williamson and environmental lawyer and anti-vaccine activist Robert F. Kennedy Jr. launched campaigns for the 2024 Democratic presidential nomination.
When asked on the "Pod Save America" ​​podcast if she would support Biden, Ocasio-Cortez said, "I believe, given that field, yes."
The New York congressman's comments marked a shift in his position on Biden's reelection campaign. A prominent progressive voice on Capitol Hill, Ocasio-Cortez told CNN in February before the President's State of the Union address when her reelection announcement was imminent that she would allow the primary process to Democratic before endorsing a candidate.
"I got here through a primary process," the congressman said at the time, referring to his upset primary victory in 2018 against Rep. Joe Crowley, a 10-term incumbent. "And out of deep respect for that, I never tried to get ahead of it."
"However, I will enthusiastically support him if he is the Democratic nominee," he said of the president in February. Biden made his reelection bid official in April.
Since she was first elected to Congress, Ocasio-Cortez has gained a strong following among progressives, and, subsequently, has become a coveted endorsement for many Democrats. In 2020, he threw his support behind Vermont Sen. Bernie Sanders in the Democratic presidential primary and later supported Biden in the general election.
Two other members of "The Squad" – a group of progressive lawmakers in the House, including Ocasio-Cortez – also supported Biden's bid for reelection: Reps. Ilhan Omar of Minnesota and Greg Casar of Texas.