Protesters interrupted a rare meeting outside the San Francisco Board of Supervisors on Tuesday where the board president planned to question Mayor London Breed on his administration's response to the junk-marketing crisis. drugs.
Board President Aaron Peskin moved the first part of the board's weekly meeting to a plaza in the troubled Tenderloin neighborhood near City Hall, where drug dealing and use is rampant. He asked the mayor if he would commit to building an emergency operations center and coordinate with departments to shut down "public drug dealing" in open sites like the plaza within 90 days.
But the jeers and chants of "no more cops" from the crowd were so loud that Peskin moved the meeting back to City Hall before the mayor could respond. Breed did not answer Peskin's question directly after the meeting was returned indoors.
NEW YORK SHERIFF'S DEPUTY SHOTS MAN WHO OPENED FIRE DURING NARCOTICS RAID
The fentanyl crisis has hit all of California, including San Francisco. In April, Gov. Gavin Newsom of the California Highway Patrol and California National Guard to help combat drug traffickers in the city as overdose deaths have risen.
Breed clashed with board members who said more police and arrests were not the way to solve the city's drug crisis. He declared a three-month state of emergency over the Tenderloin's drug crisis in 2021, and nearly a year later promised another crackdown on drugs in the low-income neighborhood, but little has changed.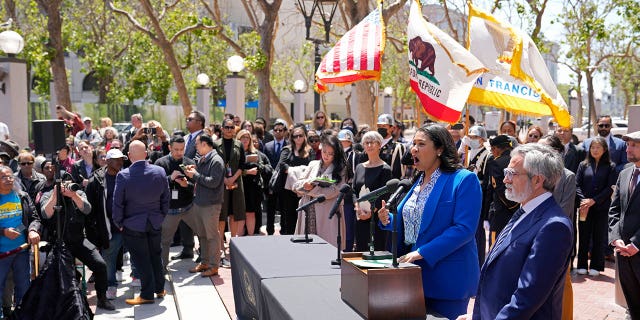 Breed said using drugs in public is unacceptable and that repeat offenders must accept the help offered or face the consequences.
"We can't keep talking out of both sides of our mouths. On the one hand, we want change and we want people to be accountable," Breed said before the meeting adjourned. "And on the other hand, we are willing to let people get away with murder."
SAN FRANCISCO PROPOSED REPAIR PLAN COULD COST CITY $100 BILLION: REPORT
Peskin said it's not a matter of resources, but coordination. He agreed with the mayor that the problem is not new, "but it is one that has become very visible that many San Franciscos do not feel safe."
San Francisco's downtown core, of which the UN Plaza is a part, has not recovered from the pandemic as well as other cities. Tech employees are choosing to work remotely, reducing the foot traffic that supports downtown stores.
CLICK HERE TO GET THE FOX NEWS APP
After the supervisors left the UN Plaza, a woman threw a brick at a group of high school students carrying flags for the meeting and hit one woman. A 26-year-old San Francisco woman has been charged with child endangerment and assault with a deadly weapon, said San Francisco officer Robert Rueca. The minor was not seriously injured.
The mayor will appear at board meetings once a month to answer supervisors' questions.