Main events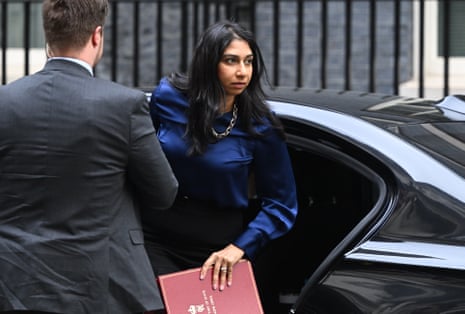 Raab is standing because he 'knows he will lose', says Lib Dem leader Ed Davey
Ed Davey, the Lib Dem leader, told LBC this morning that Dominic Raab will stand at the next election because he knows he will lose his seat. Davey said:
He knew he would lose. We worked hard there.

We work every day to earn the trust of the people of Esher and Walton.

It's not just about Dominic Raab, it's about the whole Conservative party.
Asked if the Lib Dems could seat Raab, Esther and Walton, Davey replied: "I hope so but we will work for it."
Raab cheers Lib Dems by joining more than 10% of Tory MPs who say they will quit at next election
Good morning. "Are you still in Raab?" used to be a niche Westminster joke about the next general election, highlighting the fact that Dominic Raab, the former deputy PM, was widely expected to be one of the most high-profile Tory losses on election night last year, as was Michael Portillo in 1997. It's not really a good comparison, because Portillo's defeat unexpected, while Raab's has been priced out, but now the only thing it might be referring to is when the Daily Telegraph dropped last night, with the story that Raab stood up. Our version is here.
Raab, who is only 49 years old, wrote a letter to the chair of the Conservative association in Esher and Walton, his constituency, saying that one of the reasons for his decision was "the pressure that the job puts on my young- family". He has two sons, 10 and eight years old. This may be true. But in Westminster it is acceptable that he announced his decision to stand now because he believes he will lose his seat. His majority among the Liberal Democrats in the last election was only 2,743, and Esther and Walton were among their main targets.
If it's just a one-off, it's not interesting. However, according to the Spectator's tally, Raab is the 37th Conservative MP to announce they will stand down at the next general election. That's more than 10% of the parliamentary party – a higher proportion than is normal at this stage of a general election. In addition, 12 others, like Raab, are under 50. In the 20th century it was rare for an MP to voluntarily leave the Commons before reaching retirement age. Career patterns are changing, but that in itself doesn't explain what's happening (the Labor MPs who have announced they're standing are all in their 60s, 70s or 80s), and it's hard not to conclude that Raab participated. a group of Tories who despair that their party will be in government after the next election.
Responding to Raab's announcement, a Lib Dem spokesman said:
The local elections in May showed that people are fed up with Conservative MPs who do nothing. It's not just Dominic Raab that needs to go, it's the entire dysfunctional Conservative government.

Let's be strong in the next election to finally give the people of Esher and Walton the strong local champion they deserve.
And this is from Monica Hardingthe Lib Dem candidate in Esher and Walton.
Here is the agenda for the day.
morning: Rishi sunak chairs cabinet.
10 am: Claire Coutinho, the children's minister, gave evidence to the Commons education committee about special educational needs and disabilities (Send) provision.
11am: Sunak spoke at the London defense conference. At 3:15pm John Healey, the shadow defense secretary, will speak.
11:30 am: Downing Street held a briefing in the lobby.
After 12.30pm: MPs began a debate on a Labor motion criticizing the government for not abolishing or reforming the tenancy system; later there was a debate on a Labor "humble speech" motion that called for the publication of data about the safety of school buildings in England.
If you want to contact me, try the "send us a message" feature. You'll find it just below the byline – on the left of the screen, if you're reading on a PC or laptop. (This is not available in the app yet.) This is for people who want to message me directly. I find it very useful when people message to point out mistakes (even typos – no mistake is too small to correct). I usually find your questions interesting too. I can't promise to answer them all, but I'll try to answer as many as I can, in the comments below the line, privately (if you leave an email address and that's more appropriate), or on the main blog, if I think this is a topic of great interest.