Dozens of taxpayer-funded libraries and other government agencies across the country are hosting drag queen storytimes for children as young as 3 to kick off LGBTQ Pride Month in June.
The DC Public Library is co-hosting a Drag Storytime with performer IttyBitty in Adams Morgan, where "kids of all ages" are invited to learn about "diversity, self-love and a thank others."
At the Berkeley Public Library in California, children are invited to gather in the children's room for a "fun game of Lotería," similar to Bingo, with "drag queen and teacher" Bella Aldama.
Kids of "all ages" are invited to Drag Story Hour at the West Hollywood branch of the LA County Public Library, hosted by Pickle the Drag Queen.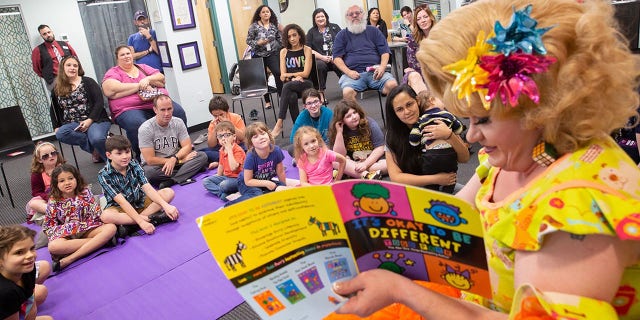 BELK SELLS TRANSGENDER PRIDE SHIRTS FOR GOT-DROGS: 'HAPPY TO BE ME'
The Oakland Public Library is hosting a drag queen story time with "local Latinx non-binary storyteller Per Sia."
Petaluma, Rincon Valley, Windsor and Central Santa Rosa public libraries in Sonoma County, California, are hosting drag storytimes for infants through 6th grade.
"Books, Prizes and Events!" read the description of the event. "Meet drag king Vera, who will read children's books and participate in other fun learning activities."
At the Lafayette Public Library in Colorado, children of "all ages" are invited to attend a storytime with entertainer Shirley Delta Blow.
"Come and dress in your best!" the event description says. "Drag Queen Storytime takes the imagination and gender fluidity of childhood play and shows kids that people come in all shapes, sizes, and forms!"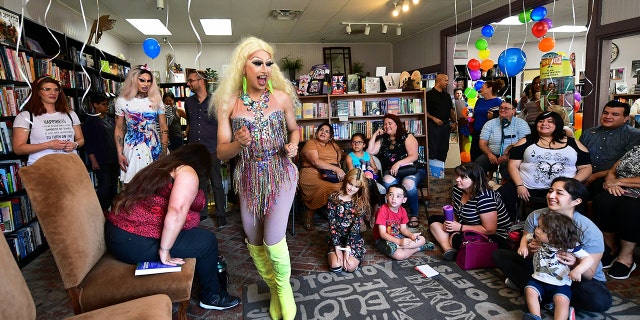 DRAG QUEEN STRADDLES GIRL AT NORTH CAROLINA PUBLIC SCHOOL, VIDEO SHOWS
At the Denver Public Library, kids as young as 5 have their pick of at least three different drag queen events at different branches, including a story time, karaoke and Bingo with Delta Blow.
Massachusetts' Rowley, Haverhill, Amesbury and Wilmington public libraries are co-hosting a virtual event called, "Dishing Out Drag," so kids as young as 13 can "experience the world of drag through eyes of the famous New England Drag Queen. Giganta Smalls."
The Brookline Public Library, also in Massachusetts, is hosting a drag queen story hour to promote "self-love, creativity, and literacy" for "children ages 3-8."
The New York Public Library is holding a Drag Story Hour twice this month at the Riverside branch for children ages 3 to 12.
"Drag Story Hour is a storytelling program designed for children," reads the event description. "A local drag artist will read picture books, sing songs, and lead other age-appropriate activities."
In Connecticut, the Chappaqua Library hosts a drag queen storytime "geared toward children 3-6."
"Come meet the amazing Angel Elektra, Drag Queen Extraordinaire, for a fun filled story of books and songs!" read the description of the event.
The Tigard Public Library in Oregon is hosting a drag queen storytime for kids with Miss Poison Waters.
The Hoboken Public Library in New Jersey is hosting a drag queen story time with Harmonica Sunbeam in Church Square Park, where Mayor Ravi Bhalla is also expected to participate.
Local governments also hold all-ages Pride events that include public drag queen performances.
In Mansfield, Connecticut, all ages are invited to a drag queen story time in Betsy Paterson Square as part of the town's Pride Month celebration.
In Fairfax, Virginia, all ages are invited to its Pride event at Old Town Hall, which will include a "dance party with several drag queen performances throughout the night."
The Slover public library in Norfolk, Virginia, is hosting a Bingo pride event that encourages kids of all ages to join in for "an hour of amazing BINGO fun with local drag. queen legends Jennifer Warner and Sabrina Laurence."
The parks department of Montgomery County, Maryland, hosts a virtual drag queen story time for children with performer D'Manda Martini.
Drag queens are scheduled to appear in public elementary schools this month.
"Famous Seattle drag queen, Aleksa Manila will be stopping by Whittier to spend an evening with us reading stories and having fun!" reads a description of the event on the Whittier Elementary School PTA website in Seattle.
"Drag Queen story time is about love, acceptance, inclusion and giving kids attractive, positive, and unashamed role models!" it says. "During a story like this, children can see people defy rigid gender restrictions and imagine a world where everyone can be their true selves!"
Last month, Montana became the first state to specifically ban people in drag from reading books to children in public schools and libraries, part of a slew of laws aimed at rights of the LGBTQ+ community in Montana and other states.
Bills in Florida and Tennessee also appear to attempt to ban drag reading events, but both require that the performances be of a sexual nature, which can be up for interpretation. Both bills also face legal challenges.
Montana's law is unique because — while defining such activity as one hosted by a drag king or drag queen who reads children's books to minor children — it does not require a sexual element. which is prohibited.
The bill, co-sponsored by more than half of the Republican-controlled legislature, took effect immediately after Republican Gov. Greg Gianforte signed it on Monday.
CLICK HERE TO GET THE FOX NEWS APP
Gianforte signed the bill because he "believes it is inappropriate for young children, especially preschoolers and elementary school children, to be exposed to sexual content," spokeswoman Kaitlin Price said in a statement. .
Drag performers who opposed the legislation said they have separate drag shows for children compared to those for adults.
The Associated Press contributed to this report.