Rishi Sunak almost certainly knew scientists were worried about his "eating out to help" approach during the pandemic, Sir Patrick Vallance said, directly contradicting the prime minister's evidence at the Covid inquiry .
In potentially damaging testimony, Vallance, the UK government's chief scientific adviser during the pandemic, said he would have been "very surprised" if Sunak, then chancellor, had not known about the objections to his plan to helping the hospitality industry.
Sunak wrote in the question saying that he "[did] did not recall any concerns about the scheme" raised in ministerial meetings despite growing concerns that the discount plan could be fueled by the spread of the virus.
An extract from Vallance's contemporaneous diary, in July 2020, provides evidence that Sunak also sought to reject the scientists' advice. At an economics-based meeting, Sunak said "it's all about managing scientists, not managing the virus", the entry said.
Vallance said: "There are times when it's clear that the unsolicited advice we give is, as expected, unpopular, and that means we have to work doubly hard to make sure the evidence and scientific advice is heard properly. "
In other evidence, Vallance said that Boris Johnson sometimes struggled to follow basic scientific concepts important to Covid, such as the effects of locking in waves of infection, and had to explain them repeatedly.
Vallance described Johnson in his diary as "weak" and "indecisive" on a second lockdown in autumn 2020, and recalled the former prime minister arguing against restrictions because it was mostly the elderly who died and "they had a good innings" .
Asked about the Sunak food scheme, which gave millions of people discounts of up to £10 in restaurants and cafes in summer 2020, Vallance said he and other scientific advisers were not asked in their views before it was launched by the Treasury.
"Until that point, the message is very clear, which is the interaction between different households and people you don't live in a closed environment with many others is a dangerous activity. That policy completely reverses it ," said Vallance.
"It's very difficult to see how this would not have an impact on transmission and that should have been the advice given."
The inquiry was then shown an extract from the written statement of the witness of Sunak, who must appear in person next month, in which he said that before and after the launch of the scheme "he does not remember any concerns about the scheme expressed during ministerial discussions". This includes meetings attended by Vallance and Chris Whitty.
Asked if this was correct, Vallance said it was "very clear to anyone that this will inevitably lead to an increased risk of transmission, and I think ministers know this".
Asked by Andrew O'Connor, a lawyer at the inquiry, if this would include Sunak, Vallance replied: "I can't remember which meetings he participated in, but I would be very surprised if any minister did not understand that these openings carry risk."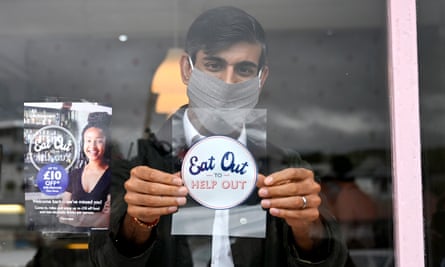 Asked if Johnson fully understood the science concepts presented to him, Vallance said the prime minister last studied science at the age of 15 and "would be the first to admit that it's not his forte, and that he struggles with some concepts and we. need to repeat them".
"It's hard sometimes to try and make sure he understands what a particular graph or piece of data is saying," he explains.
It even covers scientific ideas that are fundamental to fighting the virus, such as how and if interventions such as lockdowns can reduce peaks in infection, Vallance told the hearing.
"He will look at the peaks of the waves and infections and ask: 'Are the interventions we are doing are doing the or is this going to happen anyway?'" Vallance said.
"And he came back to that point, always. We told him what the evidence was, that the interventions made a difference. Of course it's true that at some point they will go down because at some point, public attitudes will change. But the point is that it is clearly manipulated by interventions. "
Various extracts from Vallance's diary cast an equally grim light on Johnson, showing him repeatedly changing his mind during a second lockdown, with Vallance telling the hearing that the prime minister was then "very influenced by the press".
On 25 October 2020, the diary says, Johnson began a meeting on possible restrictions by arguing for, "allowing it to break down. Saying yes, there will be more casualties, but still – 'they had a good innings.' " The same entry also quotes Johnson as saying: "Most people who die have reached their time.
Earlier in his testimony, Vallance said that in mid-March 2020, more than a week before Johnson imposed the first lockdown, data showed that Covid "was more widespread and faster than expected by anyone". He added: "This is an occasion that I think clearly we should have gone to earlier."
An excerpt from Vallance's statement shows his key takeaways from that period: "The most important lesson I learned and reiterated from the first lock-down was about the timing of the intervention is that you have to go earlier than you want, harder than you want. you want, and wider than you want."