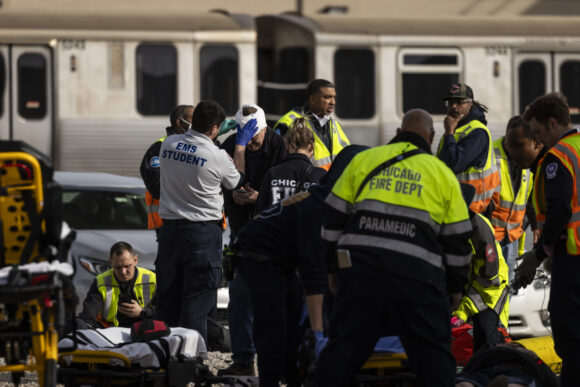 CHICAGO (AP) – Federal safety officials said Friday they have launched an investigation into a Chicago commuter train crash that injured nearly 40 people but is likely to last more than a year. the distance from the release of any conclusions about the cause of the incident.
National Transportation Safety Board Chairperson Jennifer Homendy said during a brief news conference Friday that a team of seven investigators from her agency has begun documenting the crash scene. They expect to spend about five days on the scene.
Investigators have not yet reviewed the event recorders or video of the incident, he said. The agency expects to issue a preliminary report in a few weeks, he said, but did not specify when. The agency will likely need a year to 18 months to produce a final report with an analysis of what happened, conclusions and recommendations, Homendy said.
A Chicago Transit Authority train was heading south from Skokie on Thursday morning when it ended up with snow removal equipment ahead of it on the same tracks. Thirty-eight people were injured; 23 were taken to area hospitals. No one suffered life-threatening injuries, according to paramedics.
It remains unclear whether the train operator saw the equipment and tried to slow down or stop the train before the collision. It is also unclear whether the operator was warned that the equipment was on the tracks.
Homendy did not have details Friday on the train's speed or what caused the crash.
Jim Southworth, the NTSB investigator leading the crash investigation, said the train was equipped with an automatic train control system designed to avoid collisions by stopping the train in certain circumstances. Homendy said investigators will examine what role, if any, the system played in the crash.
The NTSB says the system is not as comprehensive as a newer automatic braking system known as Positive Train Control. Congress required most railroads to install Positive Train Control after a 2008 collision between a commuter and freight train in California killed 25 and injured more than 100.
Photo: Chicago Fire Department and Chicago Police Department personnel triage patients at the scene after a Chicago Transit Authority train crashed into a piece of equipment on the tracks near the Howard CTA station on North Side, Thursday, Nov. 16, 2023 in Chicago. (Ashlee Rezin /Chicago Sun-Times via AP)
Copyright 2023 Associated Press. All rights reserved. This material may not be published, broadcast, rewritten or distributed.
Interested in transportation?
Get automatic alerts for this topic.