Burnley have endured a difficult return to the Premier League – and even boss Vincent Kompany admits they need to get used to the complexities of the top flight.
After winning the Championship title last season with 101 points, Kompany's side have collected just one point from their opening four games this term.
The Clarets have started the campaign in hot fashion, losing three home games and conceding three or more goals each time.
But they missed the mark Monday night's 1-1 draw at Nottingham Forestjust short of all three points after home debutant Callum Hudson-Odoi brilliantly canceled out Zeki Amdouni's first-half opener.
The result could have been better for Burnley if Lyle Foster's late strike had not been ruled out by the video assistant referee (VAR), who picked up a handball by Sander Berge in the build-up.
"I have to get used to it," said Kompany. "In the Championship if it's there, it's there.
"I have a decent business and teaching brain, but when it comes to laws and legalities I shut down.
"Handball this way or that, they come and explain it to us but I made a decision to trust what they do and have the right intention.
"It's not something I want to talk about, I can't change it now."
Foster was later sent off for an elbow offence, which Kompany described as "a mistake".
Kompany 'delighted' by Burnley's potential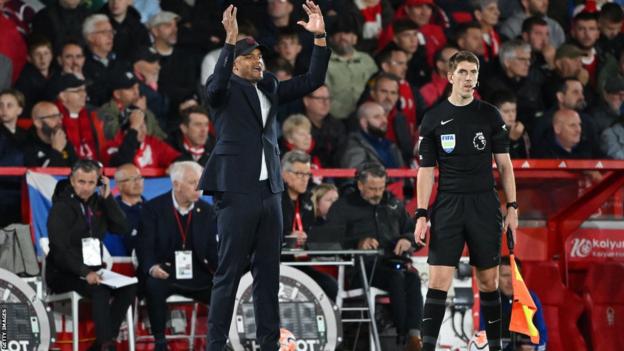 It looks like lightning will strike twice at the City Ground.
Swiss striker Amdouni scored a late winner to knock Forest out of the Carabao Cup on 30 August and his opener looked like grabbing all three points.
The former Basel player seems to be enjoying playing at the City Ground, with his two goals at the stadium more than any other Forest man has managed on home turf this season. Meanwhile, Burnley's teenage winger Luca Koleosho was a constant threat and set up the opening goal.
Kompany said: "You have to fight for every point in this league, but there are different teams that we can compete with from what I have observed in the four games.
"We haven't had a complete performance yet, but today regardless and depending on which side of the fence you sit on, you feel you deserve the win.
"If we can continue to improve, our team will have a lot of improvement and that's the exciting part. In the future there will be room for further improvement."
After Hudson-Odoi's stunning 61st-minute equalizer, the game opened up and luck did not reach the away side in search of a winner.
Foster could have been a hero when his close-range finish was ruled out, before the striker turned villain by being sent off in injury time for a thoughtless elbow from Ryan Yates.
The South Africa international has contributed two goals and an assist this season, but will miss three games due to violent conduct starting with Saturday's meeting against Manchester United.
"It's a shame," Kompany said of the red card. "The effort he's made for the team, how he's established himself in the league you have to prioritize.
"He made a mistake and I'm a bit cautious. He's been open about mental health in the past so I'll leave it at that and make sure he's ready for the next game.
"He knows that himself and we have to get him back to the level he was at before the red card."