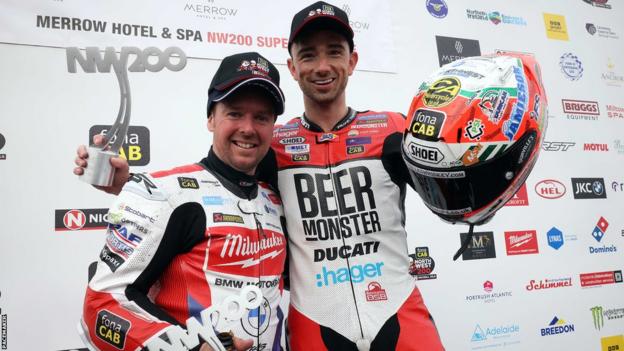 It's like two heavyweight boxers at the end of a 200mph battle on country roads as Glenn Irwin and Alastair Seeley await the winner of the final Superbike race in the North West 200.
The word was tense as confusion reigned around the paddock, and some verbals were exchanged as the two riders waited for confirmation of the results.
This happened after the race was interrupted by a red flag, and Irwin, who crossed the line before the red flag came out, was in no doubt who won.
Seeley and his TAS Racing team felt differently and thought the result was taken from the previous lap, where their man had taken the lead.
It led to one of the most spectacular finishes to a race anyone can remember as everyone stood around waiting for news as emotions ran high.
Then, after what felt like the longest wait, it was confirmed that PBM Ducati rider Irwin, 33, had won and he took his eighth consecutive Superbike victory.
This led to Irwin running around in his trademark celebrations, which involved the crowd throwing him in the air.
"I was across the line in the lead. I've won races under red flags under red flag conditions but I'm sure it's a bit murky," Irwin said.
"I took the lead, pulled the pin and the race was stopped on the next lap. I felt unbelievable and the bike was amazing."
After words were exchanged between the riders and the teams, Irwin told BBC Sport that he regretted some of what was said, including a comment on Philip and Hector Neill of TAS Racing and their desire to win.
"I want to say again, I want to take back my comments [About TAS Racing]. In the heat of the moment you can talk.
"TAS Racing is just looking for a way to win the race."
It was the latest flash point between the pair in an action-packed day. In the first race, which Irwin also won after a red flag, Seeley took exception to a move from his rival at Ballysally early in the race.
Ballysally is not a traditional overtaking spot and the pair touched down, a move Irwin later demanded.
Seeley, who earlier said Irwin had to calm down when making moves because it was a road race, returned the favor in the second Superbike race as he made a similar move to Irwin at Ballysally – this time no contact.
While now friends, Seeley and Irwin have a bit of track history in the event, stemming from the latter's last win at the event in 2017.
When everyone calmed down, the couple shared a smile and a handshake on the podium. Two riders whose drive to win at home is almost unmatched on the grid, but who also share the highest respect for each other.
Irwin came back to win
It was a strange week for Irwin, who came into the event with high hopes but instability problems hampered his run on Tuesday before problems with his race suit's airbag and a lack of Thursday's run saw him qualify in a lowly seventh.
For a man who has dominated the Superbike class since 2017, it looks like he won't be able to repeat his 'big bike' heroics this year.
Irwin himself said he canceled the bigger celebrations because he was so low on confidence earlier in the week.
But, one thing we know, you can't count Irwin out.
"Never write me off. I said to everyone that I didn't feel good coming into today," he added, thanking his PBM Team for "above and beyond" for helping to turn his fortunes around.
"We really lost on Tuesday and Thursday.
"We know why, but every team has a budget and it's not part of our plan to do what we've done now in terms of engines and stuff.
"It's been a fantastic week. The guys – Dean Harrison, Michael Dunlop, Alastair Seeley and Davey Todd – the level is really high.
"We won in the wet, we won when we led from the front, we won in a last-lap dash and we won in a group, so these are the boxes for me."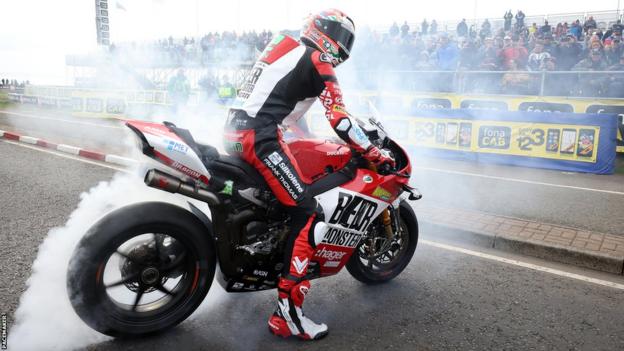 'BSB title is the next target'
Irwin enters the meeting leading the British Superbike Championship after a good start to the season on his return to Ducati.
Now that North West 200 success is back in his hands, his focus is immediately on the next BSB round at Donington Park as he hunts for the elusive championship title.
"The next step, there is one more target for me this year and that is to win the British Superbike Championship," added Irwin.
"I came here thinking about Donington Park which upset me. Good and bad, I also want to win it but Donington is very important.
"Let's take that good feeling with us. That's seven podiums in eight PBM Ducati races this year between roads and circuits, let's keep going."