New

You can now listen to Insurance Journal articles!
The National Oceanic and Atmospheric Administration has increased its prediction for the ongoing 2023 Atlantic hurricane season to "above-normal" activity.
Warmer-than-normal sea surface temperatures across much of the tropical and subtropical Atlantic are likely to offset the generally limiting atmospheric conditions caused by El Niño, NOAA said.
NOAA had previously predicted near-normal Atlantic hurricane activity, but forecasters increased the likelihood of an above-normal Atlantic hurricane season to 60%. The probability of a near-normal Atlantic hurricane season has dropped to 25% compared to 40% in NOAA's May forecast.
NOAA predicts a range of 14-21 named storms, with 6-11 hurricanes (winds of 74 mph or greater) and 2-5 major hurricanes (Category 3 or greater ) for the six-month hurricane season ending Nov. 30. NOAA says it has 70% confidence for these ranges.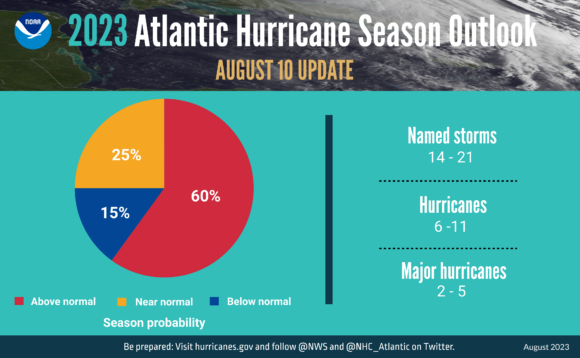 The Atlantic basin has already recorded five hurricanes that reached tropical storm strength. El Niño usually suppresses hurricane activity in the Atlantic but the limited conditions associated with El Niño are slow to develop, NOAA said.
Matthew Rosencrans, lead hurricane season forecaster at NOAA's Climate Prediction Center, said there is a greater than 95% chance that the ongoing El Niño will continue through fall 2023.
"If the changes associated with El Niño move quickly, the activity will be near the lower end of our ranges," Rosencrans said. "If local conditions in the Atlantic prevail longer than expected, activity will be near the upper end of our forecast ranges."
Colorado State University's hurricane research team released its final forecast for the 2023 Atlantic hurricane season that calls for above-average activity. The CSU Tropical Meteorology Project team has forecast 18 storms, including 9 hurricanes and 4 major hurricanes. The CSU previously predicted a slightly below average 2023 Atlantic hurricane season.
"Due to conflicting signals between a likely moderate/strong El Niño and a warmer-than-normal tropical and subtropical Atlantic, the team emphasizes that there is more uncertainty than normal in this outlook, " the CSU's team said.
The Atlantic hurricane season historically peaks between August and October, where about 90% of tropical storms tend to occur.
NOAA Predicts Near-Normal Atlantic Hurricane Weather
CSU Research Team Predicts Slightly Below Average 2023 Hurricane Season
Topics
Disaster Trends Natural Disasters Hurricane Aerospace
Interested in Aerospace?
Get automatic alerts for this topic.