First-season-syndrome has been a common affliction for newcomers at Man City under Pep Guardiola. Nathan Ake's story is no different. He's endured a lot of frustration and required more patience than most, but his determination is now bearing fruit.
Ake spent his first two seasons in and out of the team unable to nail down a regular starting spot. When talk of a move to Chelsea arose last summer it appeared his City adventure could be over before it really began. Lucky for him, and for City, the transfer never materialised.

Friday 11th August 6:30pm


Kick off 8:00pm

Ake played more games en route to the treble than in the last two seasons combined. And, despite only just returning from injury, it was him that was picked to start the Champions League final in Istanbul while Kyle Walker sat on the bench. In Guardiola's words, Ake had become fundamental.
Adjusting to the exhaustive demands of Guardiola can take time. But there's a different side to the detail-obsessed winner we see gesticulating wildly on the touchline each week. A more patient side that perhaps is not recognised enough.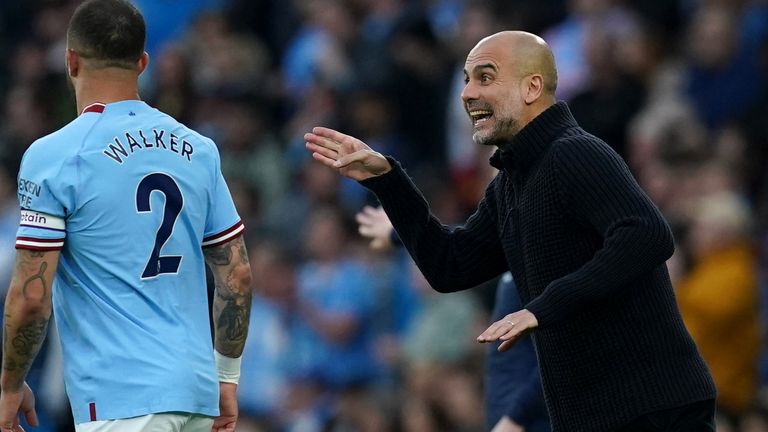 "Guardiola's been massive for me," Ake tells Sky Sports. "Having had my first season that wasn't great in terms of injuries and playing time and not playing my best when I was playing, he always kept that faith in me.
"He could have said, 'Nah, this is not it', after the first season. But he always spoke to me and told me, 'Don't worry, keep going, the chances will come'. The second season gave me the confidence to push on and from there, I started to gain more confidence, to learn more from him and to understand what he wants more."
So how does a nearly-dispensed-of defender turn around his fortunes quite so quickly to become a key pillar in one of the most successful British sides ever?
Pep Guardiola explains why 'exceptional defender' Ake came good at Man City

"These players play good because when they were not playing, they were the more generous, empathetic and the most committed," Guardiola told Sky Sports of Ake in March of last season.
"When this happens you don't have regrets, you are prepared because you were preparing and not finding excuses. The karma, or whatever you want to say, it works.
"That's why he deserves to play because he is an exceptional defender. He is incredible in the set pieces, his attention in what we need in the process is really good in the short spaces. That is why he is playing."
Guardiola's shift to a new shape was another catalyst behind Ake's ascent. Dispensing of more attack-minded full-backs Joao Cancelo and Oleksandr Zinchenko, Guardiola built his backline with what he called four "proper" defenders, not dissimilar to the way Tony Pulis used to set up his teams at Stoke.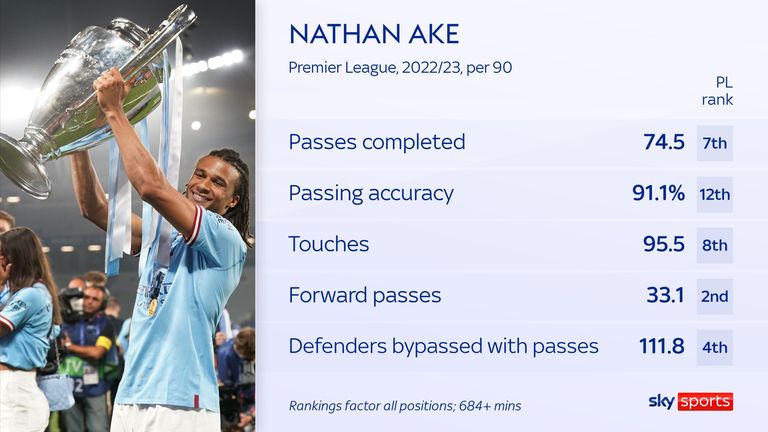 In the Champions League final that was Manuel Akanji, John Stones, Ruben Dias and Ake. Unlike Pulis, Guardiola used Stones to move into midfield to create an overload. Dias anchored the defence in the centre, leaving Akanji and Ake to cover the spaces either side.
Guardiola needed defenders in wide positions he could trust against world-class inside forwards. "I learned this season when you play against Bukayo Saka, Vinicius Junior, Gabriel Martinelli, Mohamed Salah or Sadio Mane you need a proper defender to win duels one vs one, and Nathan gave us that boost that I didn't have in the past."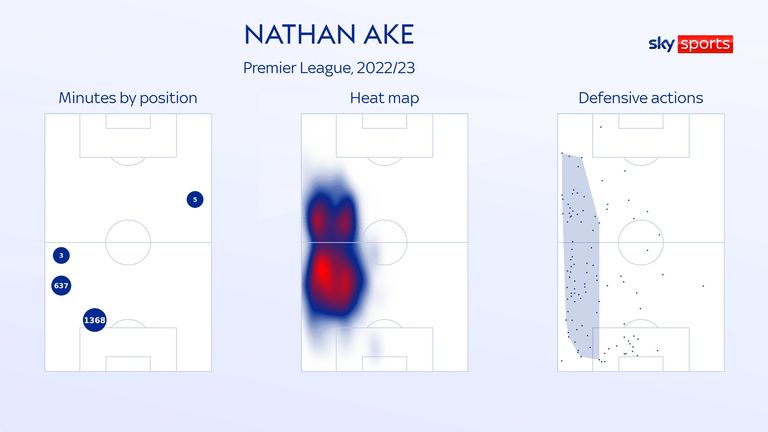 Ake had finally found his place at City. "It was perfect for me," he tells Sky Sports. "I really like the position because it's basically as a left-back but also a centre-back, so a bit between," he adds.
"You have a bit of the licence to come forward and you come into a lot of one vs one duels, especially now every week you come up against top wingers and personally I like that. It's difficult, obviously you play against good players but it's a challenge every week. I like defending as well.
"Building as a centre-back, sometimes going forward as a left-back, defending as a left-back, defending as a centre-back. When I was younger I used to play one season as a left-back as well and played in midfield as well. You've got a bit of everything."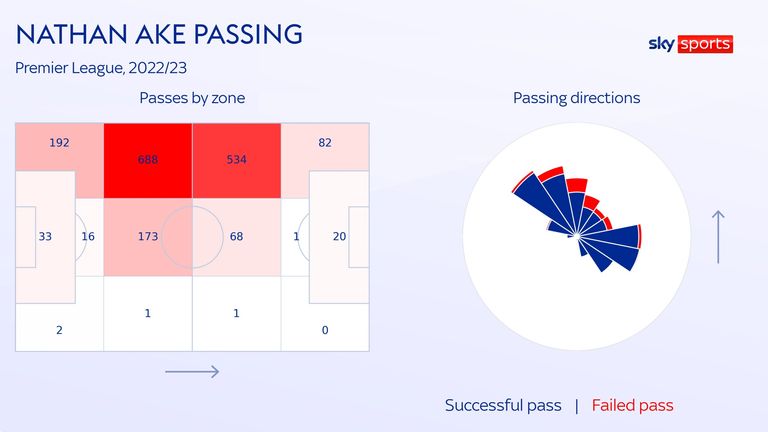 Just as Ake has nailed down his spot in the team, and signed a new four-year deal, City have invested nearly £80m in another left-footed centre-back, Josko Gvardiol. Having displaced Aymeric Laporte – who appears destined to leave this summer – Ake has been delivered a reminder of the unrelenting standards required under Guardiola.
A constant churn of players each summer has been key to their dominance over the last six years. Liverpool, the only team to have won the league aside from City in that period, are now suffering the consequences of standing still. Ake, though, as is so often the case now, is in sync with the way Guardiola wants things done.
"As a player here you know the club is going to get the best players in every position and that is only a good thing to have the competitiveness in the squad but also to help each other reach the next level and win titles," he says. "It is always a good thing if the club gets good players."
Guardiola likes to keep everyone guessing – to the irritation of Fantasy Premier League managers – by rotating almost constantly throughout the season. City's strength in depth allows the manager to do this without really weakening his side and Gvardiol provides another world-class option in Ake's position.
"You always have to have that mentality – especially in our team – of anyone can take your spot at any time," adds Ake. "Last season it was the same, this season it is going to be the same. You have to be on it every game to make sure first and foremost to help the team win games and titles. And then keeping your own standards high every day."
Gvardiol has a job on his hands if he is to break into the City team ahead of Ake this season. The Dutch defender knows all too well the feeling of looking in from the outside. He will not be giving up his spot without a fight.
Watch Burnley vs Man City live on Sky Sports Premier League from 6.30pm on Friday Night Football; kick-off 8pm.
You can also stream the Premier League and more with NOW for £26 a month for 12 months.