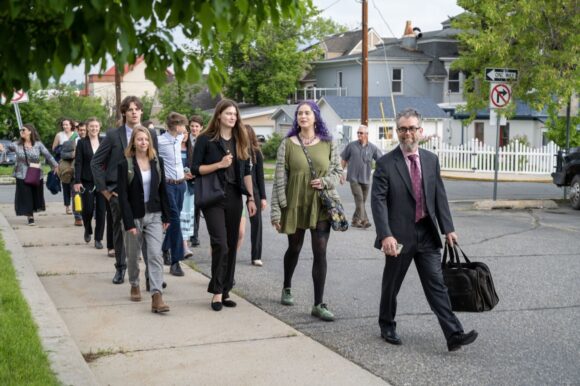 New

You can now listen to Insurance Journal articles!
A state judge ruled Monday that Montana's oil and gas policies violate young people's constitutional rights to a safe environment, handing a major victory to climate plaintiffs in youth.
An adjustment to the Montana Energy Policy Act (MEPA)—which limits the environmental factors that must be considered for project approval—violates the rights to a safe environment enshrined in Montana's constitution, according to Judge Kathy Seeley. in Lewis and Clark County District Court in Helena, Mont.
Montana is one of only three states that has an affirmative right to a healthy environment in their constitutions. That legal language is a cornerstone of Conducted v. Montana case of young people.
"By prohibiting consideration of climate change, GHG emissions, and how additional GHG emissions could contribute to climate change or be consistent with the Montana Constitution, the MEPA Limitation violates the right of Plaintiffs in a clean and healthy environment and the face is not unconstitutional," the ruling. said.
In granting declaratory relief—a statement from the judge that their rights have been violated—Judge Seeley's ruling will have an impact on Montana's progressive policies by "invalidating laws that prohibit the detection and remedies based on GHG emissions and climate impacts."
The 16 young people who complained of Conducted v. Montana is part of a cadre of young climate activists who are suing governments across the US for damaging the climate through oil and gas development.
Some of those cases are Juliana v. US, a landmark lawsuit against the federal government that was greenlit to go to trial by an Oregon district judge in June.
Attorneys from the legal nonprofit Our Children's Trust led the lawsuits and hailed Monday's "sweeping" victory in Montana.
"Today, for the first time in US history, a court has ruled on the merits of a case that the government has violated the constitutional rights of children through laws and actions that promote fossil fuels, neglecting to change -or climate, and disproportionately harms young people," Our The Children's Trust's Chief Legal Counsel Julia Olson said in a statement.
The case is Conducted v. Montana, Mont. District Ct., No. CDV-2020-307, Order 8/14/23
Photo: The youth plaintiffs arrived for the nation's first youth climate change trial in Montana's First Judicial District Court on June 12 in Helena, Montana. Sixteen plaintiffs, ranging in age from 6 to 22, are suing the state for promoting fossil fuel energy policies that they say violate their constitutional right to a "clean and healthy environment". (Photo by William Campbell/Getty Images)
Copyright 2023 Bloomberg.
The most important insurance news, in your inbox every business day.
Get the trusted insurance industry newsletter