In a significant step that marks the growing importance of Central Bank Digital Currencies (CBDCs) in the global financial system, Mastercard has announced a strategic partnership with several blockchain companies, including Ripple. Meanwhile, the price of XRP has plummeted in the past 24 hours, falling 14.3% amid a market-wide slump.
Ripple has partnered with Mastercard
Opening its CBDC Partner Program, Mastercard has highlighted its intention to work with leading figures in the CBDC ecosystem. The goal: to offer central banks a comprehensive understanding of CBDCs and their potential to change future monetary systems. Ripple, identified as the "CBDC platform" in Mastercard's media release, is at the forefront of this ambitious initiative.
"The inaugural set of partners includes CBDC platform Ripple, blockchain and Web3 software company Consensys, multi-CBDC and tokenized assets solution provider Fluency, digital identity technology provider Idemia, digital identity consultant Consult Hyperion, security technology group Giesecke + Devrient and digital asset operations platform Fireblocks," Mastercard detailed in its announcement.
Ripple's recent achievements, such as the partnership with the Republic of Palau, which resulted in the launch of a stablecoin issued by the government, further strengthen its position as a key player in the CBDC arena. Mastercard highlighted this collaboration as a testament to Ripple's capabilities, saying, "Ripple's launch of an inaugural national stablecoin issued by the government in collaboration with the Republic of Palau, in addition to working with four CBDC pilots."
Commenting on this collaboration, Mastercard's CEO, Michael Miebach, DECLARED, "We are working with many central banks to help them research new digital currency projects. It starts with understanding what they want to achieve with this technology, then building transparency, consumer privacy and stability. We are working towards those goals with a new #CBDC partner program, with Mastercard partnering with some key blockchain/Web3/payments players so we can learn from each other one.
In response, Antony Welfare, Ripple's CBDC advisor, shared his enthusiasm, saying, "Excited to work with Mastercard on #DigitalCurrency and CBDC projects."
Ripple's involvement in the CBDC Partner Program is another testament to its growing influence in the domain. The company has already marked its presence with partnerships in countries such as Montenegro, Hong Kong, Colombia, and Bhutan.
XRP Price Crashes At Pre-SEC Ruling Levels
Amid the decline of the crypto market, the price of XRP has fallen to a significant level. XRP briefly fell to $0.4347, below the price level before the summary judgment in the legal battle between Ripple and the US Securities and Exchange Commission (SEC).
At the time of writing, XRP is trading at $0.5048, below the 200-day EMA at $0.5251. In a recovery rally, this should be the first target for XRP bulls before the 23.6% Fibonacci level at $0.5524 comes into focus. On the downside, XRP should defend yesterday's low of $0.43 at all costs. If not, a crash towards $0.41 could be coming.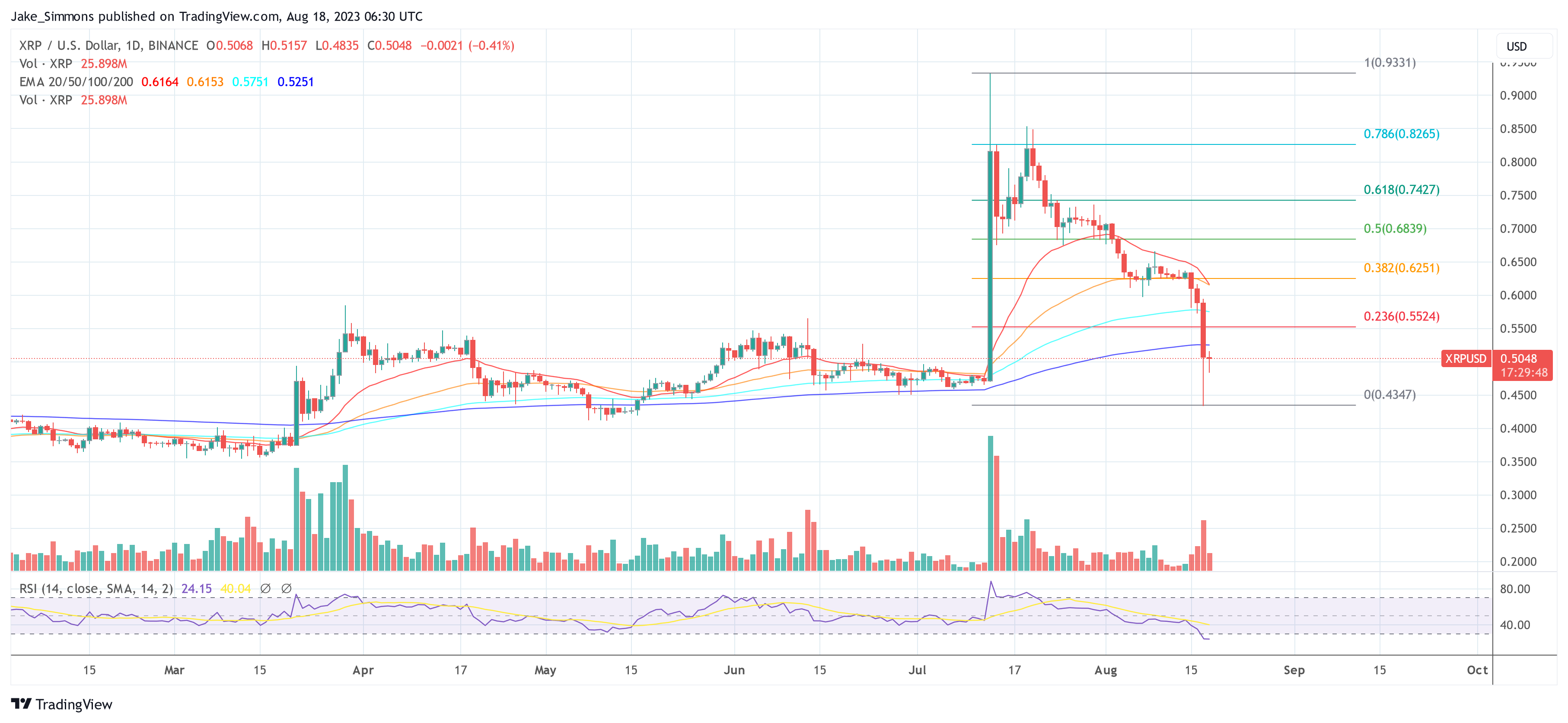 Featured image from Yahoo Finance, chart from TradingView.com