Ethereum price consolidation weakened as bulls lost momentum, resulting in a nearly 4% loss over the past 24 hours and a 7% decline on the weekly chart. Technical analysis shows considerable bearish pressure.
The value of the coin remained stagnant at about $1,800, which led to a decrease in interest from buyers and a significant decrease in demand and accumulation. As Bitcoin fell below $26,000, major altcoins also experienced significant declines on their daily charts.
To break its resistance, Ethereum needs a lot of buyer participation, as failure to do so could lead to the loss of a significant level of support.
Additionally, Bitcoin should recover and reach the $27,000 zone to start a short-term recovery for ETH. The decrease in Ethereum market capitalization suggests a gradual departure of buyers from the market.
Ethereum Price Analysis: One Day Chart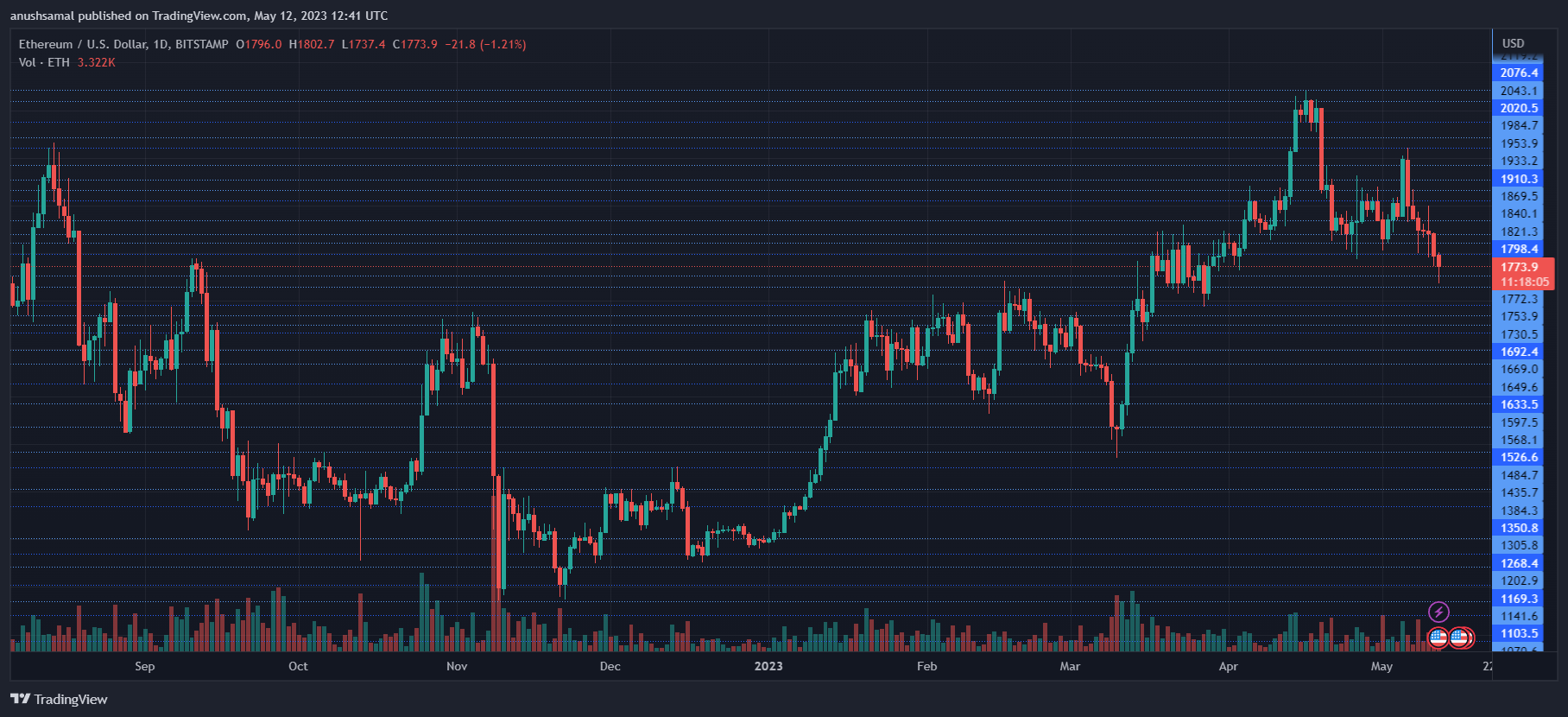 At the time of writing, ETH is priced at $1,770. After struggling around the $1,800 range, selling pressure eventually took over. The coin's resistance levels are identified at $1,798 and $1,821. On the other hand, if the price continues to decline, the bulls will try to protect ETH at $1,740.
However, a failure to hold above $1,740 could push Ethereum to $1,690. A further drop would breach the $1,540 support line. In addition, the recent session has seen a significant increase in selling power, which is indicated by the red volume of Ethereum sold.
Technical Analysis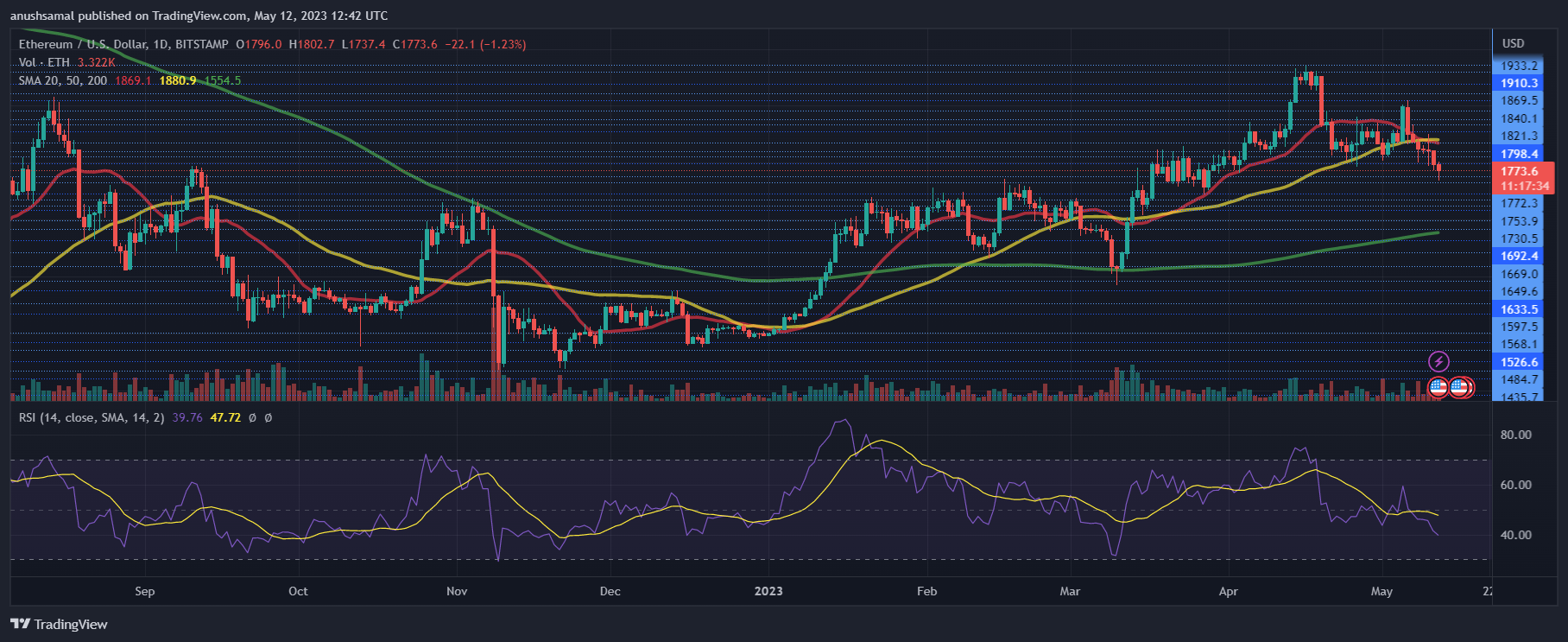 After declining from the $1,800 range, ETH experienced a significant sell-off with a lack of recovery in buying power. The Relative Strength Index (RSI) has dropped below 40, suggesting a decline in accumulation and approaching oversold territory.
Additionally, ETH has fallen below the 20-Simple Moving Average (SMA) line, indicating that sellers are driving market momentum. If ETH successfully surpasses the immediate resistance level, there is a possibility to move above the 20-SMA line.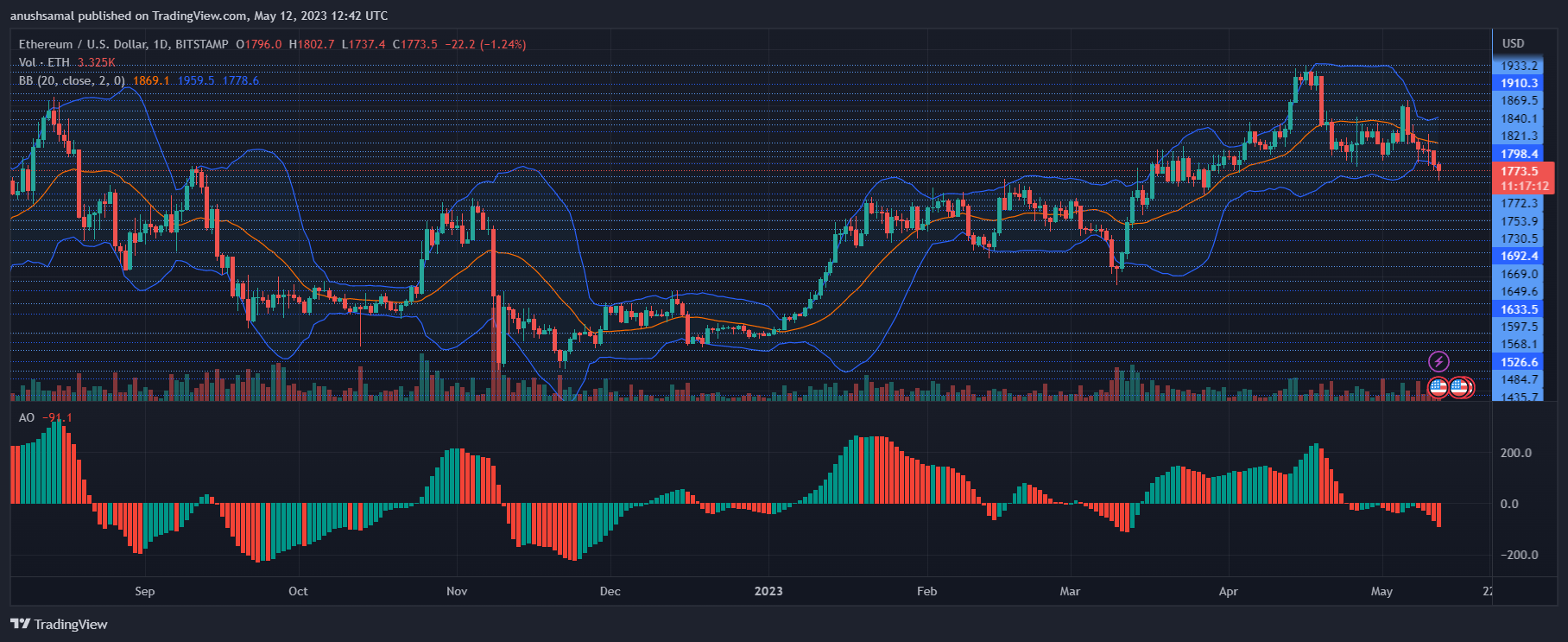 Several technical indicators on the Ethereum daily chart are starting to show sell signals. One of these indicators is the Awesome Oscillator, which not only shows price momentum but also indicates potential trend reversals.
In this case, the indicator shows growing red histograms below the middle line, which indicates trading signals for the altcoin. This suggests a potential price drop before any recovery takes place.
Another indicator, the Bollinger Bands, which reveal price fluctuations and fluctuations, began to widen. This expansion suggests that Ethereum may experience increased price volatility and volatility in the coming trading sessions.
This increased volatility indicates the potential for significant price movements in either direction. Ethereum needs to break through its immediate resistance to stop the bears. In addition to that, broader market strength will also prove important for ETH.
Featured Image From UnSplash, Charts From TradingView.com