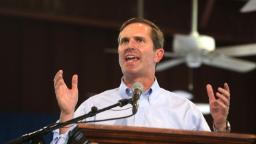 CNN
 — 

Kentucky Republicans are seeking to tie Democratic Gov. Andy Beshear to President Joe Biden as they work to take back the governor's mansion in November, a strategy that state Democrats have pushed back on with a focus on local issues.
Biden remains unpopular in the deep red state, and with the 2024 presidential election on the horizon, the Republican gubernatorial nominee and Kentucky's Attorney General, Daniel Cameron, is in a tight race to lock down the state for the GOP.
At the historic Fancy Farm picnic in Western Kentucky this weekend, Cameron told a combined crowd of Democrats and Republicans, "Andy Beshear and Joe Biden are liberal elites that have a lot of rules for you, and none for themselves."
"The governor has the audacity to lecture Kentuckians on right and wrong when he and Joe Biden can't even tell the difference between a man and a woman," he added, to loud boos from the Democratic side.
Senate Minority Leader Mitch McConnell similarly tied Kentucky's governor to the president telling voters, "Biden and Beshear aren't working for Kentucky. Andy might as well be on the White House payroll."
The Beshear campaign, however, has argued the race is not about Biden or national politics. Beshear didn't mention Biden once in his speech Saturday – focusing instead on how he handled major crises like the Covid-19 pandemic, tornadoes that devastated the state, as well as floods and a mass shooting in which Beshear knew one of the victims.
"Daniel Cameron will show up for a political rally but not for tornado survivors," Beshear said at the picnic.
The dueling messages came as Beshear, Cameron, and candidates for other state offices across Kentucky descended on the town of Fancy Farm for their annual picnic and barbecue this weekend, a tradition that has become a mainstay of state politics.
The picnic took on particular importance this year as it showcased each side's messaging posture in a race that carries significant implications for 2024's elections.
The Kentucky race will test whether a Democratic incumbent can survive in a deep-red state where his party's voter registration advantage has been erased in recent years and the political environment is increasingly dominated by national themes.
Though he has remained popular, Republicans argue that Beshear's 0.4-percentage-point-victory was the result of an unfavorable political landscape – one that has shifted drastically in recent years.
One Kentucky GOP voter, Brian Smith, told CNN on Saturday of Beshear: "I think he's absolutely chasing the National Democratic Party. But when decisions needed to be made about supporting small businesses, about keeping kids in school and keeping churches open, he was on the wrong side of those decisions."
Another Cameron supporter came to the picnic in a Biden mask, carrying a sign that read "Beshear's #1 fan."
But Jeremy Edge, a Beshear supporter, told CNN, "I think they're trying to make Andy out as some sort of radical, which is a mess because he is a straight arrow kind of dude, and the negative stuff, it's kind of gross."