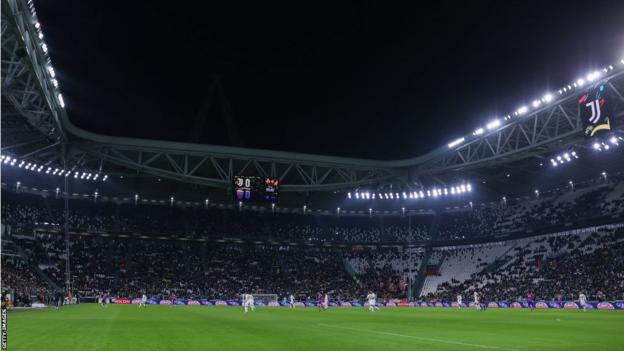 Juventus have been docked 10 points following a new investigation into the club's past transfer transactions.
Juve were initially given a 15-point penalty in January but Italy's highest sports court that decision was overturned in April and ordered to re-examine the case.
The new decision was announced on Monday, before the team's match with Empoli.
The penalty dropped Juve to seventh place in Serie A, outside of the European qualification places.
Napoli have already secured the Serie A title and, before Monday's decision, were 17 points clear of second-placed Juve.
In April, Italy's Sports Guarantee Board overturned Juve's 15-point penalty from the Italian Football Federation's (FIGC) appeals court.
It asked the appeals court to revise the punishments of the club and some key figures, including former vice-chairman Pavel Nedved.
The long-term bans given to former chairman Andrea Agnelli, ex-chief executive Maurizio Arrivabene and sporting directors Federico Cherubini and Fabio Paratici now backed up.
If Juve beat Empoli, they will be two points behind AC Milan, who occupy the last place in the Champions League, with two games to play.
Juve are also embroiled in criminal proceedings over their accounting practices, with 12 current and former key figures at the club including Agnelli potentially facing trial.
According to Italian news agencies, a high court hearing on 26 October will decide whether any trial will be held in Turin, where the investigation took place, or in Milan or Rome.