CNN
—

Jessica Watkins, an Army veteran and member of the far-right Oath Keepers, was sentenced Friday to 8.5 years in prison for participating in a plot to disrupt the certification of the 2020 presidential election that ends in January. 6, 2021, attack on the US Capitol.
Judge Amit Mehta said Watkins' efforts at the Capitol were "aggressive" and said he was not immediately remorseful, although he did apologize.
"Your role that day was more aggressive, more aggressive, more purposeful than perhaps others. And you lead others to accomplish your goals," Mehta said. "And there's no immediate aftermath of any sense of shame or guilt, just the opposite. Your comments are celebratory and have no real sense of the gravity of that day and your role in it."
At trial, prosecutors presented evidence that Watkins founded and led a small militia in Ohio and moved his Oath Keepers coordination group to Washington, DC, on January 6. Watkins and his associates eventually marched in tactical gear to the Capitol and encouraged other rioters to push the police out of the Senate chamber.
"I'm just an idiot running around the hallway," Watkins told the court before the sentence was handed down Friday. "But idiots are held accountable, and now you're going to hold this idiot accountable."
Two of Watkins' codefendants, Stewart Rhodes and Kelly Meggs, were sentenced Thursday to 18 and 12 years in prison, respectively, for seditious conspiracy.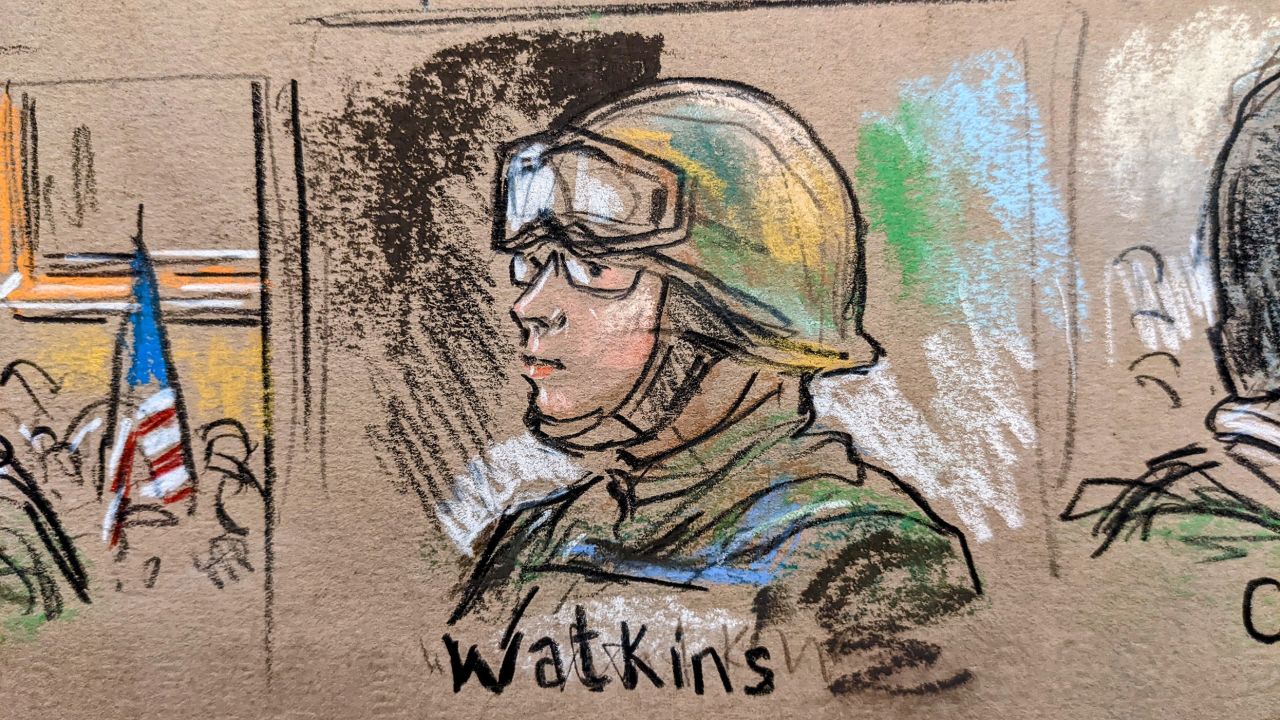 Unlike Rhodes and Meggs, Watkins was acquitted of the top charge of seditious conspiracy, but convicted of conspiracy to obstruct an official proceeding – which carries the same 20-year maximum prison sentence as seditious conspiracy – as well as other charges. felony case.
"Nobody's going to suggest you're Stewart Rhodes, and I don't think you're Kelly Meggs," Mehta told Watkins on Friday. "But your role in the events is more than that of a soldier. I think you will appreciate that."
Watkins, who is transgender, gave emotional testimony during the trial about struggling with her identity in the Army while the "don't ask, don't tell" policy was still in effect, and about being dragged into the underbelly of theories of conspiracy around. the 2020 presidential election.
She tearfully repeated to the judge on Friday that she was "very scared and paranoid" at the time, and that while "for a long time I denied my own guilt," she now "sees my actions for what they are. – they made a mistake and I'm sorry."
"I understand now that my presence in and around the Capitol that day may have inspired individuals to a degree," Watkins said. "They saw us there and it probably pissed them off. The Oath Keepers are here, and they're patting us on the back."
He continued: "How many people came in because of us? We are responsible for that."
Prosecutor Alexandra Hughes disagreed, telling Mehta that Watkins was not remorseful.
Hughes cited a January phone call from jail, in which Watkins said of Capitol officials that "boo hoo those poor little police officers, got a little PTSD, waaaa, gotta I'm going to stand there and open the door for people waaaaaa."
"Perhaps it is an unsurprising fact of human nature that those who are wronged sometimes bring injustice to others," Hughes said. "We're not disputing what he went through, but what he did that day had profound and devastating — devastating — effects on the individuals who showed up for work that day and did nothing to Jessica Watkins."
Before handing down the sentence, Mehta directly addressed Watkins' traumatic history, saying "I don't think you have a single person … who heard your testimony and wouldn't have been moved. "
"Your story itself shows a lot of courage and resilience," Mehta said. "You've overcome a lot, and you need to be shown as someone who can be an example for other people on that journey. And I say that at a time when trans people in our country are always which is ridiculed and used for political purposes.
The judge added: "It makes it difficult for me to understand the lack of empathy for those who suffered that day."
Kenneth Harrelson, an Oath Keeper from Florida who chanted "treason" inside the Capitol on Jan. 6, was also sentenced Friday to four years in prison for his role in the broader conspiracy.
Prosecutors allege that Harrelson was appointed "ground team leader" of the Oath Keepers on January 6, stockpiled weapons in a so-called forceful reaction outside Washington, DC, and moved to the Capitol with chant "betrayal."
In a speech to the judge before he was sentenced, Harrelson said he had "no complaints against the government, past or present" and "just got in the wrong car at the wrong time and went to the wrong place with wrong people."
"I have no idea," Harrelson said. "It's not to say that I didn't have signs or warnings that I should have paid attention to, but it didn't register."
He continued, sometimes crying and supporting his body with a lectern inside the well of the court: "I don't know why. I ruined my life and I am fully responsible."
This story has been updated with additional developments.