Kimi Karjalainen and his brother Marko poured their life savings into Bone Machine Brewing Co when it opened in Pocklington, East Yorkshire, in 2017 before moving to Hull, as part of the craft beer revolution that swept through in Britain.
"The whole investment, not including the time and labor we gave for free, was about £70,000," says Karjalainen. Four weeks later, it disappeared. "That was my parents' retirement."
"It's too much – Brexit," Karjalainen said. "We are well prepared for export. We will sell to Finland, Sweden, Norway, Ireland, the Netherlands, Italy, Spain. We have Hungary in the pipeline. And everything is lost with Brexit.
Post-Brexit trading arrangements with European Union countries mean that Bone Machine's craft beers must be accompanied by expensive and time-consuming paperwork.
"Everyone says 'it's too complicated to import anything from the UK'," says Karjalainen. "In terms of pure output, that's about 30% to 40% of what we do. In terms of revenue, it's probably more than half."
Bone Machine is one of more than 100 small brewers forced out of business in the last 18 months, hit by a combination of Brexit, the pandemic and the cost of living crisis and now threatened by changes in the beer duty law. In June, the accountancy firm Mazars found that 45 small brewers had been liquidated, but many more had been sold or gobbled up by rivals.
Steve Dunkley, the founder of Manchester brewery and taproom Beer Nouveau, which closed last year, plans to close breweries from 2022 and identified 83 last year that closed, with an additional 33 so far this year and four more that is threatened. .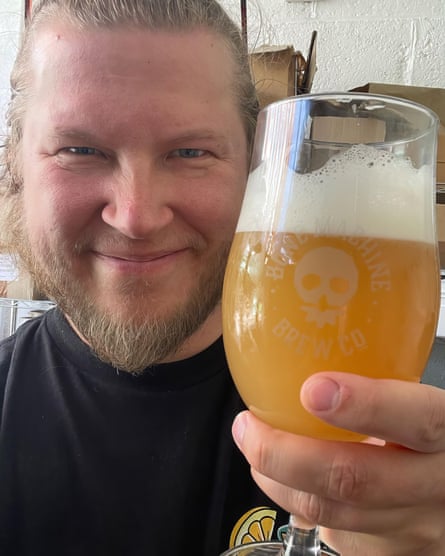 Brexit isn't the Bone Machine's only problem. "Covid has hit hard," Karjalainen said. "The final nail in the coffin is the cost of living crisis. Our production costs have doubled and our customer base has halved. So as people get worse, the multinational brewers go to the pubs, for free the houses, and say 'we'll give you cheap kegs, but we want to control all your lines'."
Karjalainen found a job in sales for another brewer but gave up on his lifelong dream. "The cost to mental health and physical health is huge. I had a blood clot. It's not worth it. And I feel for all the staff. We employ five people and I saw them all last week. They were all crying."
The company is not in liquidation at this stage. The brewery facility has been mothballed and Karjalainen is still hopeful looking for a buyer.
Other issues affecting the industry are the lack of carbon dioxide after the early stages of the energy crisis, and Russia's full-scale invasion of Ukraine which has raised the cost of barley and hops.
"There are brewery closings every year. That's normal business," said Yvan Seth, founder of Jolly Good Beer, an independent distributor of craft beers. "But there are more closings this year than in the last eight years of doing business. Three years ago, a keg that cost £100 will now cost you £150 so pubs are going 'no, we'll skip that'. Staffing is still difficult. Electricity is still expensive."
Although customers have less money in their pockets, they have not lost the taste of craft beers. Big companies are doing well, including Brewdog, the Camden Town Brewery and Beavertown, where the grocer It has been reported that supermarket sales have increased by more than a quarter.
But Seth believes drinkers have little choice — something that's felt in a beer culture built on constant change and a few esoteric beers. "We're seeing less crazy beers – the triple IPAs and the 10% pale ales, cans over £10, that sort of thing. So we're seeing stronger beers and less hypey hops."
Another reason for the changes is the new beer duty rules. Beer, wine and spirits used to have different tax levels but from August 1 they are taxed according to alcohol content. That means a 10.1% increase in bottles and cans of beer, according to the British Beer and Pub Association, and stronger craft beers have been hit harder.
Meanwhile, the lager did not disappear. Pete Brown is the co-founder of Forest Road Brewery in south London, whose flagship product is a lager called Posh. "Out of 100 beer drinkers, about 70 are lager drinkers, no matter what," he said.
"The thing is that a lager is like a naked stage. When you have an IPA, you smell and taste things. A flaw that is in an IPA can be covered by a hop aroma. With a lager , it's a very delicate, balanced product."
Brown, who is American, said craft brewers have gone through a "brutal" time. "The craft beer bubble burst in the States in the late 90s, and the same thing is happening here today.
"Everybody thinks it's cool, everybody starts doing it and then everybody competes to have the next new big thing. And you win your own market so that even your most loyal customers can't say the difference between your key brands and your one-offs. In a bust, people go back to the things they know. And we're definitely in a bust."
Trouble in the making
366,300 liters: Average beer production by members of the Society of Independent Brewers (Siba), 11% below 2019 level
684: Independent brewers in the UK, up from a total of 1,828, at the start of this year
63%: The members of SIBA who said that their focus this year is survival
55.1%: An increase in the number of special lagers produced this year compared to 2019
91%: Falling volume of craft cask ale