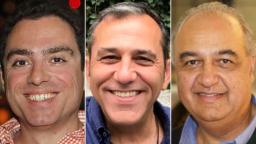 CNN
—

Family members of two Americans who were released from house arrest in Iran last week as part of a deal aimed at bringing them back home to the United States have fired back at criticism of the upcoming deal.
"First and foremost, we have to bring Americans home and it's never wrong to bring an American home," Tara Tahbaz told CNN's Kate Bolduan on "CNN News Central" Wednesday.
Tahbaz's father, Morad Tahbaz, was among five wrongfully detained Americans who were moved from prison to house arrest as a first step in a tentative deal to make $6 billion in Iranian assets in the South Korea that is easier​​​​​​​​​for the purchase of non-sanctionable items. . There is also expected to be a prisoner swap component to the deal. US officials have stressed that indirect negotiations are ongoing and sensitive.
Some Republicans, including Senate Foreign Relations Ranking Member Jim Risch and presidential candidates Mike Pence and Ron DeSantis, criticized the transfer of assets to Iran, with the latter two likening it to a "paid payment."
Neda Sharghi, whose brother Emad Sharghi was also transferred to house arrest, said she did not know the terms of the agreement but questioned what else the US could do but try to reach an agreement. to bring home the wrongly detained Americans.
"Do you allow an innocent American, an innocent American citizen a father, a brother, to just die in a foreign prison? Did you do nothing to bring them home?" he asked.
Tahbaz noted that "hostage diplomacy is a bigger issue and a national security issue and it's not just limited to Iran."
"I think that's something that we have to solve and put things in place to prevent it in the future, but it's not the mercy and the cost of his brother, my father, all the other American hostages who are currently in the those prisons. They need to go home first, and then we need to figure out how we can prevent this in the future," he said.
Both Tahbaz and Sharghi stressed their cautious optimism about their loved ones returning home, as if their dream is far from over. However, they spoke to their loved ones via video call after their transfer from Tehran's notorious Evin Prison.
"When I answered the phone, his face was there and he was just smiling," he said. "I want to cry, I want to smile, I want to laugh, I want to reach for the phone and touch him and know he's here."
"His spirit is fighting so hard to get home but again, it's just one step. He's not home yet. So I see the hope in his eyes, but I also see the fear of knowing you, anything that could go wrong between where he is now and finally we'll bring him home," Tahbaz said.
Sharghi said when he first saw his brother Emad on the phone, he did what he does when he's nervous: "I did it awkwardly giggling and laughing and then it was silence, processing."
"He went into the typical big brother role asking me how I was doing, how my kids were doing, how our parents were doing and of course his wife and his two daughters," he said.
They also spoke to Secretary of State Antony Blinken. Sharghi described the call as "more than just a check-in."
"I think he probably knows the speculation out there and how much it affects families. He really wants to see how we're doing and he wants to get across that they're serious about bringing our loved ones home. and that we just have to be patient because we're not there yet. They're not home yet. They're still in prison in Iran," he told Bolduan.
Asked about the case of Shahab Dalili, an American permanent resident who was not designated as wrongfully imprisoned and not believed to be included in the agreement, Tahbaz said it was "heartbreaking," but said the White House needed to talk. the details of the deal.