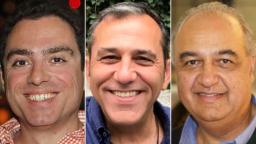 CNN
—

Five Americans released from Iranian detention this week returned to US soil early Tuesday after an initial stop in Doha, Qatar, two US officials told CNN.
Emad Shargi, Morad Tahbaz and Siamak Namazi, along with two Americans who have yet to be publicly named arrived at Fort Belvoir's Davison Army Airfield for an emotional reunion with their family members.
The released Americans, released on Monday as part of a broader deal that includes the US releasing $6 billion in Iranian funding, have the option of participating in a Defense Department program known as PISA ( Post Isolation Support Activities) to help them acclimate. back to normal life now that they are back in the United States.
The return of five Americans, all of whom have been wrongly detained, represents a significant diplomatic success after years of complicated indirect negotiations between the US and Iran, which do not have formal diplomatic relations.
Special Presidential Envoy for Hostage Affairs Roger Carstens and Acting US special envoy for Iran Abram Paley came down the steps of the small plane first to cheers and applause, and someone was heard shouting, "Yay Roger! Yes Abram!"
Then the released American prisoners got off the plane and onto US soil for the first time in more than five years and into the arms of their loved ones, some of whom rushed to welcome them, carrying small American flag.
"We are home," said Emad Shargi after hugging his daughters, Hannah and Ariana, and caressing the face of his wife, Bahareh.
The family members then greeted the returning loved ones – Bahareh who hugged Siamak and Morad's son who hugged Emad.
In brief remarks after the reunions, Carstens said, "We've all been waiting for this day, but we all know that this day will finally come."
"Enjoy your reunion. Walk through the Army's post isolation support program. Keep that connection. Let's be together. This is not goodbye. And I know many of you will continue to fight to try to bring more Americans home," he said.
The group was flown from Tehran on a Qatari government jet to Doha on Monday, before departing for the Washington, DC, area to be reunited with their families, according to a senior administration official. Namazi's mother, Effie Namazi, and Tahbaz's wife, Vida Tahbaz, who previously could not leave Iran, were also on the flight from Iran to Doha, the official said Monday.
After a year of indirect negotiations, the agreement began to be largely agreed in Doha about seven months ago and the first tangible public steps took place about five weeks ago, when four of the American transferred to house arrest. A fifth American is now under house arrest.
President Joe Biden on Monday celebrated their release "after years of suffering, uncertainty, and suffering." But as the release stands as the latest high-profile deal negotiated by his administration to secure the release of Americans wrongfully imprisoned overseas, Biden has drawn criticism from some Republicans likened the deal to a "ransom."
A senior Biden administration official said Monday that the deal "doesn't change our relationship with Iran in any way," adding that the U.S. will still work to hold Iran accountable for human rights abuses. and curbing its nuclear program.
This story has been updated with additional information.