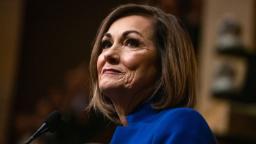 CNN
—

Signed by Iowa Republican Gov. Kim Reynolds signed a bill into law Friday that rolls back child labor protections by extending the hours teenagers can work and the establishments where they can work.
The state legislature passed the GOP-led bill earlier this month along party lines after weeks of fierce debate. Democrats argued that removing the protections would harm children and distract them from school and extracurricular activities, while supporters of the bill maintained that it would provide more job opportunities. Iowa joins several states that have introduced or enacted legislation aimed at relaxing child labor protections.
"With this legislation Iowa joins 20 other states in providing tailored, common-sense work provisions that allow young adults to develop their skills in the workforce," Reynolds said in a statement.
"At Iowa, we know there is dignity in work and we pride ourselves on our strong work ethic. Instilling those values ​​in the next generation and providing opportunities for young adults to earn and save to build a better life must be used," he added.
Reynolds is expected to sign the bill and has been an advocate for expanding youth employment opportunities. Last year, he signed a bill that lowered the minimum age requirement to provide unsupervised child care to school-aged children in child care facilities to 16. .
Under the newly signed law, 14- and 15-year-olds are allowed to work two extra hours each day when class is in session, from four to six hours. They will also be able to work until 9 p.m. most of the year and until 11 p.m. from June 1 through Labor Day, two hours later than previously allowed. Sixteen and 17-year-olds are now allowed to work the same hours as an adult.
The law also allows teenagers under the age of 16 to serve alcohol in restaurants during food service if their employer has written permission from their parent or guardian. It also requires that two adults be present while the teen serves alcohol and for the teen to complete "sexual harassment prevention and response training."
Among the expanded employment opportunities outlined under the new law, 14- and 15-year-old children can do certain types of work in industrial laundry services and in freezers and meat coolers – previously forbidden places.
The law also gives authority to directors of education and departments of workforce development to grant exceptions to work hours and certain prohibited work activities to adolescents 16 years of age and older who have enroll in a qualified work-based learning program.
As the bill made its way through the state legislature, opponents of the measure argued that it would not only harm children's safety but also target teenagers from low-income and minority backgrounds.
However, proponents of the bill argue that it does not require any child labor and point to a provision that removes exceptions that previously allowed children under the age of 14 to work, including the sale of newspapers and other goods door-to-door.
The law is part of a broader effort by states to roll back child labor laws. The governor of Arkansas signed a bill in March that allows youth under the age of 16 to work without a work certificate, and New Jersey and New Hampshire enacted laws to extend the hours of work. Several states, including Minnesota and Missouri, have also recently introduced similar bills, according to the Economic Policy Institute.