The head of the brokerage talked about promoting safer spaces for women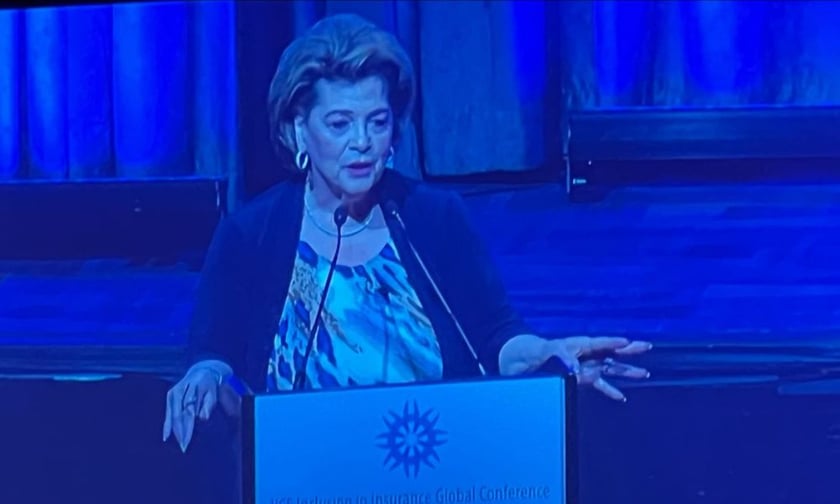 Insurance News
By Gia Snape
When Kathy Quintana (pictured) started in insurance, women were generally limited to clerical positions and were not considered for managerial or supervisory roles.
Seeing some women looking to help strengthen Quintana's determination to help increase diversity, equity, and inclusion (DEI) in the industry.
"I've been given opportunities along the way, but it's been a long time and a lot of disappointment," said Quintana, who serves as executive vice president and chief operating officer for HUB International's California region.
As the regional co-founder and co-chair of the HUB Women Network, she helped grow the first employee group of the entire brokerage firm.
Years of hard work to create safe spaces for women in insurance are paying off for Quintana.
The Insurance Industry Charitable Foundation (IICF) named him the winner of the Inclusion Champion Award for 2023. He was honored at the IICF's Inclusion in Insurance global conference in New York on June 14.
"This has been a lifelong journey for me," Quintana said of the IICF award. "When I started, the whole DEI space wasn't even discussed, so to be recognized now for the work I've done is probably the best moment of my career."
The Inclusion Champion Award "represents the highest ideals and real-world implementation of championing inclusivity and belonging through mentoring, talent development, and advocacy," according to the IICF.
The award is given every two years to candidates who demonstrate leadership and advocacy for DEI in their workplace and demonstrate a personal commitment to community service. Candidates are nominated by their insurance partners and undergo a rigorous review by industry volunteers working in the DEI space.
The importance of mentorship
The IICF said Quintana was chosen for being widely respected as an advocate for the career development of promising talent of diverse backgrounds and experiences, and for her efforts to push for wider representation of women. -in the leadership of the entire HUB International.
As an active mentor for young professionals, Quintana credits another woman's advice and example with serving as her own guiding star early in her insurance career.
"I had a mentor once. Her name is Brenda Farr, and she is the light for me. I looked up and imitated her because there weren't many other women [in the industry]said Quintana.
"I just know that I want to be treated fairly. I want to be treated with respect and I want to be heard, and he did that for me.
"When I started to take some supervisory jobs, I would try to imitate his characteristics, and it helped me throughout my career. Through many disappointments, passed for promotions and leadership positions , little by little, I learned to speak up and ask for what I wanted.
DEI as 'a way of life'
Quintana started the HUB Women Network in California with a few colleagues, with the goal of bringing women together to discuss issues that matter to them in the workplace.
The network started with just 30 ambassadors in California. Today, it has more than 450 ambassadors across North America – including men.
Although HUB International's workforce is roughly 70% female, the network also serves and benefits the male population, according to Quintana.
"I want to build a network that is a safe environment for women and men because everyone is allowed. It doesn't matter how you identify yourself," he said. "The topics we talk about are important in life and in business, so it's a safe platform to talk about professional and personal development."
In addition to the HUB Women Network, Quintana also helped develop the 2014 California Women's Conference, a two-day event that hosted 7,000 attendees.
For the HUB leader, DEI is not just a promotion factor or a box to tick.
"DEI is really a way of life for me, that I always behave the way I want to be treated," Quintana said. "While I became influential in leadership positions, I never lost sight of the fact that I started at the bottom and I had to treat others with respect."
What is the biggest DEI lesson for insurance organizations to learn?
Although the insurance industry has come a long way in terms of diversity and equity, more needs to be done, according to Quintana.
"There should be people who keep the beliefs and use them in their daily work," he said. "Those in leadership roles have influence and it's up to us to make that difference and speak up."
Leaders can take that critical first step by listening.
"We need to listen to people who maybe don't look like us or look like us, and let them have a voice," he said. "Communication is important. I make sure I am transparent with my people. I asked them and asked them for their input.
"So, that's what our industry needs to do. But I think the bigger question is, when they hear the answers, what are they going to do about it?
Do you agree with Quintana's thoughts on DEI's journey in the insurance industry? Share your views with us in the comments.
Keep up with the latest news and events
Join our mailing list, it's free!