IIn early 2010, the "war on obesity" found a new enemy: sugar. That role was filled with dietary fat, but the growing understanding of "healthy fat" led to a partial rehabilitation – and, therefore, a vacancy. Among the stories about "benefit scroungers" and austerity in public services, sugar – with its connotations of greed, laziness, "empty calories", sinful pleasures – is the perfect candidate. And so was born the caricatures of armchair-bound, fat, sugar-fueled people who litter the anti-sugar domain.
Its position in the public imagination as the main cause of poor health and obesity was reinforced by Action on Sugar's founder member Simon Capewell's declaration in 2014 that "sugar is the new tobacco". Since then, sugar has found itself the subject of a raft of newspaper articles, popular science books, self-help guides and national and international policies. This epidemic of "sugar talk" reached a frenzied peak in the UK in 2016 with the announcement of plans to introduce a soft drinks industry levy ("sugar tax"), maintaining momentum ahead of the tax's launch in 2018 and into the pandemic. .
The moral panic about fat and then sugar became part of a pattern of continued attacks on fat bodies. But they are also a story of failure. The "war against obesity", focused as it is on the individual culprit and a "lack of determination", and without an effective public health policy, is attacked by the inability to achieve of stated goals – which means it needs constant change. to keep the momentum going. The war against sugar lasted not only against the background of austerity, but amid the optimistic hope that the 2012 summer Olympic games in London will change the public's commitment to saving weight. those times.
This narrative of individual blame serves multiple interests. The focus on individual fat bodies and behavior provides political cover for the underfunding of public services, as demonstrated in 2020 with Matt Hancock's declaration that if everyone in the UK lost five pounds it would save the NHS £100m over the next five years. And for rightwing commentators, the sugar attack heralds the welcome arrival of new enemies to blast for Britain's social ills.
In August 2015, the Telegraph Commentator Philip Johnston urged people who "walk through life in altered 50in-waist leisure trousers and subsist on pizza and cola" to justify his support for a sugar tax. In the current cost of living crisis, this encouraging mix of economic and food choices continues.
Political journalist Isabel Oakeshott angered viewers of This Morning in October 2022 by recommending, while wearing expensive designer shoes, that those struggling with food costs should buy porridge, carrots and potatoes . In May 2023, former MP Ann Widdecombe advised those who could not afford the ingredients for a cheese sandwich that they no longer had.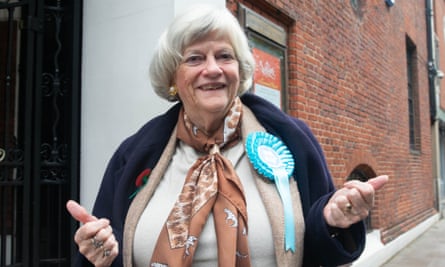 Just as we were urged to "tighten our belts" under austerity, and now in the current cost of living crisis, we are urged to monitor our sugar consumption by the teaspoon and gram to give ourselves responsibility and disciplined citizens demanded in political times. .
But we must be careful with the common appeal of a sugar attack. For starters, the perennial impulse to categorize foods as "good" or "bad" is wrong, because reducing food to its nutrients and their perceived effects erases much of the social and cultural meaning of food and eating.. Just as the dangers of fat are exaggerated, so is the threat of sugar, and a nutritional public health campaign will never capture the complexity of food, food and its impact on our bodies.
Second, the targeting of any given food inevitably brings those who are thought to eat that food in the crosshairs, and the development of anger about foods – for example, as empty of nutrition or not " true" – attaches the same stigma to its presumption. consumers. Denigrating someone because of their body size or food preferences does nothing but harm – a fact recognized even by the organizations most strongly advocating for obesity reduction.
The Obesity Health Alliance recognizes that weight stigma can have "psychological, behavioral and social consequences" and the World Obesity Federation links it to avoidance of medical care, unhealthy eating patterns and disease. related to stress. Sugar attack is related to this damage. The demonization of both sugar and obesity is clothed in declarations of shared effort, but the truth is that the stigma is primarily among the poorest.
Third, no matter what food is about, it's always about gender. Linked to the expectations of care, health and family, what, where and how we eat is inevitably gendered, with the work of eating and all the accompanying responsibility and shame falling on women. As eaters, women are seen as uniquely vulnerable to the pleasures of sugar in ways that simultaneously make them happy and allow for a strict surveillance of their bodies.
In his 2013 book Addicted to Food, James Ehrlichman argued that women find refined carbohydrates "especially attractive", including "the ultimate attraction – chocolate". And in his 2010 book The Sweet Poison Quit Plan, THE Popular science writer David Gillespie suggests anecdotally that while men can withdraw "cold turkey" in just a few weeks, women struggle for months to shed their sugar cravings, which require careful self-monitoring to avoid withdrawal.
In addition, the additional food work required to achieve the daily sugar reduction falls quietly but inexorably on women. They are encouraged to find joy in implementing sugar reduction methods (decoding labels, cooking from scratch) for the benefit of their families.
The focus on sugar focuses attention on a narrowly defined problem of food choice, spilling over into a broader social and cultural context. For example, for those living under conditions of poverty, feeding a hungry child a delicious and familiar meal that will satisfy them without food waste is an act of health care at the moment. But the relentless foregrounding of sugar not only undermines that act of care but also lowers poverty. It is an act of political oblivion that puts the poorest on the losing side of every exchange and then holds them responsible for the losses.
This won't end the war on sugar. After all, it's increasingly folded into the next iteration of the war on obesity: ultra-processed foods. And as the proliferation of anti-UPF books, articles and policies accumulates, the lessons from sugar warn us against erasing social inequalities and the lived realities of those who are most likely to fall in line. fire when foods become our enemy.