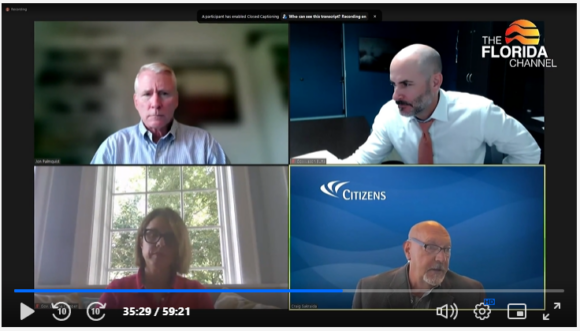 Florida's Citizens Property Insurance Corp. already saw nearly 2,000 claims from Hurricane Idalia, well below the threshold that would exhaust the carrier's personal lines surplus and trigger a surcharge on policyholders, officials said this week.
"There is no indication that a review is necessary at this time," said Citizens spokesman Michael Peltier.
Some in Florida's insurance industry are concerned that Idalia, which made landfall on Aug. 30 on Florida's sparsely populated northeast Gulf Coast, could mean thousands of claims and force a assessment of 10% or more of the premiums of all Citizens' policyholders. The largest share of policies in the affected area was written by Citizens, the state-created company that was designed to be a residual insurer but ended up being the state's largest carrier.
The Citizens' Personal Lines Account has a surplus of $420 million. If that is reached, it will automatically require a surcharge.
But at the Citizens governing board's Claims Committee meeting on Tuesday, Craig Sakraida, vice president of unlitigated claims, indicated that would not be possible.
"We received more than 2,000 claims. The bulk of those were residential," said Sakraida.
Some of these are likely to be flood claims, from the Idalia storm surge, and may not be covered by a Citizens policy. Most homeowners in the worst-hit areas of the Big Bend do not carry flood insurance, Sakraida and other reports show.
For all carriers, about 18,353 claims in Idalia were reported through Tuesday, the Florida Office of Insurance Regulation said.
About 60% of the properties that filed Citizens claims were investigated and 15% of the claims were closed, Sakraida said. Most of the claims came from Pinellas and Pasco counties near Tampa, and from Taylor County, home to Perry and other storm-ravaged towns.
"We expect to finish it quickly, with a small number of claims," ​​Sakraida said.
Those claims likely won't result in many lawsuits, thanks in part to Florida legislative changes last year that cut attorney fees and ended assignment-of-benefits agreements, the officials. For the first half of 2023, citizens were served in 4,711 cases, a 20% decrease compared to the same period in 2022, Jay Adams, chief of claims, told the committee.
The litigation picture is not perfect, however. The number of pending cases against citizens is still around 19,000 as of June 30 – the same number seen at that mark in 2022. And the claimant is represented by a lawyer, before the claim filed, in 48% of claims. That's a 23% increase from 2022, Adams said.
"We only advertise to the bar of plaintiffs and public adjusters knocking on doors," Adams said in response to a question about the reasons behind the level of attorney representation.
Claims from Hurricane Ian, which hit southwest and central Florida nearly a year ago, continue to be filed at a rate of 150 to 175 per week, Sakraida said.
That's not normal and "shouldn't be happening," he said. "We saw the same with Hurricane Irma, not so much with Hurricane Michael," he said. Many of Ian's claims come from southeast Florida, which is not in Ian's direct path.
The number of late-filing claims is likely to decrease this year and next as the new laws take effect, Sakraida pointed out. The Florida Legislature reduced the claim filing deadline from two years to one.
The insurer has also seen some success in anti-fraud efforts. Joe Theobald, director of the Citizens' special investigations unit, announced the arrest of a home owner, a public adjuster and a restoration contractor, all part of what he called an organized crime ring in Miami.
After Citizens' initial investigation, Florida Department of Financial Services investigators in August charged homeowner Jennifer Ann Perez, public adjuster David Caballero and the contractor with attempting to defraud Citizens. which is $136,000. The adjuster allegedly coached the insured and staged the home to make it look like it had recent damage, when, in fact, the water damage was already there, officials said.
Topics
Florida Claims
Interested in Claims?
Get automatic alerts for this topic.