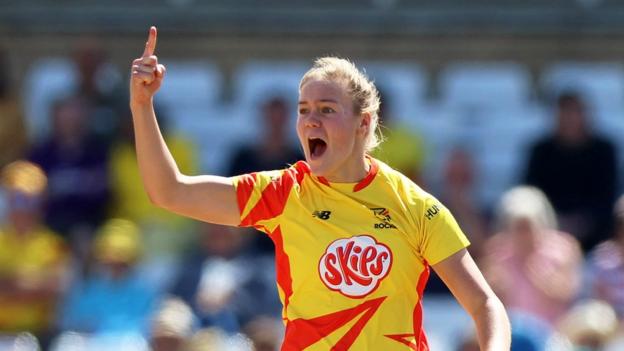 Venue:
Trent Bridge, Nottingham
Date:
19 August
Time:
11:00 & 14:30 BST
Scope:
Ball-by-ball commentary on BBC Radio 5 Sports Extra, BBC Sounds and the BBC Sport website & app. Live text commentary with in-play video clips on website and app. Watch the men's match (14:30 BST) live on BBC Two, BBC iPlayer and the BBC Sport website and app.
Throughout the 2023 Hundred, BBC Sport is running a feature series called England Next Gen, designed to look at the players who could be stepping up to international cricket in the next few years. Next up is Trent Rockets and South East Stars bowler Alexa Stonehouse.
Left-arm seam bowling can be an important part of a team's armoury.
Bowling over the wicket, a left-armer can disrupt right-handed batters by forcing them to change their stance as the ball comes to them. The inswinger from around the wicket, meanwhile, can be an integral part of the powerplay and death bowling.
This is a valuable product, because it is estimated that 10% of the population is left-handed. And for England, they proved elusive.
Step forward, Trent Rockets' Alexa Stonehouse.
At 18, and in his debut year, Stonehouse opened the bowling for Trent Rockets in The Hundred. He also tasted domestic success with Kent and South East Stars, as well as rising through the England youth ranks, having only played two years of senior cricket.
No wonder he is being tipped as a future England star.
"Left-arm seamers bring a little bit of a different dimension to the game," Rockets coach Jon Lewis told BBC Sport. "As most of the women's game is white-ball cricket, that different angle would be welcome. But Alexa can also return the ball back to the right-hander.
"He's also got a decent aggressive streak of his own and is comfortable going to his bouncer when he needs to be, which is a good asset to have."
Stonehouse joined the South East Stars academy squad as a 16-year-old at the start of the 2021 season but was promoted to the senior side a few months later, helping them win the Charlotte Edwards Cup. She was also part of the Kent side that won the South East Group of the Women's Twenty20 Cup that same summer.
The teenager was then signed by the Trent Rockets for the 2022 edition of The Hundred, but did not play, before signing his first professional contract with the Stars later that year.
"He takes everything in his stride," Stars team-mate and fellow left-arm seamer Tash Farrant told BBC Sport. "He's still young and has a lot to learn, but isn't afraid to ask questions, be vulnerable and try things even if it's not 100%.
"He's got almost too many skills. He's got every ball under the sun. He wants to bowl bouncers, slow balls, yorkers, that's good. It's just knowing when use what."
His international development has been equally rapid. She earned call-ups for England Women A and the ECB Select XI in 2022, before making the England squad for the Under-19 World Cup in South Africa earlier this year.
He took six wickets in his five matches at an average of 11.33 as England made the final before losing to India.
That progress continued in this year's Hundred, which made its debut against Southern Brave, opening the bowling to Danni Wyatt and Smriti Mandhana, two of the biggest names in the women's game.
Another Indian superstar will be his first victim in his next match against the Northern Superchargers, the clean bowling Jemimah Rodrigues with an inswinging delivery from around the wicket.
"It's a show of faith in Alexa," Lewis added. "We had a couple of warm-up games and he wasn't supposed to be in our starting XI before those games but he performed well in them.
"Most of the Hundred batting line-up is very heavy, they have a lot of quality in that top four. So when you are bowling up front, you are bowling to good players all the time.
"It was a hell of a challenge for a young seam bowler.
"To be a swing bowler with the new ball, you need to be strong enough to pitch the ball where you will take wickets but these are also the areas where the batters can hurt you.
"He was good for us and got better as the tournament went on."
England's current senior left-arm seam options, Farrant and Freya Kemp, are struggling with injury, meaning the new Ashes squad has just one left-arm bowler in Sophie Ecclestone – a spinner.
Another young left-armer, 17-year-old Mahika Gaur, is currently leading Stonehouse after called for the white-ball series' against Sri Lanka. But a place in the senior side may not be far away, if he can continue his development.
"He has all the attributes to be an international cricketer," added Farrant. "But there are so many opportunities now, he can also become one of the best franchise cricketers in the world.
"He can take his career any way he wants."
Lewis added: "I can't put a lid on what he can do.
"He's very comfortable being his own character and that's a strength. It's very easy to be one of those people. He's comfortable with who he is and stays true to that, which I admire.
"He's young, he can definitely swing the ball, his bumper is good. These are great starting points.
"He can go as far as he wants."