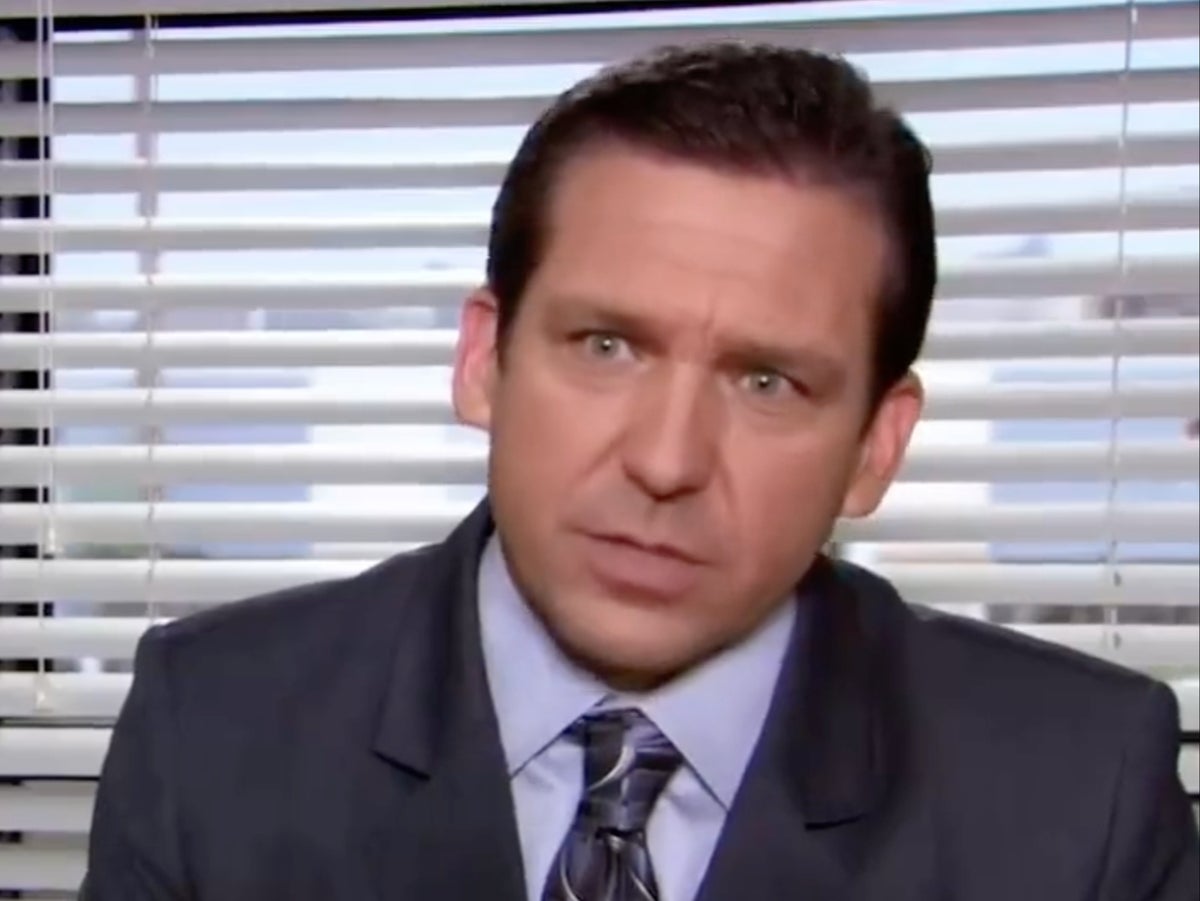 Donald Trump Jr. shared what appears to be an AI-generated clip of Ron DeSantis edited into Steve Carell's Michael Scott role in The office in a clip where the character is teased for wearing a woman's suit.
"Think about the next time it's not an obvious spoof from The office but an attempt to portray himself as legitimate and more sinister," CNN's Jake Tapper Tweet.
"Don Jr and others shared this video. I don't think any of us are ready for this next election online," Alex Thompson of Axios SAYS.
Democratic consultant Tim Hogan added that "Folks, we're not ready for the 2024 GOP primary meme".
"Rhonda Santis is a perfect drag name, just saying," Mr Hogan said Tweet.
Philip Germain of the Lincoln Project added: "I asked Steve Carrell again to play DeSantis on SNL."
"I'm for a welcome attack on election-season deepfakes," Jesse Walker rEASON Magazine WRITES.
As the derision of Mr DeSantis' glitch-ridden campaign launch continued, the Florida governor began to push back.
He criticized his primary opponent for the 2024 GOP nomination, former President Donald Trump, claiming he is "a different person" than when he first ran for president.
Mr Trump led all other Republican candidates for the party's presidential nomination, with Mr DeSantis running in second place, according to polls.
Mr DeSantis officially launched his own bid for the White House earlier this week at a raucous Twitter Spaces event with billionaire Elon Musk.
The governor told radio host Matt Murphy he was running to the right of Mr Trump and described himself as more conservative, according to USA Today.
"It seems like he's running on the left and I've always been someone who's been held back by conservative principles," Mr DeSantis said.
"So these are going to be interesting debates, but I can tell you, you don't win the country by moving to the left, you win the country by standing up for bold policy. We showed that in Florida. I've never underestimated the anything I do."
And Mr DeSantis admits Mr Trump is not the same person who first ran for office.
"I don't know what's going on with Donald Trump – he's a different person now than when he ran in 2015 and 2016 and I think the direction he's going in his campaign is the wrong direction," said Mr. DeSantis.
And he attacked Mr Trump for his handling of the Covid-19 pandemic while in office.
"I think so [Trump] did well for three years, but when he turned the country over to Fauci in March of 2020 that destroyed millions of people's lives," Mr DeSantis said in a podcast.
"And in Florida, we were one of the few that stood up, cut against the grain, took the oncoming fire from the media, the bureaucracy, the left, even many Republicans, had open schools, preserved businesses."