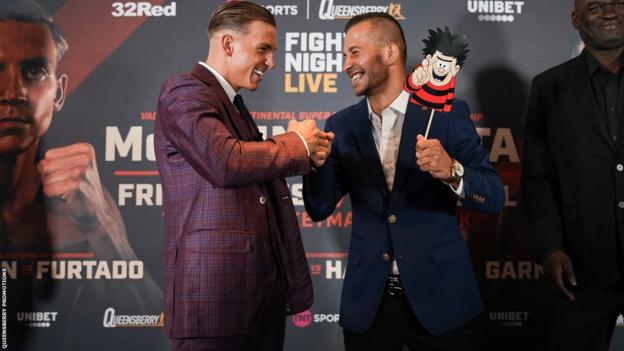 Dennis McCann vowed to put on a career-best performance against Ionut Baluta at London's York Hall on Friday.
McCann, 22, was in a playful mood at a press conference on Wednesday, giving Baluta a Dennis the Menace cut-out and even giving a shout out to the Lionesses' World Cup semi-final victory.
The English fighter is looking to deliver his third stoppage victory in a row.
"You're going to see the best of Dennis McCann, the best you've ever seen," McCann said.
Victory would see 'The Menace' extend his impressive undefeated record to 15 fights.
"If it wasn't ME it would be a demolition job," he added.
Baluta in Romania is the toughest test of McCann's career to date and the super-bantamweight rivals are getting to know each other, having sparred several rounds together.
Baluta has 16 wins and four losses in his career, but that came off a victory in his last bout against previously undefeated Andrew Cain.
McCann called his 29-year-old opponent "grandad" compared to him, while Baluta said their spars had no effect on the result.
The winner will walk away with the WBO Inter-Continental belt.
"Me and Baluta have done probably about a hundred rounds of sparring, so he knows what I'm like. Deep down, he knows," McCann said.
"I have been boxing since I was four years old. I quit school at the age of ten just to become a boxer.
"I put all my eggs in one basket. There's not one person in this room who trains like me."
McCann ended the news conference by congratulating the England women's team on reaching their first ever World Cup final as the media event continued.
"Lots of shouts to the Lionesses, go home," McCann said.
There was a friendly spat between the fighters, with Baluta even posing with a Dennis the Menace cut-out.