Rep. Ro Khanna, D-Calif., on Sunday criticized the GOP immigration bill as too far-reaching, while affirming that President Biden is "doing everything he can" about the border crisis.
In an interview on "Fox News Sunday," Khanna, who is heavily featured in the 2024 primary state of New Hampshire, denied that Republicans are blaming the Biden administration for reversing Trump-era policies that were intended. to prevent illegal immigration. The discussion comes after at least 82,000 migrants crossed the border late last week after Title 42 expired.
"Nothing has been done since President Reagan signed bipartisan immigration reform in 1986. And instead of working against each other, why don't we come together on some common principles?" Khanna said to host Shannon Bream, dismissing the idea that this is a new problem. "We need a safe and secure border, and we need an orderly and humane process. That means Congress needs to act. We need to provide the money to have judges there and to have immigration officers to we can process claims quickly."
Khanna added: "The president said that these claims should be processed in hours. People who are not legitimate should be returned. Leadership. Two years ago, the Republicans did not vote for that. But why not do a bipartisan solution? That's what I want."
ARIZONA BORDER CITY FOUND 7 PEOPLE SHOT, MANY SUSPECTS: REPORT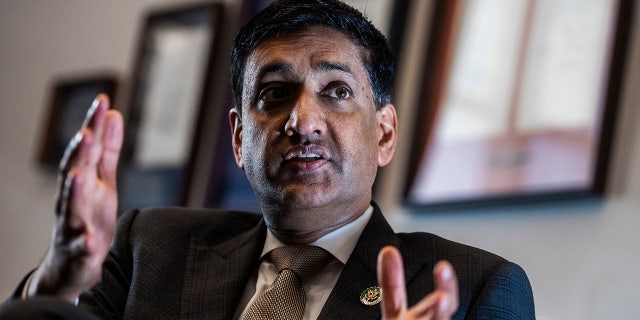 Bream noted that many of the provisions were included in the Republican immigration bill, including requiring employers to use the federal E-Verify program to determine whether current or prospective employees are legally authorized to work. in the United States.
"Their bill is terrible," Khanna said on Sunday. "The Senate will not pass their bill. I mean, their bill takes away the funds from any of the NGOs in El Paso. You talked to Veronica Escobar, who represents the area. through or help deal with the situation on the border? Their bill is for a border wall. That's not something Democrats can do or support, but we support more funding for the Border Patrol. We support more funding for judges in immigration to speed things up. We're going to support better technology and border security. So why not compromise?"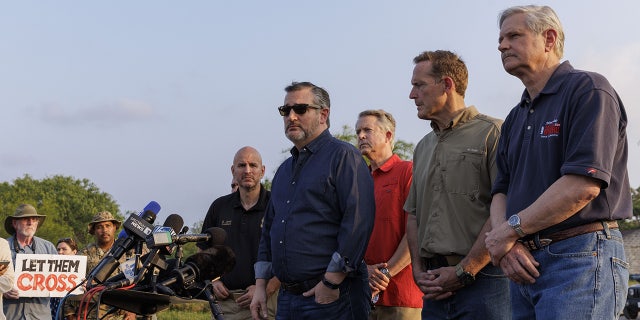 "And the president, by the way, did everything he could to reverse the arrest and release," Khanna added. "You have border agents now and judges are quick to call people who come to the border within hours.
HUMAN TRAFFICKING AT THE SOUTHERN BORDER 'SPEAK OF SLAVERY': SEN. MARSHALL
Khanna blamed Congress for not giving the Biden administration enough resources to secure the border. "I don't believe it's a Democratic or Republican issue. It's a bipartisan issue. I mean, President Reagan was the last president to do this and because we didn't have a bipartisan agreement," he said. . "Do you want to just score political points or do you want to work, compromise and get something done?
Republicans blamed Biden for the border situation, with Sen. Ted Cruz, R-Texas, said that what happened was "intentional," and the result of a "decision" by the president and other Democrats " to open the border" to the influx.
On Capitol Hill Thursday, Sen. Rick Scott, R-Fla., admitted, "Joe Biden doesn't care about the American people," amid the border crisis.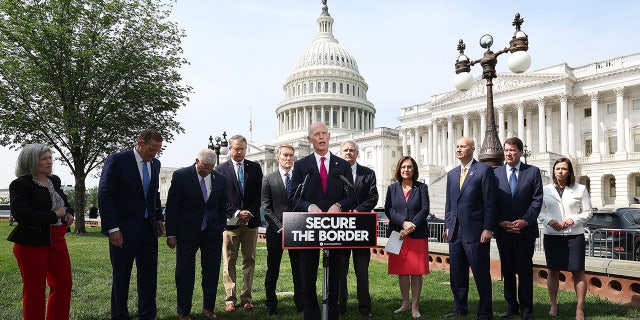 Sen. Pete Ricketts, R-Neb., added at the same press conference that Biden could extend Title 42 by declaring another public health emergency while restrictions related to COVID-19 are lifted, citing more than 70,000 Americans are estimated to have died. from a fentanyl overdose.
CLICK HERE TO GET THE FOX NEWS APP
"First of all, the exact political problem is what Sen. Scott said," Khanna said Sunday. "I mean, come on, President Biden doesn't care about the American people? Here's someone who has dedicated his entire life to public service. I would never say that about President Trump. I wouldn't say he doesn't care about the American people. So why? Why don't we discuss the issues instead of these ad hominem attacks on our president? Of course, I support a stronger policy to get fentanyl out of America, and I'm concerned about China sending it in. Wrong. . I heard testimony in Congress from mothers who lost their children. And we're going to address it. I mean, instead of launching ad hominem attacks on the president."