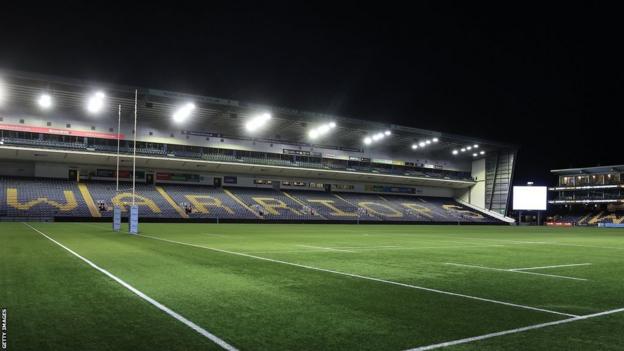 Wasps owner Chris Holland has become the majority shareholder of Worcester Warriors, reports BBC Hereford & Worcester.
Atlas is led by former Warriors chief executive Jim O'Toole and ex-London Irish player James Sandford.
they announced a £2.05m deal to buy the club in May.
However, Worcester has remains in administrationwhich required Atlas to pay a further £1.18m on 9 October and have yet to complete their purchase of the club's Sixways Stadium and surrounding land.
Both Wasps and Worcester were relegated from the Premiership last season after going into administration due to financial problems.
Atlas has a license to use Sixways as their trading premises – and it will be occupied by Premiership Women's Rugby side Warriors Women and non-league football club Worcester Raiders in 2023-24.
In May, Loxwood Holdings loaned to Atlas to help with the hire for Wasps to play Championship rugby at Sixways.
Wasps confirmed in a statement that playing at Sixways was an option but insisted it had "no interest in the property other than the lease to play first-class rugby at the stadium".
Mr O'Toole told BBC Hereford & Worcester at the time: "It's a security deposit of tenure for Wasps to play at Sixways."
He did not want to comment when asked by the station about the latest developments.
Neither Worcester nor Wasps are registered with the Rugby Football Union to compete in the 2023-24 season. The earliest it can compete again is September 2024.
analysis
BBC Hereford and Worcester political correspondent James Pearson
In short it seems that Jim O'Toole and James Sandford, the driving force behind the purchase of Worcester Warriors as a company in May, are no longer shareholders of the club – although on paper they remain directors.
According to a Companies House update – posted on Monday – they sold their shares to the newly formed Atlas Worcester Warriors Rugby Club Limited in June.
However we now have a new majority shareholder – 97% of Worcester Warriors is now owned by a company called Loxwood Holdings Limited.
That is a company owned by Chris Holland, the current owner and director of Wasps. This is not the first involvement between the Wasps owner and the Warriors.
Last May, through his company Loxwood Holdings, Holland gave Atlas a loan to help secure a three-year lease for Wasps to play Championship rugby at Sixways.
That never happened but that loan was secured against the land and stadium at Sixways, despite Wasps at the time denying any interest in developing the property.
So it appears that we now own Wasps as the majority shareholder of Worcester Warriors, with some security over the ground and stadium, and seem to be in the driving seat for the future of Worcester Warriors.