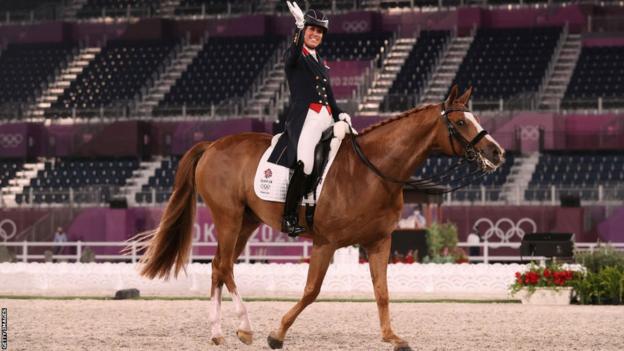 Six-time Olympic medalist Charlotte Dujardin returned to the international stage with a victory on the opening day of the Royal Windsor Horse Show.
The 37-year-old Briton was competing in her first event since giving birth to daughter Isabella in March.
Dujardin finished with a score of 77.261% on Imhotep as he dominated the four-star grand prix class.
"I thought, 'have I got it? Can I do it?'. I got on and it felt amazing," he said.
Dujardin finished nearly two percent better than runner-up Gareth Hughes, who rode Classic Briolinca, while Emile Faurie and Bellevue took third.
"I haven't done anything competition-wise for eight months and I've only been back on the board for three weeks," he added.
"I tried to stay as fit as possible and then we decided to try Windsor.
"I want to try to aim for the European Championships this year. Imhotep was very good at the World Championships last year and he is a horse with a lot of positive energy."
Dujardin holds the record, along with cyclist Dame Laura Kenny, for the most Olympic medals won by a British woman.
Two golds in London 2012 were followed by another in Rio four years later, while he also won one silver and two bronze medals.