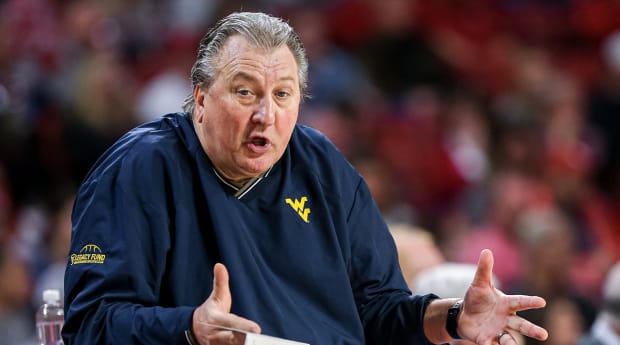 An attorney for former West Virginia men's basketball coach Bob Huggins claims the 69-year-old has not formally resigned from his position with the program and intends to sue the university for not immediately reinstatement, according to a report from WVMetroNews.
Huggins' attorneys reportedly sent a letter to the university on Friday, July 7, indicating that Huggins is "seeking only the correction of a clear violation of his employment agreement with WVU."
Huggins' attorney has threatened legal action if the university fails to reinstate his client.
"Based on press statements, it appears that WVU has taken the position that Coach Huggins voluntarily resigned and terminated the Employment Agreement prior to April 30, 2024," the attorney wrote in a letter to the university. "However, despite press statements suggesting that there were resignation communications directly from Coach Huggins to you and/or the Athletic Director, Coach Huggins never communicated his resignation to you, the Athletic Director, or anyone at WVU. To the contrary, we understand that the alleged "resignation" was based on a text message from Coach Huggins' wife."
In a letter responding to David A. Campbell, the attorney representing Huggins, WVU made it clear that it has no intention of reinstating Huggins. In response, the university called the allegations "completely inaccurate" and indicated that the 69-year-old "clearly communicated his resignation and retirement to the University in writing via email."
In June, the school released a statement indicating that Huggins had resigned from his role as head coach of the Mountaineers' men's basketball team. The announcement came two days after his DUI arrest in Pittsburgh.
Former assistant Josh Eilert was named interim head coach.