Key Takeaways
The first BRC20 stablecoin was launched according to the new BitFi — DeFi for Bitcoin Network — technology.
Stably USD (#USD) is available in over 200 regions and 44 US states
Stably, a Stablecoin-as-a-Service (SCaaS) provider and fiat on/off-ramp infrastructure provider for Web3 projects founded in 2018, has launched the stablecoin Stably USD (#USD) as a BRC20 token. This step by Stably is set to use the new market of Bitcoin ordinals and serve the rapid expansion. ecosystem.
CEO and co-founder of Stably Kory Hoang told Crypto Briefing, "the newly released ORC20 [open standard for ordinal tokens] standard, which is also built on Bitcoin ordinals and the BRC20 standard, aims to improve the security and flexibility of BRC20 as well as allow BRC20 assets to be transferred to ORC20. Combined with the exponential growth of ordinals in the first half of 2023 and the possibility of drivechain 'emulators' implemented in Bitcoin, positive sentiments on the future prospects of BitFi have increased worldwide.
BitFi, or decentralized finance in the Bitcoin network, supports the Bitcoin ordinals protocol that was introduced earlier this year after the Taproot upgrade. BRC20 tokens use ordinal inscriptions to associate data with individual satoshis, or the smallest unit of Bitcoin. This feature allows satoshi to represent various assets, including digital art, memecoins and stablecoins. Hoang added:
"BRC20 stablecoins issued by native stablecoins are needed now more than ever to help the development and adoption of BitFi applications, just as they have helped DeFi applications on Ethereum and others blockchain."
As a natively issued BRC20 token on the Bitcoin ordinals network, KYC-verified users in 200+ countries/regions, with coverage extending to 44 US states can buy #USD on Fedwire, SWIFT , USDC and USDT. Monthly audits are conducted to ensure that #USD amounts are collateralized with USD at a 1-1 ratio.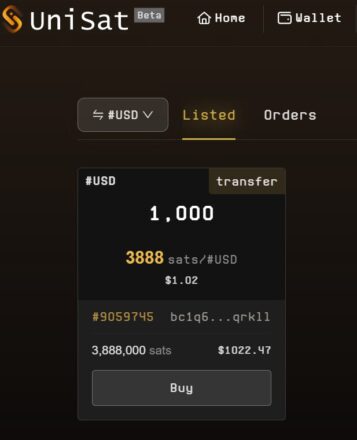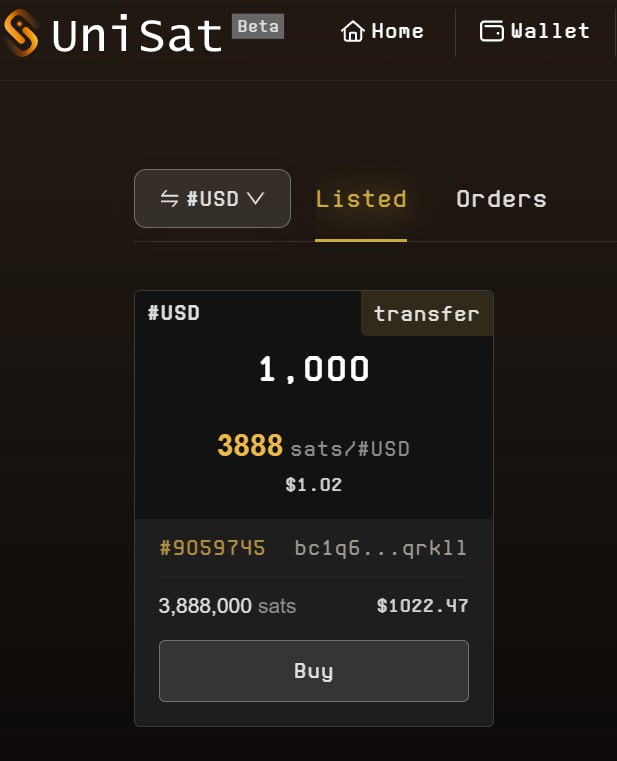 The first #USD order on the Unisat market
While the initial stablecoin launch involved a manual issuance and redemption process, Stably has plans to introduce support for automatic issuance and redemption through Stably Ramp, the plug-and-play fiat the company's gateway widget, in Q3 2023. This upcoming upgrade will enable #USD users to seamlessly perform on/off-ramping using more traditional payment methods, including ACH, instant ACH, credit/debit card and bank wires.