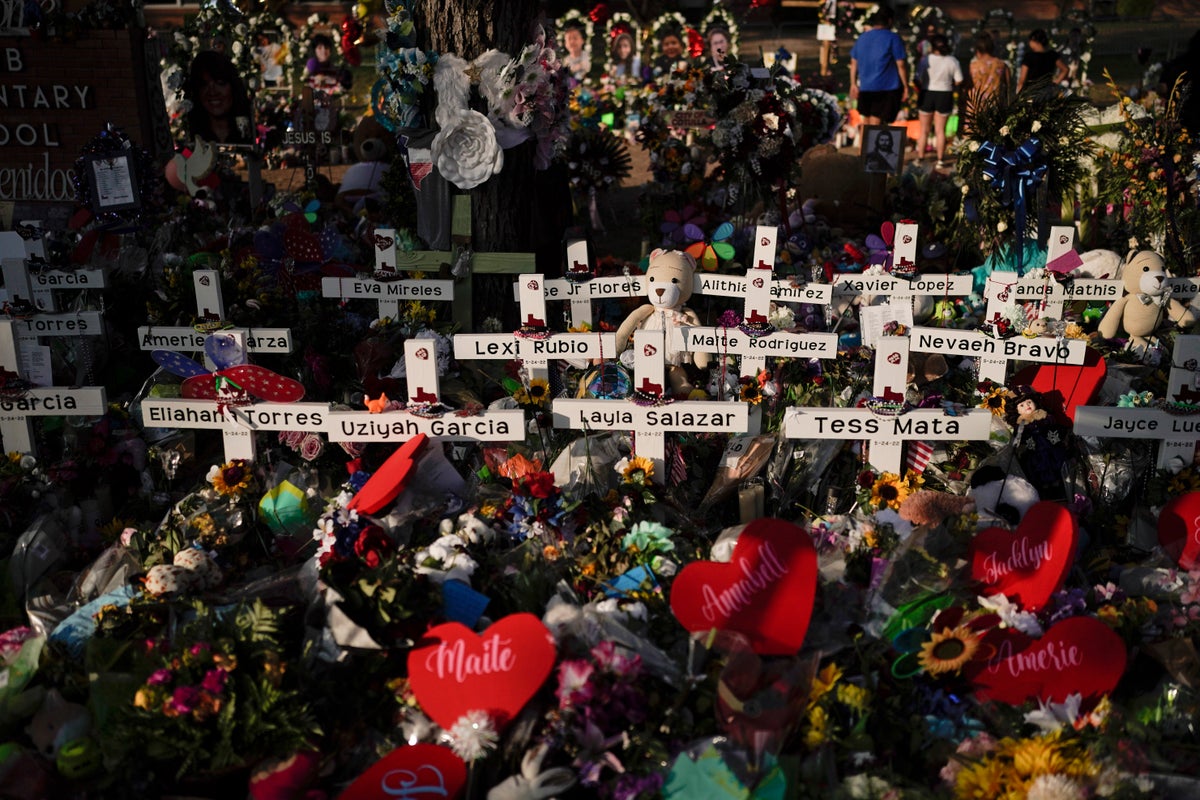 Joe Biden made a new call for a ban on AR-15 assault weapons as he marked the one-year anniversary of the Uvalde mass shooting.
A gunman killed 19 students and two teachers at Robb Elementary School in the Texas city in May, with police heavily criticized for their slow response to the shooting.
Biden, who was joined by first lady Dr. Jill Biden for the speech, said that at the scene of every mass shooting he attended, he was told the same thing by the families of the victims.
"Everywhere, you hear the same message 'Do something, for God do something,'" he said.
"We did something after that but it wasn't enough. We still need to ban, in my view, the AR-15 assault weapons once again, you know they've been used many times in the mass killing of innocent children and people.
And Mr Biden, who visited Uvalde after the shooting, called on politicians to do more to end the gun crisis in the United States.
"We're not going to end this epidemic until Congress passes some common sense gun safety laws… How many more parents are going to live their worst nightmare," he said.
"Remembering is important, but it's also painful. One year ago today, Robb Elementary School in Uvalde, Texas, became another American killing field.

— President Biden marked the anniversary of the Uvalde school shooting that killed 19 students and two teachers. pic.twitter.com/QX5zZTMJQZ

– The Recount (@therecount) May 24, 2023
The president, who lost two children, told the families that he realized the anniversary represented a "difficult day" for them.
"It's important to remember but it's also painful," said the president, who was surrounded by candles lit by each victim of the mass shooting.
"A year without birthdays, school plays and soccer games, that smile. A year of everyday happiness gone forever."
A criminal investigation into the actions of law enforcement in reaction to the shooting is underway in Texas, where it is the worst school shooting in state history.
A report by state lawmakers concluded that nearly 400 officers from federal, state and local agencies responded to the school but that those heavily armed officers waited an hour to confront and kill the 18-year-old. gunman
The report accused Uvalde police of failing to "prioritize saving innocent lives over their own safety."
Mr Biden has now made more than 70 unanswered calls for Congress to act and ban assault weapons, which are often used in mass shootings across the country.
It's a request he's made to lawmakers several times since taking office in 2021. During his first two years in office, there have been nearly 1,400 shootings.
He has discussed a federal assault weapons ban, called on Congress to renew the assault weapons ban or promised to do so to his Democratic allies about 70 times since taking office. in office, according to The IndependentThe March 2023 review of his public statements and comments by Factba.se.