Advances in medicine are likely to improve human longevity, the report said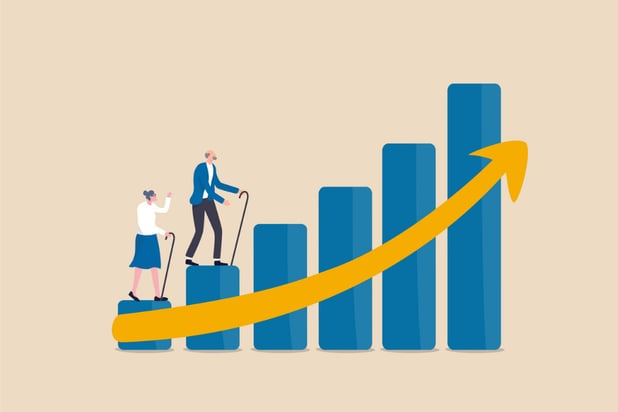 Life and Health
By Ryan Smith
Improvements in human life expectancy have slowed over the past decade, but the next improvement is just around the corner, according to a new report from Swiss Re.
Advances in cancer diagnosis and treatment are the most likely areas to improve global life expectancy, according to Swiss Re's latest report, The future of life expectancy: Predicting long-term mortality trends for insurance.
Future progress in human longevity must be supported by addressing health issues that are more common in the elderly, such as Alzheimer's disease, along with lifestyle factors and access to health care, Swiss Re said.
"As people continue to dream of life expectancy of more than 100 years, the gains of the last century are under threat," said Paul Murray, CEO of life and health reinsurance at Swiss Re. "Clearly, medical research has the power to drive the next big wave of longevity improvements. However, individuals must continue to make healthy lifestyle choices to ensure that they live longer and healthier lives. As a society, we need to address barriers to accessing health care."
Improvements in life expectancy often come in waves on the heels of major medical discoveries or large-scale social trends such as smoking cessation, Swiss Re said. In the 20th century, pharmaceutical advances that lowered blood pressure and cholesterol fueled dramatic increases in life expectancy. The worldwide average life expectancy for a person born in 2020 is over 70 years. At the end of the 1950s, the global life expectancy was only 55 years.
Since 2010, however, factors including obesity-related diseases, the growing impact of Alzheimer's disease, and unequal access to health care have undermined the gains of many place in the world. As a result, life expectancy has increased in advanced markets, Swiss Re said.
Life expectancy in the US has decreased
The US is an outlier among advanced markets. In 2019, the top 10% of the US population by socioeconomic status had the same life expectancy at birth as the OECD average of about 80 years for men and 84 years for women, the Swiss Re reports.
For a person born in the lowest 10% socioeconomic status in the US, life expectancy is only about 73 years. This trend is linked to unequal access to health care as a result of widening socioeconomic inequality.
In addition, with an estimated 70% of the population affected by obesity, diseases such as type 2 diabetes are becoming more common, Swiss Re said. Opioid-related deaths, which have increased eightfold since 1999, also affect life expectancy.
The loss of medical breakthroughs has hit life expectancy in the UK
Between 1968 and 2010, about 70% of the increase in longevity in the UK was due to a reduction in deaths related to circulatory diseases, Swiss Re reported. This reduction helped increase life expectancy from 71 to 80 years. Since 2010, however, life expectancy in the UK has increased by just one year, as modest advances in cancer treatments and the growing impact of dementia and respiratory diseases have eroded previous gains. .
Japan and Switzerland top the list for longevity
Japan and Switzerland have some of the highest life expectancies at birth among advanced economies, with each averaging about 84 years, Swiss Re reported. This is higher than the national life expectancy of about 70 years in 1960, and is mainly due to better cardiovascular health.
Longer life expectancy in Japan and Switzerland is also supported by lifestyle factors and access to well-funded healthcare systems.
The next wave of longevity gains
Advances in cancer treatment and diagnosis have the highest potential to spur further improvements in longevity, Swiss Re said. For example, liquid biopsies may provide earlier detection for certain types of cancer, while a shift from general therapy to more personalized treatments is expected to improve survival rates. of cancer. The use of mRNA vaccines, which have been successfully deployed during the COVID-19 pandemic, also has the potential to improve life expectancy, Swiss Re said.
Public policy also helps cancer survival rates. For example, in the UK high uptake of screening for some cancers has improved survival by more than 50%.
Treatment of diseases in later life
Addressing diseases that affect people later in life, such as Alzheimer's and other causes of dementia, is essential to increase longevity, Swiss Re said. Forecasts in the UK predict that the number of people affected by Alzheimer's disease will almost double by 2040, exceeding 1.6 million people.
Many new technologies can also affect life expectancy. The use of artificial intelligence in medical research and to guide treatment decisions may encourage future gains, Swiss Re said.
"Medical technology, lifestyle changes and access to health care will drive the next growth in longevity," said Natalie Kelly, head of global underwriting, claims and R&D at Swiss Re. "The public and private sectors both have roles to play. For the insurance industry, it is important that we understand these complex drivers so that we can continue to protect customers when they need it and encourage people to make choices to a lifestyle that supports a longer, healthier life.
Is there anything to say about this story? Let us know in the comments below.
Keep up with the latest news and events
Join our mailing list, it's free!