Frank Bellotti is a strong advocate for public service and community involvement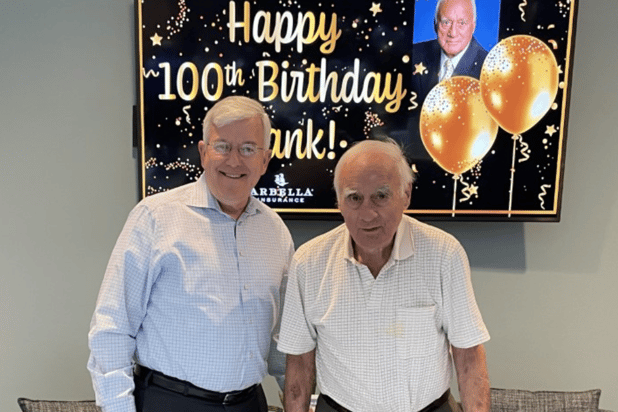 Insurance News
By means of

On May 9, a joyful occasion took over the lobby of Arbella Insurance Group to celebrate the 100th birthday of its co-founder and vice chairman, Frank Bellotti (on the right photo).
Hundreds of employees, well-wishers and family members gathered to celebrate Bellotti's milestone. Bellotti, a native of Quincy, Massachusetts, with more than seven decades of experience in the public sector, is a fierce provider of public service and community engagement, having previously served as the state's Attorney General and as a you next lawyer.
Making the best out of a tough market
Bellotti played a key role in the formation of Arbella – a regional property and casualty insurance company serving the New England area – in the 1980s, just before Kemper Insurance Group announced its intentions to exit the auto market. in Massachusetts.
"Fixing and establishing" premium rates and high residual market fluctuations have led to tighter capacity in the area, as well as the exit of many of the country's leading carriers. At the time, Kemper was the third largest auto insurance writer in the state, and its withdrawal had a seismic effect for brokers and insureds.
Kemper proposed a $100 million plan to fund a replacement company, with Arbella – then in private practice – joining forces with John Donahue, a former assistant attorney general, to pass the correct law so as not to penalize Kemper's other insurance divisions for exiting it.
As a result, Arbella was born, and has since grown into a nearly $1 billion per year insurance company and one of the largest in the state.
Bellotti is still actively working with the company as vice chairman and can be seen going to the office several times a week to interact with colleagues and complete his duties.
A devotion to the people of Massachusetts
In 1962, Bellotti was elected Lieutenant Governor of Massachusetts before serving three terms as the state's Attorney General, from 1975-1987.
Throughout his tenure, Bellotti was honored by the National Association of Attorney Generals twice. He was later awarded the President Lifetime Achievement Award from the association for his lifelong service and consistent commitment to the attorney general community.
An important celebration
A rousing rendition of "Happy Birthday" echoed through the office halls during this birthday celebration, while confetti and party hats lit up the space in a technicolor joy.
A triple-layer cake by George Montilio, a local pastry chef and owner of Montilios Bakery in Quincy, was created especially for Bellotti as a symbol of gratitude for his great contribution to the community.

In other news
In other Arbella news, the company recently appointed Robin Jones as executive director of its charitable arm, the Arbella Insurance Foundation.
Jones replaces Beverly Tangvik, who retired on March 31.
With 18 years of consulting experience, Jones leads an independent consulting practice that provides advisory and strategy services to a mix of non-profit organizations and funders. He also serves as a staff member and director on non-profit boards.
"I am thrilled to welcome Robin to Arbella and have him continue to build on the excellent work we have done in our communities over the past 18 years," said Donahue, the president and CEO of Arbella Insurance Group.
"During his tenure as foundation president, he managed millions of dollars in charitable donations to hundreds of different charitable organizations each year, and his impact on the foundation's culture cannot be understated. ."
In response to his appointment, Jones said, "I want to thank John and the board for their confidence in me. I am both honored and excited to have the opportunity to work with such a talented leadership team, employees and agents.
"As we look forward, the mission of the foundation remains the same: to support non-profit organizations and causes that provide services to individuals in need. Together, we will continue to grow and strengthen our local communities.
Keep up with the latest news and events
Join our mailing list, it's free!